How Accurate The Bear Is, According To Real Chicago Chef Lamar Moore - Exclusive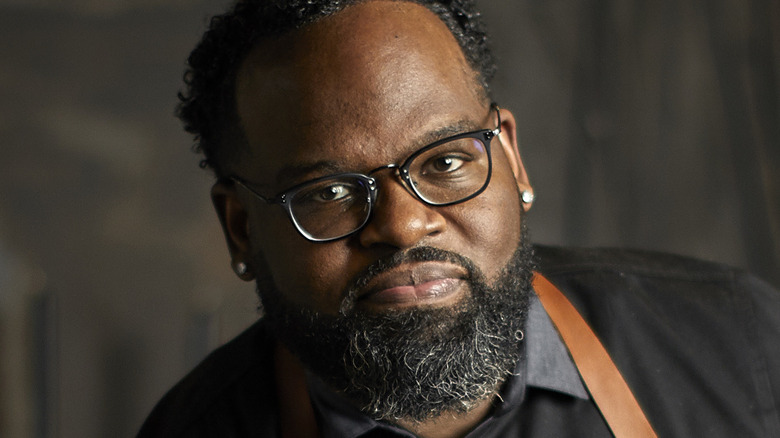 Certified Angus Beef
Hulu's "The Bear" has been the talk of the internet since it came out. The show features a chef named Carmy (played by the dreamy-yet-intense Jeremy Allen White) struggling to earn the respect of the employees of a Chicago Italian beef sandwich restaurant he inherits from his family. It has been praised by some, including Bobby Flay, for its accuracy in depicting the restaurant industry, to the point that some find it triggering to watch.
Bobby Flay may be a restaurant expert, but he's not from Chicago. To get another opinion on whether "The Bear" is a true-to-life representation of chef life, we turned to Chef Lamar Moore. Not only is he a Chicago native, but he also runs restaurants in his home city. He's not just an expert on the Chicago side of the equation, either; he's also a master of cooking beef, so much so that he's an official Certified Angus Beef brand ambassador chef partner. In an exclusive interview with Mashed, he revealed whether he thinks "The Bear" is accurate.
Chef Lamar's opinion of The Bear
If you thought that you were obsessed with "The Bear," you've got nothing on Chicago chefs. According to Chef Lamar Moore, "Being from Chicago ... everyone's been talking about it; chefs are all excited about it." He said the show does a good job at showing viewers what the inside of a professional kitchen is really like and representing the experience of being a chef. "It gives a really good bird's-eye view of how we are as chefs, how we work in a kitchen, and how we move in a kitchen."
In Moore's opinion, "The Bear" is also an accurate depiction of what running a restaurant is like right now, in a world that's still dealing with the lingering effects of the COVID-19 pandemic. "[It shows] how we have a hard time trying to run restaurants, especially after the pandemic, or however you want to say that ... we're still in the pandemic," he said.
Since Moore had such positive things to say about "The Bear," we were curious to see if he thought the media always portrays kitchen life accurately. Unsurprisingly, he said that media representation of chefs can occasionally be a little biased: "Sometimes, chefs get misconstrued as being overly arrogant and not good to our staff or to our team." While he acknowledged that he's seen some arrogant chefs in his career, he said that there aren't as many tyrannical chefs as you might expect, especially in modern-day kitchens.
Find out more about Certified Angus Beef on its website. Lamar Moore's restaurants include Chicago's Eleven|Eleven and Las Vegas' Bugsy & Meyer's Steakhouse.