The Aldi Fall Cakes That Are Taking Over Autumn Early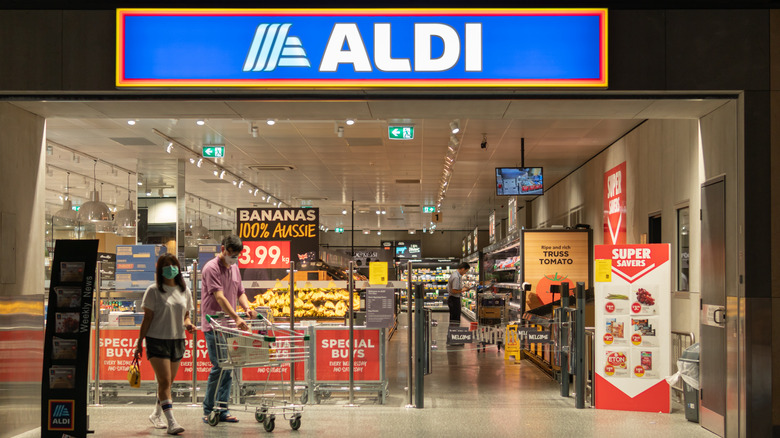 anystock/Shutterstock
The wacky weather patterns that the world is enduring have made it a bit difficult to ascertain exactly what season it is. MSN reports that the world is experiencing more extreme weather, with some places burning, some flooding, and others being oddly pleasant. While the meteorological forecast might be a little biblical, the retail world knows what the calendar says, and it has harvest season on its mind. In August pumpkin spice, well, everything started to appear on shelves. Aldi in particular seems to have embraced the changing of the leaves, even if the leaves themselves are technically still hanging in and staying green. Browse through social media and you'll find people who have located some Maple Butter in the aisles, along with fried apples that seem to go well with everything.
Though the Autumn season tends to focus more on the best Halloween candy or even ideal Thanksgiving meals for people who hate turkey, baked goods are making a real name for themselves in the fall foods realm. One example is the fresh cakes that Aldi is producing which have people raving as they prepare for the grim ax of winter to descend.
Aldi knocks it out of the park with two new Bundt cake flavors
Aldi was wise when the brand took to Instagram to promote its new Bundt cakes. The Bundt cake is perhaps the friendliest and most inviting of all cakes. Sheet cakes have more pure mass but even adorned with candles a sheet cake can be pretty plain. Layer cakes and tiered cakes are lovely, but the moment you cut into them you're faced with a ruined masterpiece. Only the humble Bundt cake combines the pure edible joy of a sheet cake, with an appearance that has the "cake next door" vibe to it. They're so good, Nothing Bundt Cakes made a whole brand making nothing else.
The two new cakes that Aldi has on offer seem to be custom-tailored to suit the fall season. One is maple and brown sugar-flavored, for those who like a little sweet with their sweet. Those who haven't had enough pumpkin spiced lattes, protein bars, energy drinks, smoothies, and ramen, can now get a pumpkin pecan cake, which sounds like the two best types of pie rendered into what SBNation considers the superior format, the cake.
Instagrammers are ecstatic about these new choices, with hearts raining down and comments galore on the post. "Neeeed those pumpkin cakes," said one, while another's diet is doomed by the new options, shouting, "Damn you Aldi! I've cut sugar for the month and now you get pumpkin!" One shopper exclaims, "Those little Bundt cakes are amazing! If you haven't tried them, you should!"