The Unexpected Way Duff Goldman Is Pitching In At IBIE 2022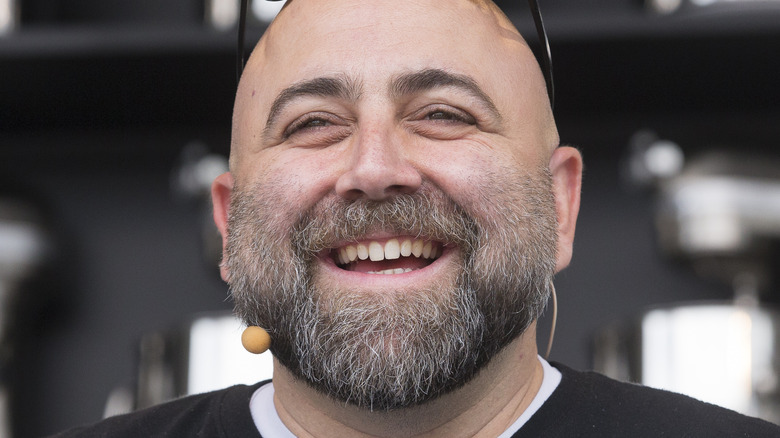 Sterling Munksgard/Shutterstock
Duff Goldman has made a name for himself as the "Ace of Cakes," but there's a lot you might not know about him. Some Goldman trivia is fun and unexpected, like how he had five cakes at his wedding, but other facts might come as a surprise, like how he's a musician and plays the bass. Instagram got a glimpse at a musical moment Goldman shared with his daughter, and he's about to share another one on stage soon.
Bake Mag reports that the chef is going to be performing onstage at IBIE 2022 along with his band, Foie Grock, which is a classic and alternative rock cover band. IBIE, or the International Baking Industry Exposition, is a major event that hosts bakers, suppliers, manufacturers, and other professionals in the baking field. So where does Goldman's band come in? Bake Mag explains that Foie Grock will play a concert called The Rockin' Pint, which will include songs by The Beatles, Queen, and others.
Goldman is the bassist for the band, which he started with Bruce Kalman, who is also a chef. And how the musical duo's venture came to be is more fun trivia on its own.
How did Duff Goldman start his band, Foie Grock?
According to Eater LA, Duff Goldman founded his band, Foie Grock, with fellow chef Bruce Kalman, who is the band's lead guitarist and one of the vocalists. The group — which includes members Francis Castagnetti on guitar, Geof Manthorne and Jesse Cross on guitar and vocals, and Jeff Barovick as another bassist — came together after someone told Goldman and Kalman that they looked like they were in a band.
Since both Goldman and Kalman played instruments, the two ran with the idea. The name "Foie Grock" pays homage to the pair's culinary backgrounds, but these weren't the only food-related names they played around with while forming the band. In an interview with LA Mag, Kalman gave examples of other food-related puns they considered, including Bread Zeppelin, Meatshop Boys, A Flock of Meatballs, Oreo Speedwagon, and Limp Brisket.
And this isn't Goldman's first foray into the music industry, either. LA Mag explains that Goldman has also been in other bands in Baltimore, Maryland like Big Mama Cotton Crotch. Before Foie Grock, Goldman was also in another cover band, Danger Ice, which covered songs by Elvis. Though Goldman is now fully into the cake industry, music is still on his mind with this performance at IBIE 2022.