The Best Candy For Holiday Stocking Stuffers, According To 24% Of People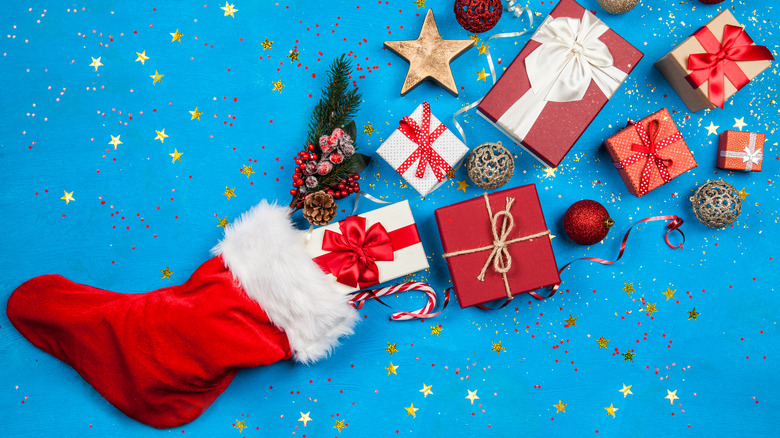 George Dolgikh/Shutterstock
If someone on your list this holiday season is a foodie — or just someone who loves to eat — there are food gifts aplenty to choose from. You could get them an impressive holiday gift basket from Hickory Farms or festive (and more affordable) chocolate peppermint loaf from Costco. Home entertaining queen Ina Garten collaborated with Goldbelly, meaning you can get Barefoot Contessa approved treats without a trip to the Hamptons. Or you could give a gift that keeps on giving with a meal delivery service like Hello Fresh or Daily Harvest, which are expected to continue to become more and more popular (via Grand View Research).
But you don't have to go all out when it comes to food gifts. Small treats and candies can also make for great stocking stuffers, if you're looking for something a little extra to plump up someone's present pile. To find out which popular candy people most want to unwrap on Christmas morning, Mashed polled more than 600 people across the United States on their favorite edible stocking stuffer. Here's which famous chocolate won over nearly ¼ of respondents.
Lindor truffles make for a great stocking stuffer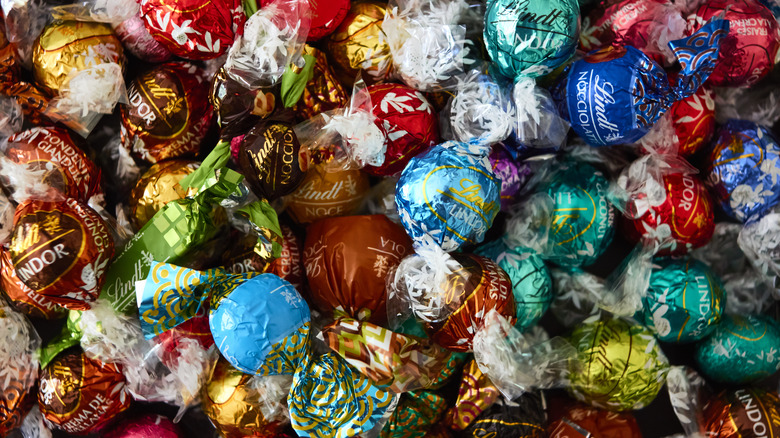 by dejavu/Shutterstock
While there are tons of chocolate brands to stuff stockings with this holiday season, the most popular is Lindt Lindor truffles, according to Mashed's poll results. More than 24% of people dubbed the gourmet Swiss chocolate the best candy for stocking stuffers at Christmastime. The iconic truffles from Lindt — which have been around since 1949, according to the company website — come in a ton of flavors, including extra dark chocolate, sea salt milk chocolate, white chocolate, and peppermint (perfect for the holidays!). "Lindt Lindor Milk Chocolates have been a favorite of mine for over 20 years, and to this day they still taste as delicious as I remember they did as a child," one review shared by Target raves. "A delicate, sweet, chocolaty ball of perfection."
What other candies and goodies do people like (and not like) to receive in their stockings? Close behind Lindor truffles were Ferrero Rocher chocolates, with 19% of the votes, and Ghirardelli chocolate squares, with 18%. Hershey's Kisses were also a top pick, receiving 15% of the votes, followed by candy canes, with 10%. Two not so popular choices? Chocolate coins and M&Ms, which only 7% and 5% respectively.