Twitter Is Wishing Lay's Fake Fall Flavor Was Real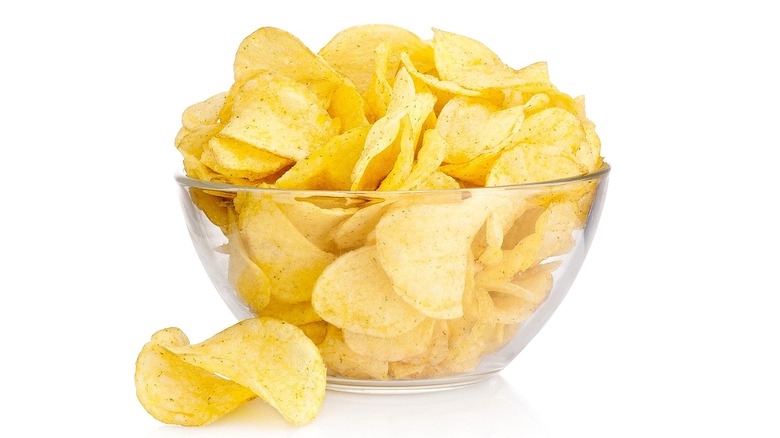 Tarasyuk Igor/Shutterstock
Fall has arrived in major stores through pumpkin-lined storefronts and fall-flavored snacks. Among the laundry list of possible autumnal foods, people can find pumpkin hummus, Honey Roasted Pumpkin Ravioli, and butternut squash mac and cheese from Trader Joe's that are listed on Reddit. They can find unusual items from major name brands, too.
Some fall options might be expected, like when Thomas' released salted caramel English muffins and bagels back in 2016 (via Winsight Grocery Business). But there are probably always one or two food items that come out around the holidays that make people do a double-take. Pringles released pumpkin pie spice, white chocolate peppermint, and cinnamon and sugar-flavored chips back in 2012 (per HuffPost). Reddit users approved of these limited-time snacks–chip lovers even visited multiple stores hoping to find the rare flavors. Then in 2018, the brand brought back Thanksgiving Day flavors for the second year in a row, and the chips instantly sold out online (per USA Today).
Lay's is another brand under the Frito Lay subsidiary that has garnered a mass following with its unique lineup of flavors. The brand didn't debut Thanksgiving Day chips, but its recent Twitter post announcing a fake flavor is giving Lay's fans major FOMO.
Social media users dream of Lay's apple cider donuts-flavored chips
Last month Twitter users expressed their excitement over Lay's recent flavor swaps, but a more recent Twitter post is leaving chip lovers wishing for more. Earlier today Lay's posted a picture of apple cider donuts flavored Lay's with the caption "This fake flavor is a fall moment." While some Twitter users were grossed out, others appreciated the joke yet wished the post was real. User @HunterC66& commented, "Please make it an actual flavor."
The same photo was posted on Lay's Instagram page and social media users went wild over the picture. One stated "I can practically smell them! Make them real!" User foodie_fool_15 apparently got fooled and asked, "Is it available at any stores or Amazon?" While the Frito-Lay corporation did release three new chip flavors this fall (per Chew Boom), they're not the apple cider donuts flavor people are wishing to score.
Lay's has released made-up flavors on social media before. Whether the brand is testing reactions to potential new flavors is unclear. But both the poke bowl and roasted Brussels sprouts flavored chips are just a few additional fake varieties people admitted they'd be willing to try. Time will tell if the company tries to make these made-up chips into real flavors.