The Near-Free Aldi Run That's Stunning TikTok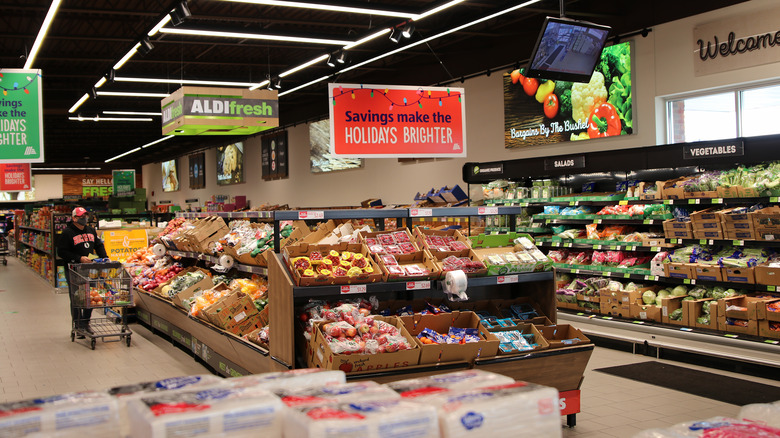 Eric Glenn/Shutterstock
Aldi is famously known for its high-quality products and for being budget-friendly. The chain became the United Kingdom's most popular grocery store in 2021. So, it's not surprising to see the hype increasing throughout the United States and other countries around the world. For instance, Aldi won seven awards at the 2022 Product of the Year awards in skin care, bakery items, alcoholic beverages, cheeses, meatless options, coffee, and tea categories. Aldi boasts low-cost quality chocolate, wine, organic foods, coffee, baking items, healthy snacks, beer, and its own delicious Specially Selected range of food options. According to Forbes, the grocery chain continues to increase its expansion and has been popular amid global inflation concerns. 
With its budget-friendly grocery items, how you calculated your average weekly spending at the grocery store? According to CNBC, Aldi came in first place against Whole Foods, Trader Joe's, and Acme for the most food and meals purchased with a $32 spending budget. If that shocks you – then just wait for this amazing near-free Aldi grocery run that is taking TikTok by storm.
One Aldi customer bought groceries for about $5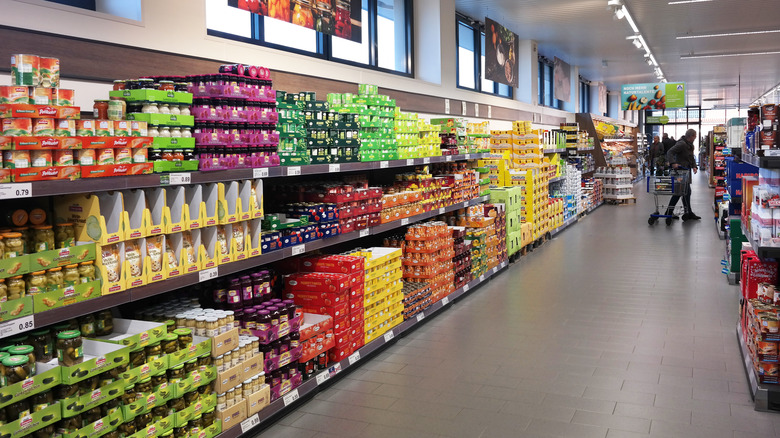 defotoberg/Shutterstock
What if you could buy all of your weekly groceries for just $5.38 (£5)? According to TikTok, it's possible. The TikTok account @costoflivingcrisistips stunned the world when they posted a video showing how they budget and eat on about $5 a week at Aldi in the United Kingdom. Seem impossible? The video shows the selection of long grain rice, pasta sauces, bourbon cream biscuit cookies, bread, corn flakes, and rice pudding for a shocking total of £4.97 ($5.35). 
Of course, the original account disclosed to viewers that the grocery hack didn't include "a nutritional protein-rich diet.'" Since its posting, the video has earned over 70,000 likes and hundreds of comments. "Tbh I can feed a family of 4 for a week on £70 including all pack lunches and breakfasts from Aldi," wrote one user. While it was indeed a good hack for those living in the U.K., users did call out the inconsistency of Aldi prices in different countries. "Why is Aldi in the U.K. so cheap? It's way more expensive in Germany," said one user. "Aldi in the Netherlands is waaay more expensive, unfortunately," another TikToker commented.
While you may not be able to get a full week's worth of protein-rich, nutrition-based meals for $5 a week in the United States, there's still something to be said about Aldi's ridiculously low prices and selection of items that can help feed people and families on a budget.