Buttermilk Fried Chicken And Waffles Recipe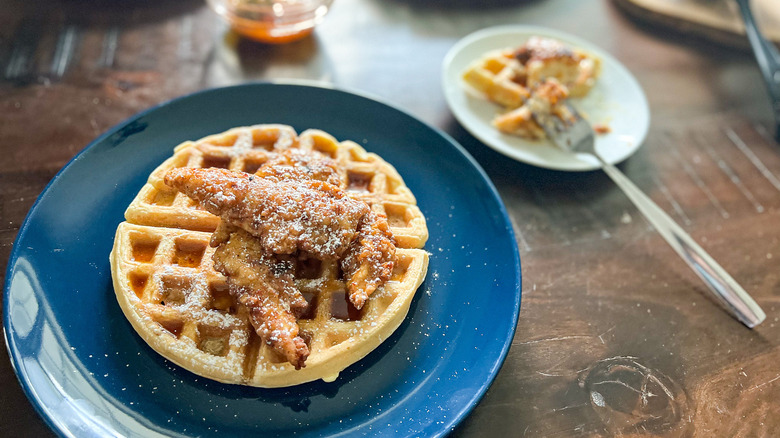 Erin Johnson/Mashed
People have been pairing fried chicken with waffles for nearly a century, but in recent years this dish has become super-trendy with the brunch crowd. There's no need to limit it to brunch, however — recipe developer Erin Johnson, who says chicken and waffles is a favorite comfort food of hers, describes it as being "perfect for any meal."
If you do choose to have this buttermilk fried chicken and waffles for breakfast, though, it's probably best to save it for a weekend as it does take a little time. In fact, if you're not in any hurry to eat, Johnson says, "Marinating your chicken in buttermilk ahead of frying will help to add flavor." But don't worry if you don't have time to do that, as she doesn't include it as an official step in the recipe. The buttermilk is essential, however, in the waffles — after all, they wouldn't be buttermilk waffles without it, would they?
Gather the ingredients for buttermilk fried chicken and waffles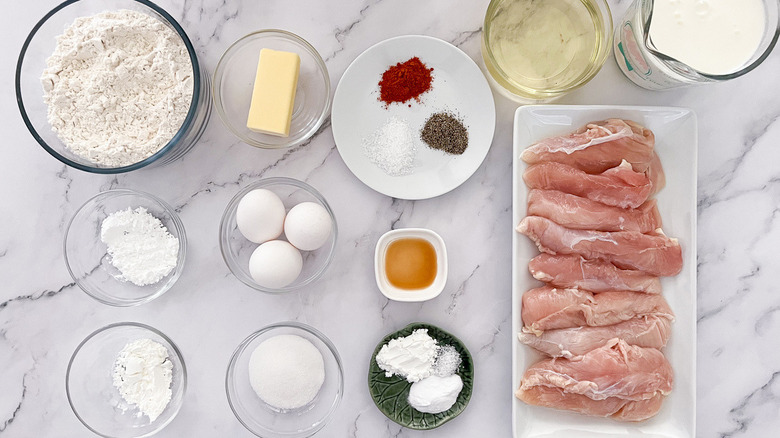 Erin Johnson/Mashed
To make the fried chicken part of this recipe, you'll need chicken tenderloins, flour, salt, pepper, paprika, powdered sugar, and eggs, plus a lot of oil in which to fry them. For the waffles, you will also need buttermilk, butter, vanilla extract, granulated sugar, baking powder, baking soda, and cornstarch. As Johnson tells us, "I like to add cornstarch to the batter to help the waffles get crisp," although she allows "If you don't have it on hand, you can leave it out."
Coat and fry the chicken tenders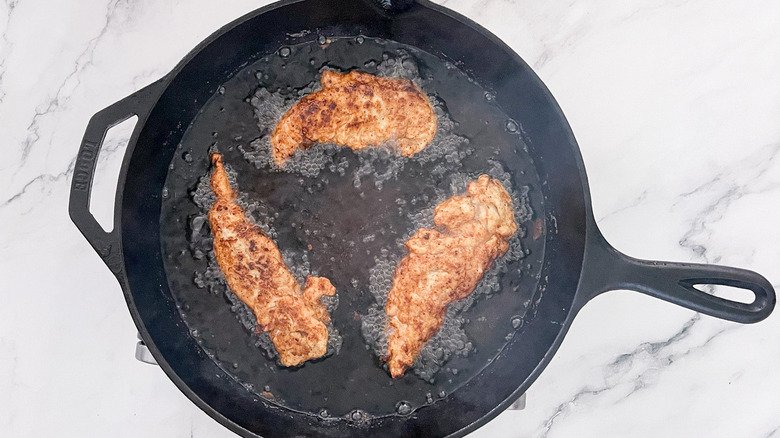 Erin Johnson/Mashed
Mix a cup of the flour with a teaspoon of salt, then stir in the pepper, paprika, and powdered sugar. Beat a single egg, then dip each tender first into the egg, then into the flour mixture. Make sure the entire chicken tender is coated.
Heat the oil to 350 F (a candy/fry thermometer will come in handy here), then fry the tenders for about 8 minutes on each side or until they are golden brown and cooked through. You may need to do so in batches if this is necessary to avoid crowding the pan.
Make the waffle batter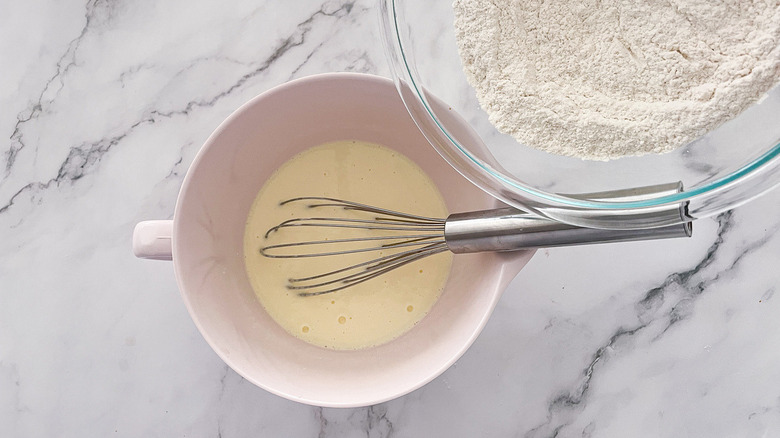 Erin Johnson/Mashed
Mix the buttermilk with the butter, vanilla, and remaining eggs, then stir together the as-yet unused flour and salt with the sugar, baking powder, baking soda, and cornstarch. Stir the dry ingredients into the wet ones, but don't worry if the batter isn't smooth. As per Johnson, "It is okay to have lumps."
Cook the waffles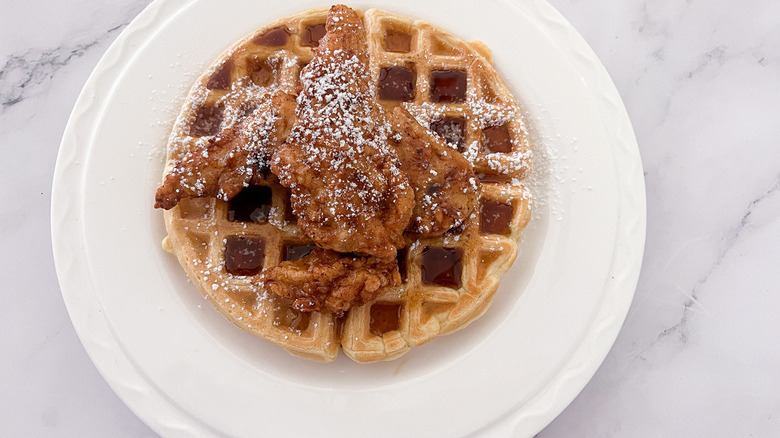 Erin Johnson/Mashed
Heat up your waffle maker. Once it's hot, pour in sufficient waffle batter to make one waffle. Johnson says it takes her ¾ cup, but this is for a Belgian waffle maker. If you're using the standard type, you may need a different amount of batter. Cook the waffle until it is no longer steaming — a dry waffle is a cooked waffle. Take the waffle out and pour more batter for a second waffle, repeating the cooking sequence until all of the batter is gone.
Once all of the waffles are cooked, put a fried chicken tender or two on top of each one. Johnson likes to use syrup on her waffles and hot honey on her chicken and she also suggests strawberries as a waffle topper. She does, however, add that "there's really no wrong way to eat these," so go ahead and add hot sauce, peanut butter, chocolate syrup, or whatever else floats your boat.
Buttermilk Fried Chicken And Waffles Recipe
Impress your brunch guests with these from-scratch buttermilk fried chicken and waffles.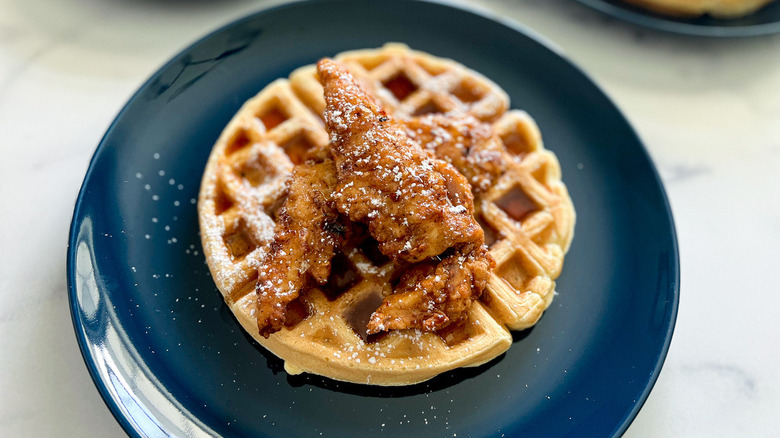 Ingredients
3 cups flour, divided
1 tablespoon powdered sugar
1 ½ teaspoon kosher salt, divided
1 teaspoon ground pepper
1 teaspoon paprika
3 eggs, divided
1 pound chicken tenderloins
2 cups vegetable oil
2 cups buttermilk
5 tablespoons melted butter
1 teaspoon vanilla
2 tablespoons sugar
1 tablespoon corn starch
2 teaspoons baking powder
1 teaspoon baking soda
Directions
Combine 1 cup of flour with the powdered sugar, 1 teaspoon of salt, pepper, and paprika in a shallow bowl. Stir until combined.
Beat 1 egg in a shallow bowl or plate.
Dredge each chicken tenderloin in the egg and then into the flour mixture, covering all sides.
Heat 2 cups of vegetable oil in a cast-iron or heavy skillet. Once oil has reached 350 F, fry the chicken for 8 minutes, or until golden brown, being careful not to overcrowd the pan. Remove from the skillet and set aside.
While the chicken is frying, whisk together the buttermilk, 2 eggs, butter, and vanilla.
In a separate bowl, mix together the remaining flour, sugar, cornstarch, baking powder, baking soda, and ½ teaspoon of salt.
Whisk the dry ingredients into the wet ones until combined. Let this sit while you heat the waffle iron.
Pour ¾ cup of batter onto the waffle iron. Cook the waffle until there is no steam coming from the sides or front. Remove and repeat.
Top each waffle with 1 or 2 pieces of chicken and serve immediately.
Nutrition
| | |
| --- | --- |
| Calories per Serving | 1,413 |
| Total Fat | 94.4 g |
| Saturated Fat | 18.4 g |
| Trans Fat | 1.0 g |
| Cholesterol | 209.5 mg |
| | |
| --- | --- |
| Total Carbohydrates | 106.2 g |
| Dietary Fiber | 4.2 g |
| Total Sugars | 15.1 g |
| Sodium | 1,290.9 mg |
| Protein | 34.8 g |