The Reason You Should Consider Making Omelets In A Panini Press
In Italy, the panini may just simply be a sandwich, served either warm or cold, but in the United States, a panini is usually served hot and grilled. Although paninis can be dated back to the 16 century in Lombardy, Italy, the American inventor Thomas Edison created the panini press in the 1920s. Unfortunately, Edison's invention didn't take off, so the product was discontinued (via Alto Hartley). In 1974, Breville recreated the panini press (for the first time, according to the company), and this time, it was a success (via Business Insider).
A panini press consists of two hinged metal plates that simultaneously heat both sides of the sandwich while pressing the sandwich together, creating a thinner, grilled, often melted panini. The machine's floating metal plates allow users to cook foods of various thickness and prevents the guts of your sandwich from sliding out when you clamp the device around the food.
Once considered a unitasker, the rather large appliance was thought to be only suitable for grilled cheese sandwiches, making it superfluous in kitchens tight on space. Chefs like Alton Brown have dispelled that myth, showing amazing things you didn't know you could make in a panini press, like whole chickens, desserts, and even omelets.
No more flipping omelets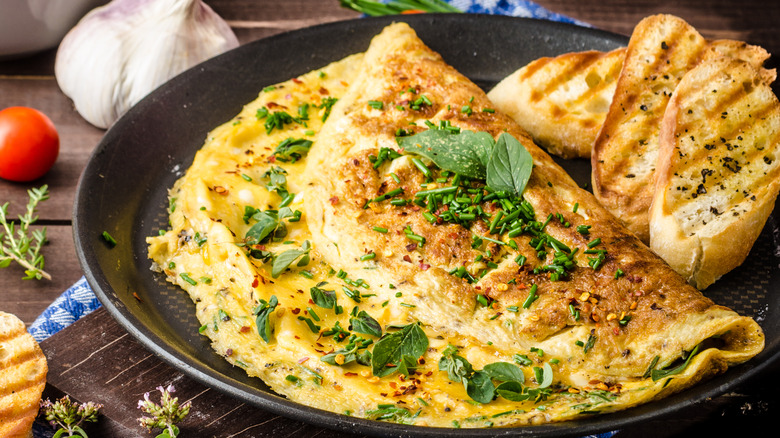 Stepanek Photography/Shutterstock
Once vilified for their high cholesterol, eggs are a protein-packed, nutrient-dense meal choice any time of day (via Web MD). Now celebrated for its heart health properties, the 70-calorie egg is the preferred breakfast choice by 65% of Americans, according to OnePoll via Today. On Food Network, Alton Brown uses a panini press to make the notoriously stick-to-the-pan spinach omelet in just two minutes. Using bacon as the grease and subsequent side dish, Brown lays a bed of baby spinach on the grill, coated in bacon fat, and closes the lid for a minute. Brown whisks the eggs with salt and pepper before pouring them on top of the wilted spinach, then closes the cover again. After one minute, a thin crepe-like omelet is ready, which Brown rolls up before placing next to the slices of bacon he prepared.
There are endless possibilities for fillings in your omelet. Like traditional omelet making, cook your fillings (meat or veggies) on the press before adding the eggs. Grill smoked ham, sweet bell peppers, and onions, then add shredded cheddar to make a Denver omelet. Or enjoy a Greek omelet with tomatoes, feta, and black olives.
Since the grates of the panini press are non-stick, don't worry about cheese melting on the surface during the cooking process. Use a non-stick tool to remove the cheese and add it back into your classic omelet. It may be the tastiest bite of the meal!