The Aldi Flavored Goat Cheese That's Taking Over Reddit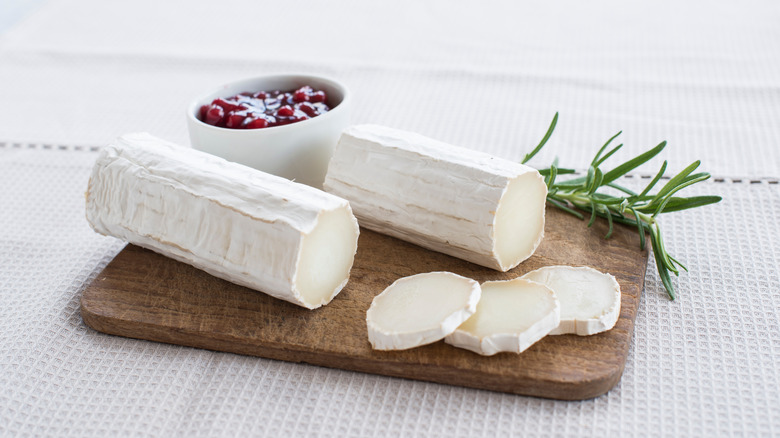 Grazyna Kownacka/Shutterstock
Grocery shopping is like treasure hunting — you never know the wonders you might encounter. You just have to open your mind while browsing the aisles and be prepared for all the food possibilities, like meat substitutes from Trader Joe's, Aldi's clarified butter, or the avocado ice cream at Whole Foods. Of course, a fun part is sharing your hunts with an online community, or letting the community surprise you back with ideas.
On the subreddit r/Aldi, a user recently shared a post about a product that opened the question: how should I use this? The product was a blueberry vanilla-flavored goat cheese, a type of creamy and salty cheese. This is also available in cranberry cinnamon flavor at this chain (via Aldi). Apparently, it's an Aldi thing to come up with brand new goat cheese flavors for the holidays.
Goat cheese is famous for being rich in proteins and healthy fats (per Healthline), and Aldi added some sweet, autumn flavors to it. However, the user seems confused about how to prepare it, stating that "naan bread did not pair well with these flavors."
Its presentation is quite curious. Do you have to cut it? Dip something in it? Spread it? According to the Redditors that commented, all of these options are valid.
Aldi's Blueberry vanilla goat cheese is perfect for sweet and salty meals
Aldi's goat cheese is quite versatile because it can be part of appetizers, main dishes, or eaten alone to join any snack or craving, either sweet and salty, or with a combination of both. Some users suggested adding it as part of a breakfast, spreading it over a bagel, a muffin, or a "gently warmed croissant", and one said it should be delicious stuffed in "crepes with fresh fruit."
Surprisingly, many users suggested adding this goat cheese to a salad. One recipe said to add this cheese "crumbled over arugula salad with toasted walnuts, raisins and a honey olive oil drizzle." Another user suggested a salad with toasted pecans instead of walnuts, with spring mix greens, blueberries or cranberries, and cucumbers. This does sound like a delicious way to have greens with a sugary taste to join any meal, or as a dinner party meal to surprise your guests.
Simple sandwiches with sliced turkey were suggested, and one Redditor remembered one of the best burgers they ever had, that included arugula, bacon, honey, and yes, goat cheese. So, this flavored goat cheese would be totally welcome in a fancy burger. 
Finally, for users that would like to have the goat cheese as it is, they can follow the tip of adding it to a charcuterie board. If you discover any additional ways to enjoy this, make sure to join the conversation!