The Fan-Favorite Trader Joe's Item That's Finally Back On Shelves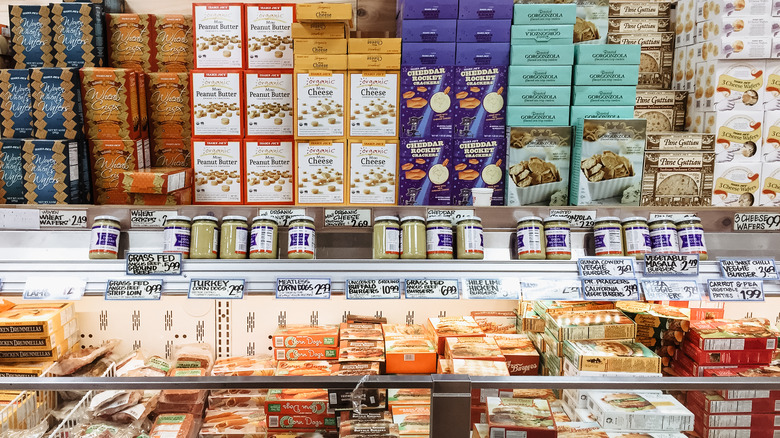 Corinna Haselmayer/Shutterstock
Trader Joe's is always spellbinding customers with the products that line its shelves. From the Everything But The Bagel Sesame Seasoning Blend that we sprinkle onto avocado toast and coat the rims of cocktails with to the returning spicy kosher dill pickles that have TJ's shoppers cheering this summer, the California-based grocery chain's products have a cult following. That's presumably why, when customers discovered that Trader Joe's BBQ pulled jackfruit is finally back, they couldn't help but express their excitement. 
If you're unfamiliar with the product, the pulled jackfruit made its debut in 2021, offering those who eschew meat and embrace the plant-based diet an alternative to classic barbecue pulled pork. What makes this fruit a stand-in for your favorite meat? The Instagram post that announced its arrival at the time wrote, "Jack fruit is pretty neat in that it's a fruit, but cooks and has the texture of shredded chicken/pork and tastes like whatever sauces you add to it!" The post received close to 18,000 likes and a lot of chatter. Now, after a brief hiatus, this BBQ pulled jackfruit is back, and the fan-favorite food has social media abuzz once again. 
You can use this jackfruit for sliders or chili
The Instagram account that goes by @traderjoeslist posted a photo of TJ's beloved meat alternative and enthusiastically captioned it, "IT'S BACK PULLED JACKFRUIT IN SMOKY BBQ SAUCE." The poster recommends pairing the $2.99-per-pouch product with coleslaw, sweet/spicy pickles and a tasty bun for a delicious sandwich!" Fellow fans also took time to relish in the good news, with one writing, "It's back?! I'm stocking up this year. I made sliders with it last year. They were delicious." Another shared, "I used this last year as a meat substitute in chili, it was great!" Still another planned to stock up on the jackfruit this summer: "Bought like 3 of these when they first came out because they keep for a long time," they said.
According to the packaging, the Pulled Jackfruit in Smoky BBQ Sauce can be microwaved in the pouch it comes in. Each serving — there are two — has 120 calories and 1 gram of fat. But how does it taste? Per What's Good At Trader Joe's, because jackfruit has a "mild," almost neutral flavor, it pairs well most ingredients. The reviewer wrote, "That works because that really helps take on the flavor of the sauce...and man. this BBQ Sauce is pretty legit," calling it balanced in sweetness, acidity, and spice.