Wisconsin-Style Bratwurst Recipe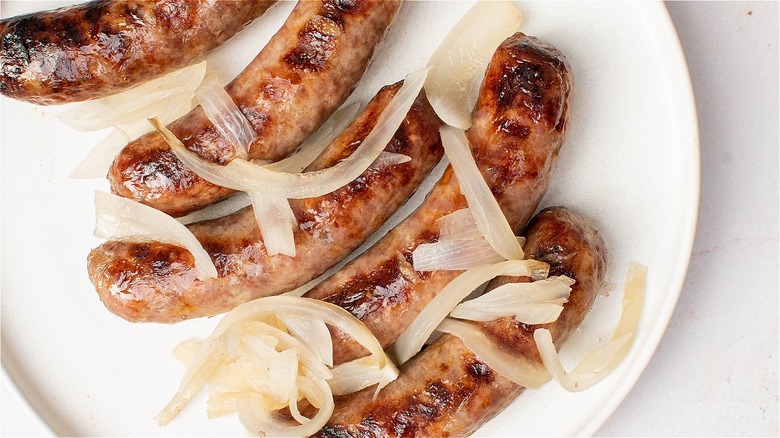 Michelle McGlinn/Mashed
Sure, bratwursts are delicious when dropped onto a fiery grill and stuffed into buns, but they're even better when beer-soaked and piled high with beer-boiled onions and freshly cracked pepper. This is the blueprint for Wisconsin tailgate parties: Easy to make and eat and using ingredients you already have on hand, almost any Brewers fan has enjoyed this parking lot delicacy.
Recipe developer Michelle McGlinn shares the best method for making beer brats below, crafted authentically from many years living in Milwaukee, Wisconsin. Included are methods for the grill and stove top with an added suggestion on how to best prepare these in advance. She also shares the best beers to use, and, for the best results, a Wisconsin-brewed beer like Spotted Cow or the tried-and-true Miller simply can't be beat.
A year-round classic, these bratwursts are delicious in the summer paired with cheese curds and bloody Marys, or served up in winter with Bavarian pretzels and sauerkraut. Getting ready for Sunday's Packers game? Check out our Wisconsin-style bratwurst recipe below.
Gather your Wisconsin-style bratwurst ingredients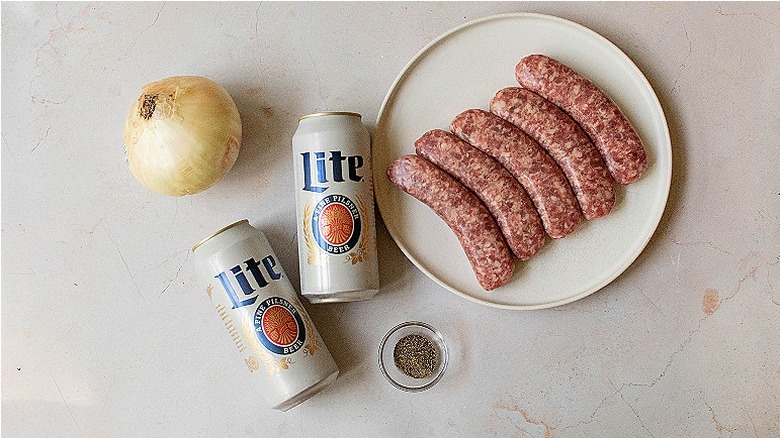 Michelle McGlinn/Mashed
A great beer brat only requires a few ingredients. You'll need good-quality bratwurst, your favorite lager or ale, a large yellow onion, and a little bit of pepper. You can find bratwurst at any grocery store in the pork or sausage section, often in packs of five. While there are many flavors, this recipe calls for plain, classic bratwurst. You can also find great fresh bratwurst at your local butcher.
While in Wisconsin you're likely to see beer brats made with regional favorites like New Glarus Spotted Cow and Miller High Life, you can use any neutral-tasting ale, lager, or pilsner for this recipe. Avoid hop-heavy or fruity beers like IPAs and sours, which will leave a bitter, sour flavor in your brat. Cooking in the winter? Try a porter or stout for a richly flavored sausage. You could also opt for a gluten-free or alcohol-free beer, but keep in mind that any alcohol will burn off during the cooking process no matter what.
Prepare for a tailgate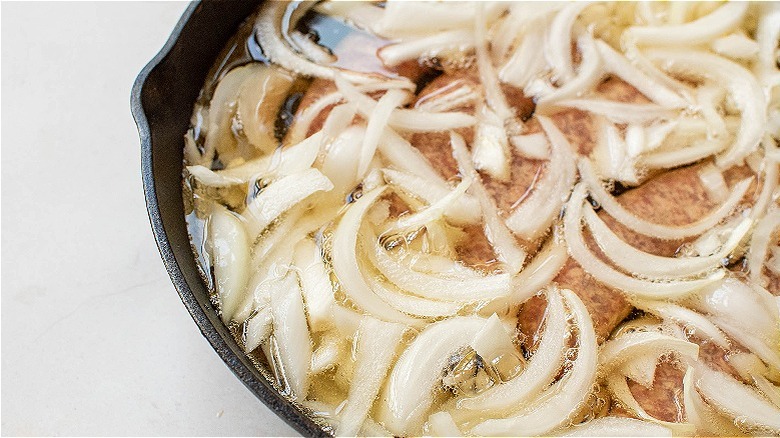 Michelle McGlinn/Mashed
This recipe is written for a quick start to finish and can be made at home or outside a football game. To prepare this recipe in advance, arrange the bratwursts, onions, and beer in a disposable grill pan (make sure the pan is made for grilling and can withstand the high heat). Cover and refrigerate for up to 24 hours in advance. When ready to grill, remove the pan from the refrigerator and place on the grill grates, continuing with the recipe as written. Best part? Your brats will have an even better flavor from marinating all night!
Boil the brats and onions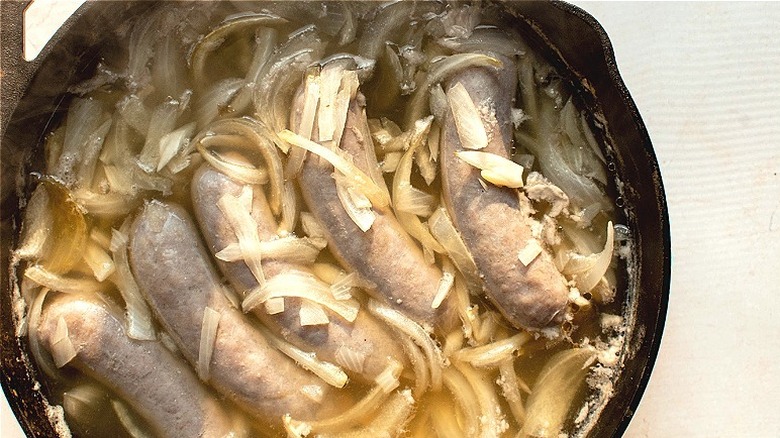 Michelle McGlinn/Mashed
On the grill (or on the stovetop over medium-high heat), fill up a cast-iron skillet with brats, sliced onions, and beer. Put the skillet over indirect heat, or where the burners are on low. Crank the other burners to high to raise the heat of the grill and close the lid. Try not to peek at the brats too often — opening the lid allows heat to escape, and bringing the beer to a boil takes some time. Boil until the brats are nearly cooked through, about 145-150 F. The brats will be a dull gray color, and the onions will be very soft.
Sear the brats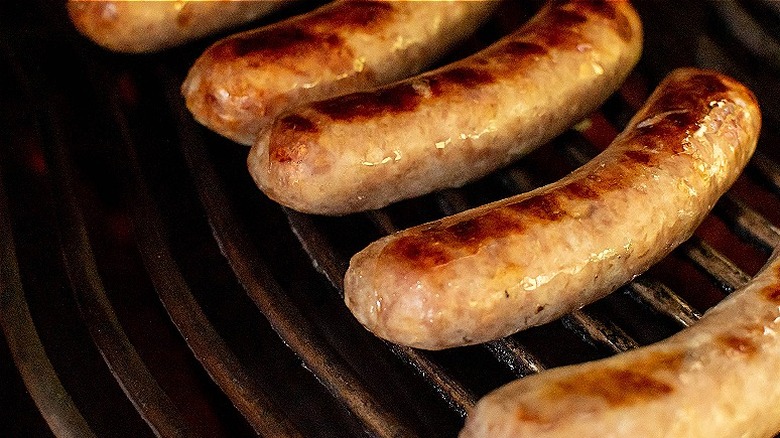 Michelle McGlinn/Mashed
Give the now-gray brats some color by charring the sausages over direct heat. Turn the burners down slightly and transfer the bratwursts to the grill grates, brushing off any onions stuck on the meat to avoid flare ups. Grill until deeply browned and at least 160 F, rotating often to brown each side. For a crispy, smoky exterior, char slightly longer, but avoid burning completely.
Serve the brats with onions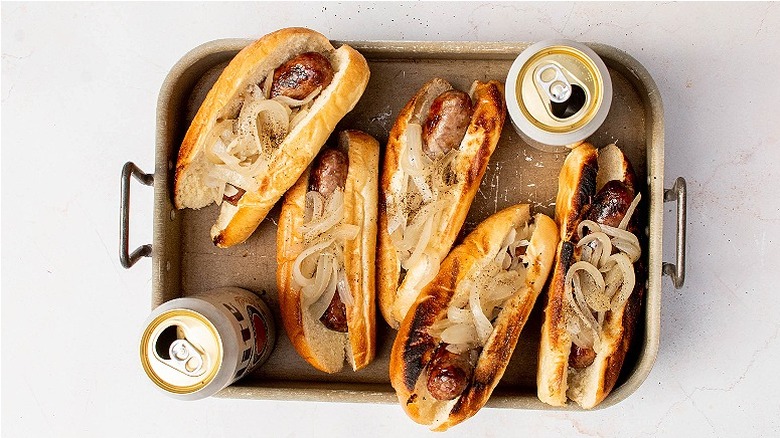 Michelle McGlinn/Mashed
The boiled onions aren't just for show — they get piled on top of the brats for a delicious topping. Sprinkle with cracked black pepper for extra flavor and salt if needed. Serve the brats as-is or sandwiched between sturdy hot dog buns; you can find large, dense buns specifically made for bratwurst in most grocery stores.
While beer brats aren't outfitted as generously as their hot dog cousins, you can still add more classic toppings for a loaded brat. Try spicy brown mustard or grain mustard for a Germanic kick of heat, or seek out stadium mustard for an East coast variation. If you love sweet-acidic toppings like pickle relish or tomatoes, try swapping these classics for sauerkraut on your bratwurst. Love ketchup on your dogs? No one's stopping you in this north-of-Chicago recipe!
Wisconsin-Style Bratwurst Recipe
Whether you're getting ready for a tailgate or want to grill at home, these Wisconsin-style beer brats are sure to hit the spot.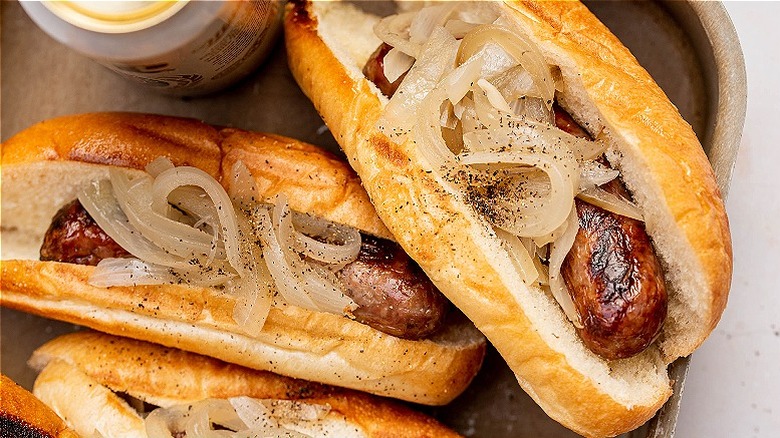 Ingredients
5 bratwurst sausages
2 (16-ounce) cans light beer
1 large onion, thinly sliced
1 tablespoon black pepper
Optional Ingredients
salt, to taste
buns, for serving
Directions
Boil the sausages and onions. If boiling on the grill, heat the grill with two burners on high and two burners on low. Place the sausages and onions in a cast-iron skillet and cover with beer. Put the skillet over the indirect heat and cover the grill. Bring to a boil, then boil until onions are softened and sausages are cooked nearly through, about 20 minutes total.
Once sausages are cooked nearly through, use tongs to move the sausages onto direct heat, turning the burners down if needed. Cook, rotating often, until charred on each side.
Remove sausages from grill. Top with boiled onions and sprinkle with black pepper.
Serve in buns, if desired.
Nutrition
| | |
| --- | --- |
| Calories per Serving | 165 |
| Total Fat | 6.3 g |
| Saturated Fat | 1.9 g |
| Trans Fat | 0.0 g |
| Cholesterol | 17.5 mg |
| | |
| --- | --- |
| Total Carbohydrates | 10.4 g |
| Dietary Fiber | 0.9 g |
| Total Sugars | 1.5 g |
| Sodium | 193.7 mg |
| Protein | 5.2 g |