The Aldi Harvest Pizza That Instagram Is Falling For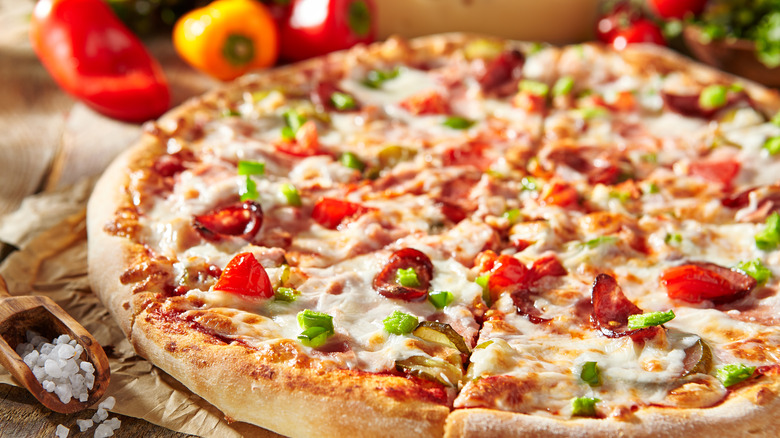 Ryzhkov Photography/Shutterstock
When it comes to buying seasonal food, Aldi has proven itself over the years as a prime destination to buy just what you're looking for. Since becoming a major competitor in the United States grocery store market, the grocery store chain has been sweeping customers off of their feet with its high-quality products at a discounted price (via RTE). With Aldi constantly changing up their products and offering customers the latest new gourmet food offerings, it's no surprise that it won seven awards for Products of the Year in 2022, and yes, the year isn't even fully over yet.
Once Aldi launched their fall food lineup, we couldn't wait to try it. From Benton's Maple Leaf Crème Cookies, fall-inspired trail mixes, fall-shaped pasta, and of course the chain's famous limited Aldi Finds, the grocery store chain makes the top of the list for seasonal finds for any meal or snack throughout the day.
In our latest sweep of seasonal Aldi Finds, Instagram can't stop raving about a new harvest-spiced pizza in the freezer section.
Falling for Mama Cozzi's Harvest Supreme Pizza
In the latest hunt of Aldi Finds on Instagram, Mama Cozzi's strikes again. Just in time for fall and harvesting season, what could be better than a frozen thin crust Harvest Supreme Pizza? As suggested in its name, the pizza is topped with all kinds of harvested toppings, including pork and chicken sausage, black olives, spinach, sun-dried tomatoes, red onions, and mozzarella and feta cheese.
Once Instagram heard about this new seasonal find, Aldi fans couldn't stop talking about it. "HARVEST SUPREME PIZZA," wrote an Instagram user, of course with tons of heart-eyed emojis. "It looks so good!!" another person said. "Yummy!" another Aldi fan commented.
Mama Cozzi's seasonal Harvest Supreme Pizza is currently on the shelves of Aldi stores while supplies last. According to Nutritionix, one slice of the pizza comes to 310 calories, and averages to around 30% of the recommended daily value in saturated fat, 33% in sodium, and 30% in Vitamin A.