Bobby's Burgers May Be Coming To An Airport Near You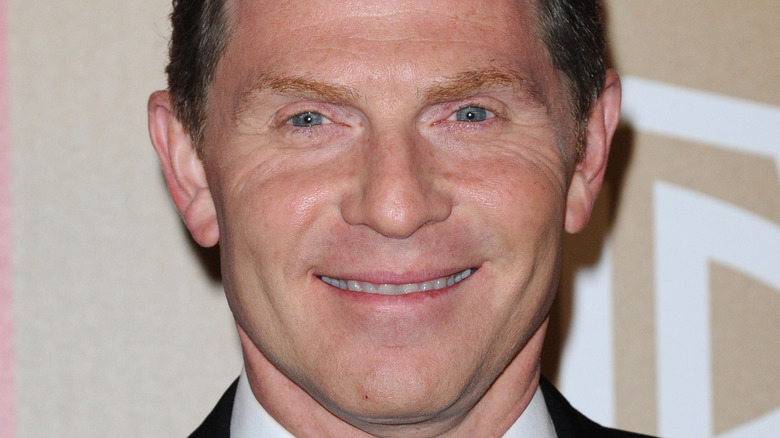 DFree/Shutterstock
When you're at the airport, food probably isn't the first thing on your mind. Between checking bags, going through security, and rushing to the right gate, there's not always a lot of time to sit down for a meal. But at some airports, building in a little extra time to get a bite is well worth it. According to a survey, the two airports with the best food are Louis Armstrong New Orleans International Airport and Miami International Airport. And for you burger fans out there, Phoenix Sky Harbor Airport is getting a new spot that will satisfy your craving.
In an Instagram post, Bobby Flay announced that he'll be opening up a Bobby's Burgers location in Phoenix, which will be his first airport location. AZCentral also reports that this will be the first Bobby's Burgers restaurant in the state of Arizona. Wondering where in the airport you'll be able to fill up on fries and shakes before your flight? According to AZCentral, customers can find Bobby's Burgers in Terminal 4 Crystals food hall, and the shop will open in early 2023.
Fans across the globe are hoping for a Bobby's Burgers location
In the comments section of Flay's Instagram post, celebrities and fans alike share their excitement over this news. Sunny Anderson gave Flay lots of encouraging support and said, "Look at BOBBY with that BOBBY SMIRK," referencing his smile in the photo as he holds his milkshake. Others think that Bobby's Burgers makes the airport a much more appealing destination visit. One person commented, "Oh I'm going to drive to the airport just to have your burger."
Although there are plenty of people who are hyped to see a Bobby's Burgers restaurant come to Phoenix Sky Harbor Airport, many folks in the comments are asking when they'll see a location open up closer to home for them. For example, someone said, "The Bay Area is patiently waiting" while another hopeful customer wrote, "We need one in PDX!" Burger lovers also want to see Bobby bring his food to Toronto, Philadelphia, and even Brazil.
Thankfully, Bobby's Burgers might soon hit more cities, and Fast Casual reported that the burger chain has a few specific cities for expansion, including Charlotte, Las Vegas, Denver, Phoenix, Dallas, Houston, Philadelphia, Salt Lake City, and Toronto. Flay recently brought Bobby's Burgers to Harrah's in Las Vegas. If you're patiently waiting for a location to pop up near you, you can pass the time and learn Flay's secret for the perfect burger.