The Angela Lansbury Teapot Thread Is What You Need Today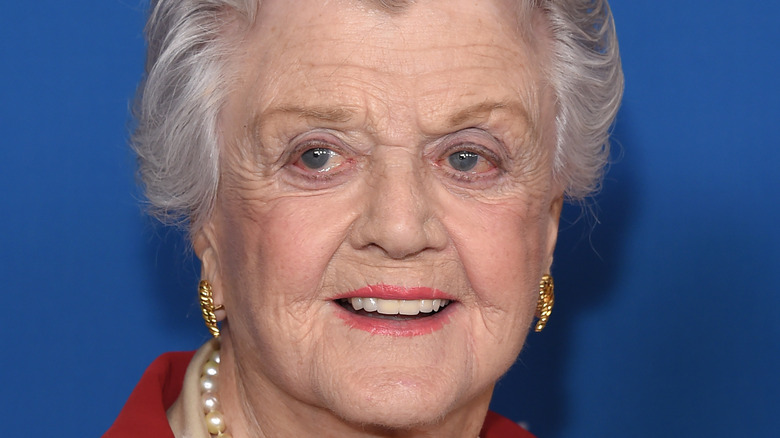 DFree/Shutterstock
Since the announcement of her death on Tuesday, October 11th, tributes to Angela Lansbury have been pouring in from fans and friends across the film, theater, and television worlds. The legendary actor enjoyed an incredible seventy years in show business, earning an Academy Award nomination for her first film appearance in 1944's "Gaslight," and multiple Tony awards for her work on Broadway. She was especially beloved for her long-running role as mystery writer and sleuth Jessica Fletcher in the TV series "Murder, She Wrote."
A particularly well-loved Lansbury role by millennials and Disney fans of all ages is that of Mrs. Potts, the singing teapot in 1991's animated classic "Beauty And The Beast." As one fan shared on Twitter, "She provided the soundtrack to so many childhoods." 
Another of Lansbury's fans took to Twitter to honor her Mrs. Potts role in the most unique and charming way. In a tweet, they shared a photo of Lansbury wearing a rose-patterned sweater — side-by-side with a teapot that matches her exactly. The thread goes on with dozens more homages of "Angela Lansbury as teapots."
Fans may want to start an Angela Lansbury teapot collection after seeing this
Just finding one teapot in a design that matches an Angela Lansbury outfit would be heartwarming enough, but one Twitter user managed to find 29. One tweet has the actress, in an orange blazer and white blouse, next to an orange teapot with a white spout and handle. In another, Lansbury wears a sweater stitched with several little cottages and the words "Home Sweet Home." Her teapot doppelgänger is shaped like a thatched cottage. In a cute beach photo, the actress wears white, heart-shaped sunglasses with a plaid blouse in shades of Day-Glo pink, orange, and yellow. This Twitter super-fan found a white teapot covered with an embroidered tea cozy in the same, neon colors. 
Perhaps the best of this Lansbury-teapot collection is a post that captures additional Disney nostalgia: Lansbury in a light purple blouse and dark purple sweater side-by-side with a purple-striped, Cheshire Cat teapot that would be right at home at the Mad Hatter's tea party in "Alice In Wonderland." 
The question has to be asked: Were teapot creators intentionally designing Angela Lansbury look-alikes? Or did Lansbury just spend decades unwittingly dressing like a darling teapot? Either way, this post may inspire her fans to create their own, honorary, Angela Lansbury-themed teapot collection, perfect for pouring a cup while singing her iconic "Beauty And The Beast" song, "Be Our Guest."