Is Eggo Actually Releasing A Vegan Waffle?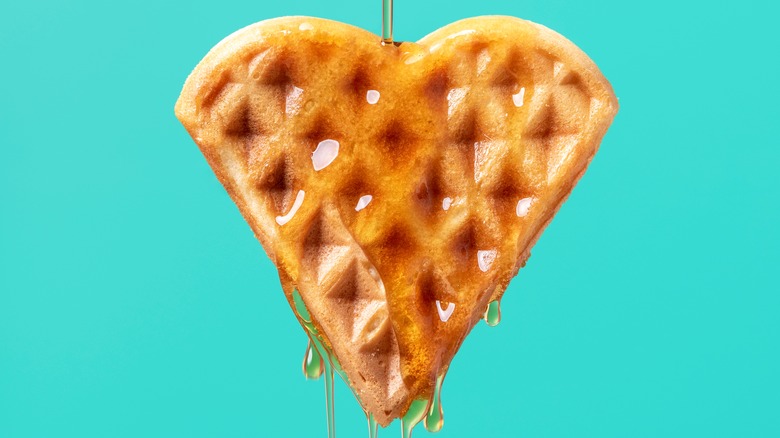 YesPhotographers/Shutterstock
Being a vegan at breakfast generally means one of two things: A lot of oatmeal or getting creative. Some mornings, there just isn't the time or forethought needed for vegan breakfast recipes you can make the night before like chia pudding and overnight oats. Think you could grab a pre-made sandwich from a fast food place on the way to work? Not if you're a vegan. While plant-based sausage patties are now occasionally offered at major chains, like Dunkin's Beyond Sausage Sandwich (which was mostly discontinued in 2021), they often include cheese, or egg, or are on a bun made with milk. The same is true for frozen pre-made veggie-friendly breakfast sandwiches, which may be vegetarian but not vegan. If you can find them, Alpha Foods Plant-Based Breakfast Sandwich is microwavable, fully vegan, and made with products from the popular brand Violife (via Shaw's). However, like most prepared vegan cheeze options, it does contain major allergens such as soy, wheat, and coconut.
Now, it seems that an easier vegan breakfast option is about to enter the freezer aisle with a little help from Eggo waffles.
L'eggo my egg-less Eggo
Holy vegan waffles batman! According to The Beet, Eggo will be releasing its first-ever vegan waffle later this year. Making a waffle without eggs sounds like a challenge indeed, as waffles traditionally get their custardy flavor from copious amounts of butter, milk, and eggs. This New York Times recipe for American-style waffles, for example, calls for four eggs. So how did they do it? Eggo worked with a vegan egg made from wheat gluten and soy flour. These are also modeled after an authentic Liège waffle recipe, which uses pearl sugar and yields a more rustic shape rather than a perfect circle or square.
While there's no word yet on whether Eggo will be releasing these new treats on their own or not, they will be hitting shelves later this year as part of a collaboration with fellow Kellog's brand MorningStar Farms. The veggie meat brand and the breakfast champs have joined together to create a new version of their successful 2021 Waffle Day collaboration, a "chicken" and waffles that featured MorningStar Farms Incogmeato chicken and regular Eggo waffles. While the collab was undoubtedly a success, fans expressed disappointment that it wasn't fully plant-based. The new frozen Plant-Based Chick'n and Eggo Liège Style Waffle Sandwich will be completely vegan, offering all plant-based consumers a way to enjoy this American classic. Look for it with the MorningStar Farms products. While the product won't be out until later this year, we can confirm some of the select retailers where you can find it will be Walmart, Target, and Ralph's (via Food Beast).