Why Food On Instagram Is Undergoing An Aesthetic Shift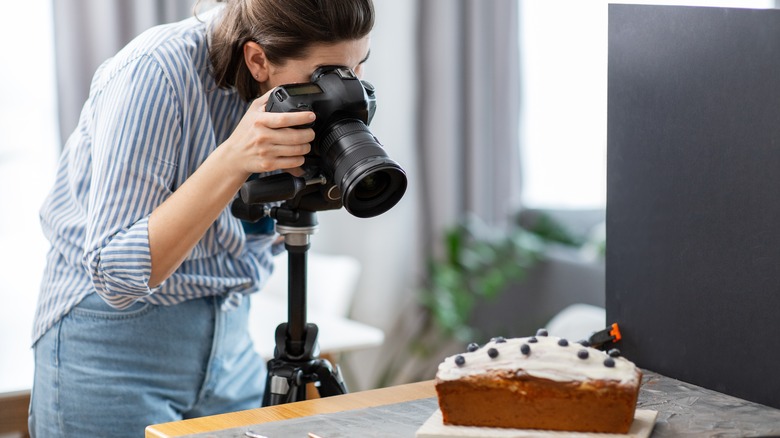 Ground Picture/Shutterstock
To the part of the world that views food as more than just fuel, considers dining out an activity, and plans meals weeks in advance, you are not alone. The entire Italian culture revolves around food, spending hours at meals, savoring each course, and enjoying the company of family and friends, per Georgetown University.
According to the blog Shutterstock, Instagram has seen a surge of food posts, fortunately replacing the highlight reels of friends posting photos of their "perfect" families in matching navy outfits. Food hashtags like #foodphotography had, at the time of publication, 100,927,478 posts, and #foodporn had a staggering 292,186,200 posts on Instagram. Susan Bright, the author of "Feast for the Eyes," which explores the history of food photography, says of the rise in the trend, "Here food seduces the viewer in another way altogether."
Food lends itself well to provocative photography with different textures, shapes, and intense colors, which is relevant to everyone. The picture-perfect photo of your gourmet meal says something about your wonderful life without being too obvious. The Atlantic describes Instagram's aesthetics as "carefully staged, color-corrected, and glossy-looking," with pops of Millennial pink, of course.
The post-pandemic world, however, has shifted what people want to see online. Gone are the filtered, heavily propped, tweezer-placed plates, or as 15-year-old Claire sums it up, "It's not cool anymore to be manufactured." With Instagram's algorithms shifting to favor videos, it's more critical than ever that food bloggers and influencers take notice of the new trend.
The Instagram shift to laissez-faire photography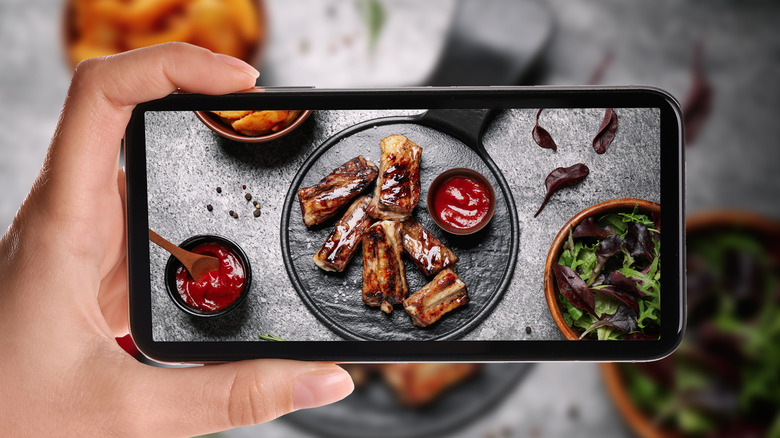 New Africa/Shutterstock
According to Eater, until recently, food bloggers all followed the same formula, "crisp, pristinely lit plates" shot from above using fake white marble surfaces and ring lights. Garnishes were painstakingly placed in the shot so they appeared random. This cookie-cutter approach, which required a lot of effort, but rewarded influencers with thousands of likes, has given way to a new, more realistic trend.
Dubbed "laissez-faire" or "lo-fi food" by AnOther magazine, Instagram's new aesthetic, more accurately anti-aesthetic, emphasizes a realistic approach to posting, showcasing weird and ugly photography taken in messy kitchens. Instead of carefully taking photos from the right angle to blur props and highlight the subject, users are photo dumping, sharing many images that are layered with inside jokes, quotes, and an "anarchic spirit" which underscores their individuality and prevents sites from appearing like clones.
According to Vice, the anti-aesthetic trend is fueled by young users who "value authenticity over coming across as too self-conscious or polished online." Unfiltered, and what David Chang coined "Ugly Delicious," food is the real food we enjoy eating at home. The DIY dishes we grew up eating and still crave. The posts doing well today are more of a visual diary, raw and overshared, instead of curated.
This food trend has been embraced across the board by restaurants, that find the shift freeing, and by disabled and neurodivergent people, who have difficulties staging photos due to barriers like inaccessible kitchens or poor fine motor skills. The DIY trend takes the pressure off and encourages all home cooks to share — the messier and uglier, the better.