The Unexpected Flour You Should Use To Make Biscuits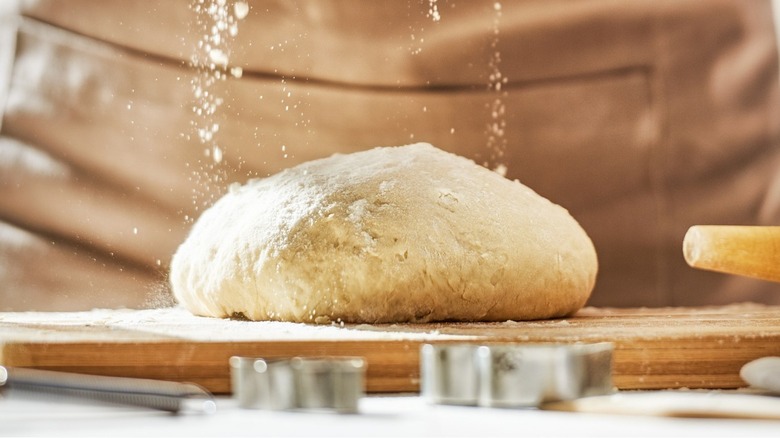 Yuganov Konstantin/Shutterstock
We may receive a commission on purchases made from links.
Flaky, light, buttery biscuits have accompanied meals for centuries, improving the meal immeasurably. Whether served at breakfast smeared with softened butter and jam (or honey), at brunch with carved ham, at lunch with sausage gravy, or at dinner topping homemade chicken pot pie, biscuits make everything better.
Created in the South, the first iteration of biscuits was a sturdy, dense, arduous baked good prepared by enslaved cooks. According to The Washington Post, the delicate biscuits we now know weren't made until leaveners (baking soda and powder) and flour became widely available around 1877, giving the South's favorite bread, cornbread, "a run for its money."
While biscuits are a simple, quick bread, bakers are divided on whether they should be round or square, made with lard, shortening, or butter, and what to do with the dough scraps. With just a handful of ingredients, there are almost a dozen mistakes everyone makes when baking biscuits, resulting in tough, flat, or dry biscuits, according to Southern Living.
The popularity of biscuits has led to stocked freezer aisles at supermarkets in addition to the familiar can-popping biscuits like Pillsbury, which Americans have relied on since 1931. Although convenient, nothing beats a scratch-baked buttermilk biscuit. While you can roll the dice and pick one of the 12 million buttermilk biscuit recipes found online, Kelly Fields, the chef-owner of Willa Jean in New Orleans, is known for "flaky as croissants and big enough to make excellent sandwiches" biscuits, according to Food and Wine, and has shared her secrets.
The flour hack for tender biscuits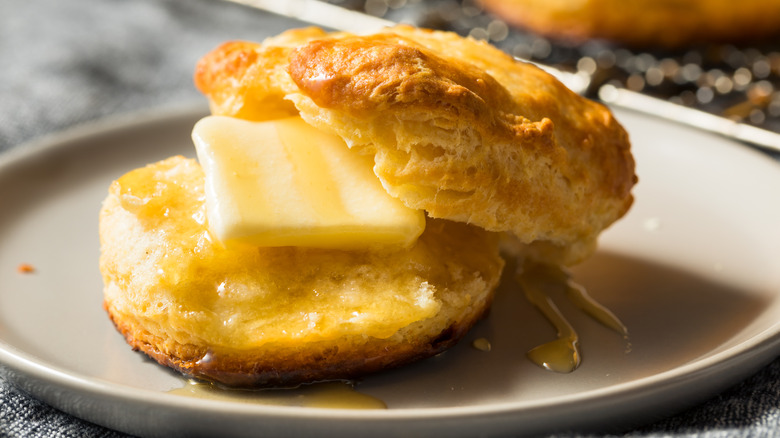 Brent Hofacker/Shutterstock
Skilled bakers outside of the Southeast may have trouble achieving the tender crumb they aim for in a buttermilk biscuit without damage to their reputation. According to Food and Wine, the type of flour available in your region is the main reason biscuits end up tough and chewy. While a high-protein flour with a higher gluten content is needed for chewy pizza dough, biscuits and pastries benefit from less gluten. Since 1883 Southerners have relied on White Lily, a brand of soft white winter wheat flour that contains less protein than the red winter wheat flour readily available in the rest of the country.
Although the internet makes most ingredients available for a price, chef Kelly Fields devised another option she shared in her cookbook, "The Good Book of Southern Baking." For her recipe, Baker's Biscuits, Fields swaps traditional flour for pasta flour which Food and Wine called "wildly clever." Pasta flour, also called "double zero" or "00" flour, is Italian wheat flour that's softer than all-purpose flour, giving the pasta a tender bite rather than a chewy one. Still a specialty item, pasta flour is found in most supermarkets and available online in smaller packages.
As for the other debates, Fields suggests grating butter into the flour and freezing the biscuits before baking. The steam released as the butter melts lifts the pastry, creating fluffy layers, per Baking How. And Atlanta's "Biscuit Jedi," Erika Council, bakes all the dough — biscuits and scraps — for zero waste.