Here's What Happened To McClary Bros Drinking Vinegars After Shark Tank
We may receive a commission on purchases made from links.
When you're buying a bottle of vinegar, chances are, it's probably to make a pickle or a salad dressing out of it. Maybe, you even plan to use vinegar as a cleaning liquid to make your home sparkle. Regardless of the case, drinking is probably not the first thing that you associate the pungent liquid with.
As it turns out, humans have been drinking vinegar since the time of the Babylonians (via Brightland). Vinegar mixed with water was once considered a refreshing drink; a combination of vinegar, water, and honey known as oxycrate was popular in ancient Greece; and vinegar diluted with water was a common sight on the streets of ancient Rome. Thrillist also notes that Haymaker's Punch — made from vinegar, water, ginger, and sugar — was once popular in 19th-century America for its supposed health benefits.
Look at supermarkets now, however, and you wouldn't guess that drinking vinegars were ever even a thing. Besides apple cider vinegar, few think of vinegar as a refreshing beverage to drink when thirsty. But a certain entrepreneur hoped to change that. Jess Sanchez McClary walked into "Shark Tank" on season 7 with her business McClary Brothers with one aim: to make drinking vinegars popular once again (via Shark Tank Blog).
A thumbs down for drinking vinegars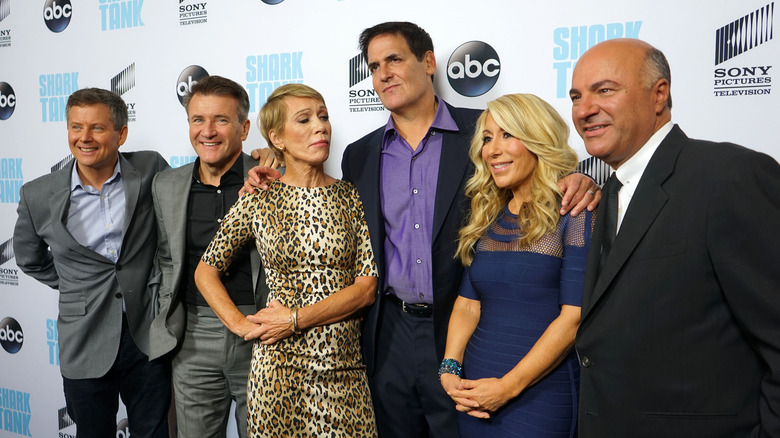 Kathy Hutchins/Shutterstock
While drinking vinegars typically contain sugar, herbs, spices and some type of fruit, Jess Sanchez McClary's business wasn't just another apple cider enterprise (via Shark Tank Blog). With flavors like cranberry, beet and carrot, and Thai basil, McClary Bros. wanted to establish itself as an innovative heavy hitter in the market of soda alternatives and healthy beverages.
According to McClary, her line of drinking vinegars were best drunk in one of three ways: mixed with sparkling water, used as a mixer for alcohol, or drunk straight up by themselves. Considering each bottle was priced between $18 to $25 however, the drinking vinegars were more economical when thought of as concentrates that could be diluted.
Although McClary Bros. had made $312,000 in sales prior to appearing on the show, none of the sharks liked the taste of the drinking vinegars on their own. What they did agree on, however, was that they worked well as cocktail mixers and there was potential in the business but it simply wasn't enough. Lori Greiner wanted more research-backed data on the health benefits of drinking vinegars, Kevin O'Leary and Robert Herjavec were both intrigued but skeptical about the market for drinking vinegars, and for Mark Cuban, it was a matter of dislike for all drinks with vinegar. While the sharks advised McClary that she was on the right track, they weren't ready to be a part of the drinking vinegar business themselves (via Heavy).
McClary Bros hasn't survived without the sharks
Although Jess Sanchez McClary walked out of "Shark Tank" without the $100,000 investment she was seeking, it seemed that McClary Bros. was powering on in the drinking vinegar business, for some time at least. In the weeks following the episode's airing, McClary Bros. had sales that surpassed anything they had made in an entire year and the business was hiring new employees to grow (via Entrepreneur). In fact, McClary speculated that publicity from appearing on "Shark Tank" raked in nearly $200,000 worth of sales — more than double what she was seeking from the sharks.
McClary opened a second production facility, introduced new vinegar flavors, and expanded its retail business. McClary Bros. also opened its own store in Michigan, complete with a tasting room (via Gazette Review). According to Shark Tank Blog, McClary Bros. was in 700 midwestern grocery stores including Meijer within a year of appearing on "Shark Tank."
While it seemed that McClary Bros. was going to do just fine without investment, it appears that the business may not have survived without the sharks that would have come with it. McClary Bros.' Instagram page has been inactive since 2020 and the Amazon storefront has no stock of drinking vinegars. The website also seems to have been taken down, and as of 2022, there are virtually no signs of McClary Bros. and their line of drinking vinegars.