Feel The Wrath Of Dracula With This Vampire-Inspired Cocktail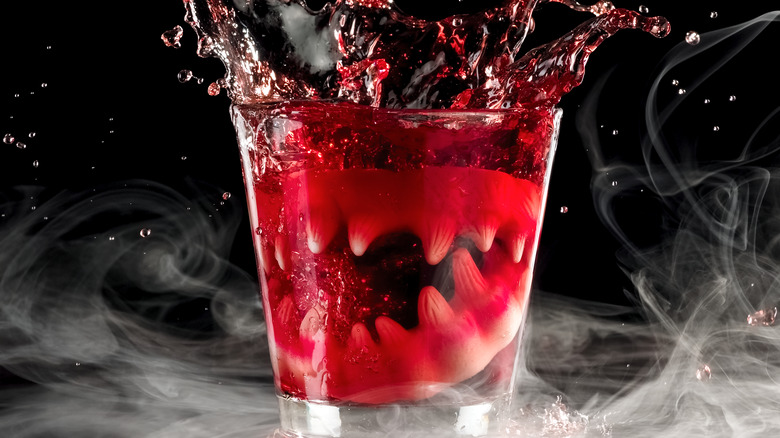 Mariyana M/Shutterstock
Sure, adults love Halloween candy, but most will attest that the holiday's costume parties, complete with creepy treats and cleverly named cocktails, are more fun than trick-or-treating with the kiddies. If you're keen on hosting and party planning, then you know how exciting it can be to round up all your unique and cute party ideas to create a perfectly themed experience for your guests. You take care to ensure the fog machine is rolling in an eerie layer of mist across the floor, provide ambient lighting, pump your favorite Halloween playlist in the background, and invite your costumed friends to enjoy the variety of spooky snacks you've laid out.
If you're looking to top off the party with an impressive-looking and equally tasty Halloween-themed cocktail, there is one that is sure to be a crowd-pleaser – the Vampire Bite.
This fruity mixed drink not only looks flawlessly festive, but it's flavorful and not overly strong. There are only a few ingredients needed to create this boozy potion, and you can dress up the glasses and presentation any way you'd like to concoct an even more tempting libation.
Get creative with your vampire cocktail recipe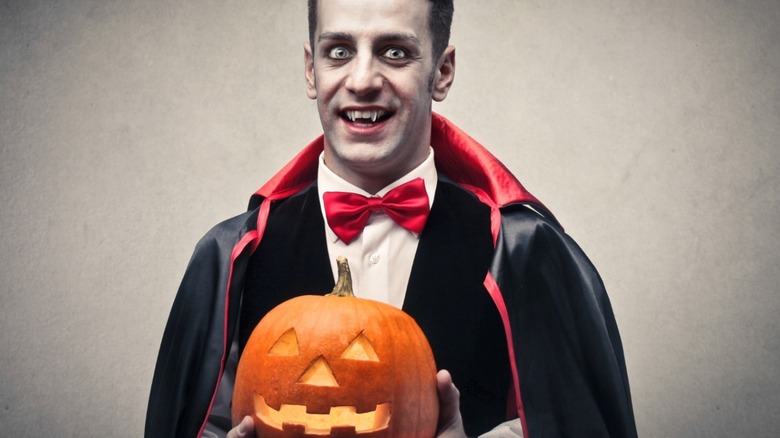 Ollyy/Shutterstock
Though this vodka-based Vampire Bite drink has a few different elements you can use, there are many different variations of it if you'd like to experiment with flavor combinations. Cherry vodka, black cherry soda, and lemonade are the main ingredients to use for this blood-red cocktail, and you can get creative and use glass beakers, plastic syringes, or drop a set of vampire's teeth in as a spooky gift for when your guests finish their drink. Straining frozen fruit such as raspberries can be a refreshingly sweet addition to your chilling brew, and if you're feeling extra fancy you can top it all off with a bit of champagne (via BBC Good Food).
If your goal is to make the drink as visually striking as possible, there are ways you can make it appear even more blood-soaked and ominous. For an added dose of fake blood, you can mix together light corn syrup and red food coloring to drizzle over the rim or dripping down the inside of your Vampire Bite glasses. Be sure to not use too much and to chill the glass after adding this touch of gory detail. According to My Heavenly Recipes, "Lightly coating the glass will still give a stunning effect without the mess. Chilling helps to set the 'blood' and stop it from moving too quickly." We're sure this sanguine cocktail would make even Dracula himself water at the mouth.