Fresca Mixes It Up With New Canned Cocktails - Exclusive Interview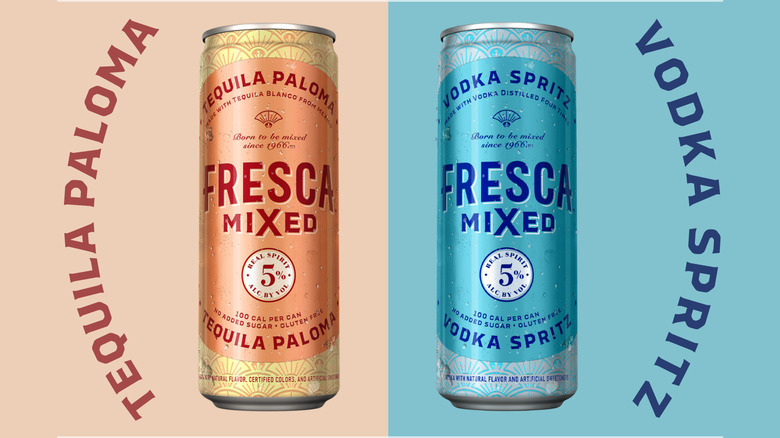 Constellation Brands and The Coca-Cola Company
Fresca was first introduced in the United States in 1966. Since then, it has gone on to become a staple of the American soda landscape. Unlike other popular sodas, which rely heavily on sweeteners and sugars, Fresca is a pleasant and refreshing drink with a naturally appealing flavor. While the Fresca line now offers multiple varieties, the original grapefruit remains the flavor that has captured the hearts and tastebuds of drinkers over the years. 
Recently, Fresca entered the canned mixed drink game. Having been used as a mixer since its inception, the original grapefruit Fresca can now be purchased mixed with either blue agave tequila or vodka. To find out more about the new Fresca Mixed, we spoke with Duke Zandstra, marketing vice president for Fresca Mixed, and Dan White, chief of new revenue streams for The Coca-Cola Company North America. They gave us the scoop on everything you need to know about the new Fresca Mixed line.
Why Fresca Mixed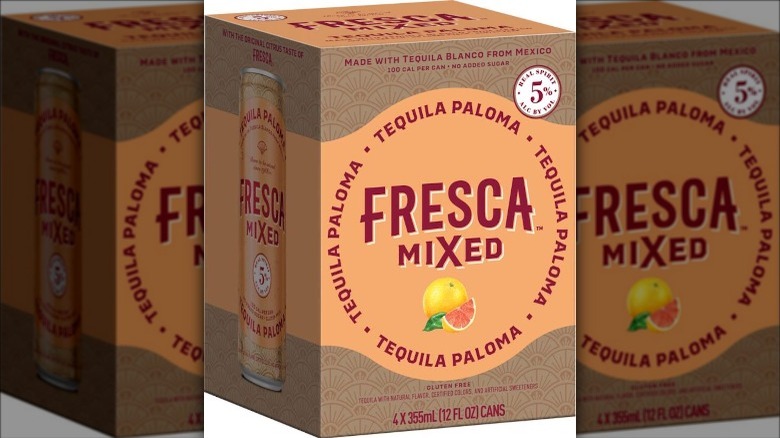 Constellation Brands and The Coca-Cola Company
What is Fresca Mixed?
Duke Zandstra: FRESCA™ Mixed is a new line of premium, pre-mixed cocktails crafted with the classic, citrusy taste of FRESCA® that consumers love and real vodka and tequila.
Why did Fresca decide to make a canned mixed drink?
Zandstra: After being enjoyed by so many of its fans [as] both a soda and a cocktail mixer for decades, FRESCA® became a household staple. Now, the launch of FRESCA™ Mixed from Constellation Brands makes it that much easier for consumers to enjoy the delicious taste of the citrus soda in a new alcoholic offering.
Constellation Brands keeps its customers at the forefront, so when the opportunity arose to partner with The Coca-Cola Company and turn the fan-favorite FRESCA® soda into a canned cocktail, it was the perfect match. Through this relationship with The Coca-Cola Company, we will expand our beverage portfolio through distinctive flavors and new and exciting ready-to-drink alcohol segments. Constellation Brands will produce, distribute, and market FRESCA™ Mixed.
The alcohol component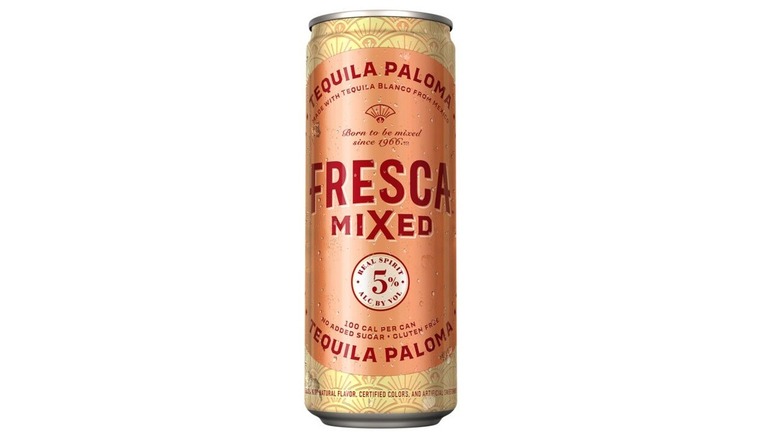 Constellation Brands and The Coca-Cola Company
Right now, Fresca Mixed comes in two varieties, tequila and vodka mixed with Fresca Grapefruit Citrus. Why were those two varieties chosen?
Zandstra: For the first varieties of FRESCA™ Mixed, we chose two flavor profiles that consumers know and love: Vodka Spritz and Tequila Paloma. Both are simple cocktails that fans have been recreating with FRESCA® for years. Vodka and tequila both complement the classic taste of FRESCA® grapefruit soda without overpowering the palate.
According to the Distilled Spirits Council of the U.S. [via CNBC], vodka has been the top-selling spirit in the U.S. since the 1970s. Over recent years, tequila [has become] a close second and could make the leap to push through in the next decade. In [what] is probably not a coincidence, vodka and tequila were the two spirits consumers were most commonly mixing with Fresca soda, so it made sense to go with what consumers prefer. As we grow, we look to evolve our flavor profiles and create a customizable experience for FRESCA® fans.
Are there any plans for additional Fresca canned cocktails, perhaps with some of the additional Fresca flavors? If so, what are the flavors?
Zandstra: FRESCA® fans have gotten creative and shown all the possibilities of cocktails made with the classic soda, so there are many options we are looking at for future releases. We can't say anything just yet, but we're inspired by our fan base and excited for what's to come for FRESCA™ Mixed.
What kind of tequila is used in the drinks, and where is it sourced from?
Zandstra: The Tequila Paloma is made with real blue agave tequila from Mexico.
What kind of vodka is used in the drinks, and where is it sourced from?
Zandstra: The Vodka Spritz contains real American grain vodka distilled 4x for smoothness.
What is your favorite flavor so far?
Zandstra: Tequila Paloma is my favorite. I love a clean, simple, refreshing cocktail, and this delivers in a convenient [ready-to-drink] format. Perhaps more importantly, it is something I can easily share with friends, so everyone can enjoy the great flavor over and over again!
How it's different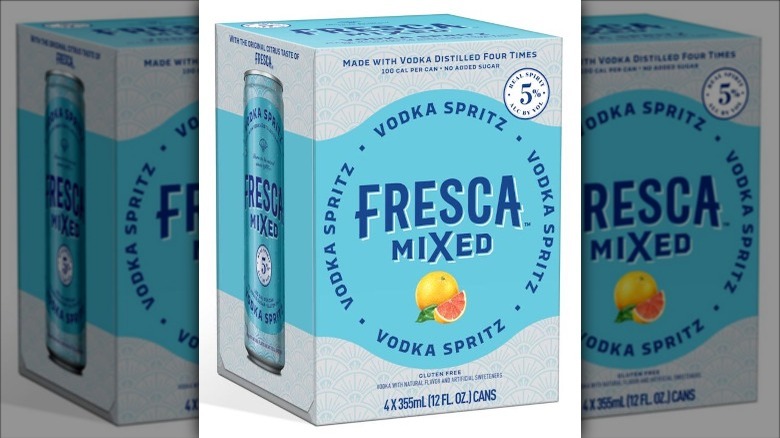 Constellation Brands and The Coca-Cola Company
The canned cocktail market has exploded in recent years. What sets Fresca Mixed apart from the rest of the options?
Zandstra: When it comes down to it, consumers want a cocktail that is authentic and tastes great. Hands down, the FRESCA™ Mixed flavor will deliver what consumers are looking for — it is perfectly smooth and sweet, with just the right balance of their favorite spirit coming through.
Plus, there's the nostalgia factor: FRESCA® has developed quite a fan base over the years, and this new line offers 21+ consumers a chance to try their favorite brand in a new alcoholic ready-to-drink format.
Visually, FRESCA™ Mixed stands out on the shelves with its vibrant yet elegant pink and blue packaging designs that pay tribute to the FRESCA® brand heritage while alluding to the two flavor varieties: Vodka Spritz and Tequila Paloma. 
The can seems to have a tropical vintage feel to it, breaking away from the straight lines and the minimalist approach of other brands. Was this by design?
Zandstra: When designing the FRESCA™ Mixed cans, we wanted a balance of recognizable brand design elements while adding new ones to differentiate the product line from the FRESCA® master brand. We kept design elements that are distinctive to the master brand, like the grapefruit slice pattern, label shape, and logo. We added new elements, like the heritage badge with the slogan "Born to be mixed since 1966™." This nods to the history of the brand and is a playful acknowledgment that FRESCA® has been used in the cocktail world long before FRESCA™ Mixed was introduced.
Where will Fresca Mixed be available for purchase?
Zandstra: FRESCA™ Mixed is available at retailers that sell distilled spirits across the nation. Consumers 21+ can use the FRESCA™ Mixed Product Finder to see available retailers in their area.
Fresca in the Coca-Cola family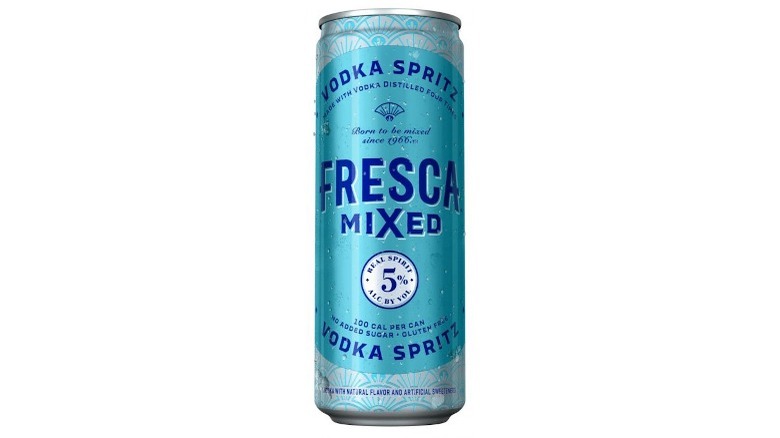 Constellation Brands and The Coca-Cola Company
How does Fresca Mixed fit in with Coca-Cola's larger portfolio?
Dan White: First and foremost, we have been very deliberate with our strategic experiments in terms of brands that have ventured into flavored alcohol beverages. Being consumer-first as a company, we do extensive consumer research to understand brand credentials, brand perception, and how a brand resonates with consumers in relation to the flavored alcohol beverage space.
We know that many FRESCA® drinkers enjoy FRESCA as a mixer with alcohol spirits to create their favorite cocktails, in addition to enjoying it as a citrus sparkling drink. So, it made sense to extend into spirit-based ready-to-drink cocktails, bringing with it the same excitement and curiosity that consumers experience when discovering FRESCA for the first time. Constellation is doing an excellent job bringing the product to the market. We're excited for people to try it.
How is Fresca Mixed different than other Coca-Cola canned cocktails, such as the recently announced Topo-Chico Spirited?
White: FRESCA™ Mixed is special because it really leans into the product intrinsics that make FRESCA® a great companion to any alcoholic spirit. These cocktails are expertly crafted to allow FRESCA's one-of-a-kind grapefruit-citrus taste to shine through. The citrus notes help lift the flavor expression of the vodka and tequila to create superb ready-to-drink cocktails.
This is a new release, but is there a best-selling flavor so far? If not, what is your favorite flavor?
White: It's too early to know about a best-selling flavor. It's difficult to pick a favorite flavor because the team did such a phenomenal job developing both the Tequila Paloma and the Vodka Spritz. Right now, I'm really enjoying the Vodka Spritz. Its bright, citrusy taste makes it incredibly refreshing.
What does it mean to you for Coca-Cola to be a "total beverage company," as stated in the Fresca Mixed release?
White: The Coca-Cola Company is focused on bringing people more of the beverages they want. Being a total beverage company means offering consumers a broad, constantly evolving portfolio of products across a range of categories to satisfy all tastes and lifestyles.
To find Fresca Mixed near you, head to FrescaMixed.com.