Spanish-Style Sofrito Recipe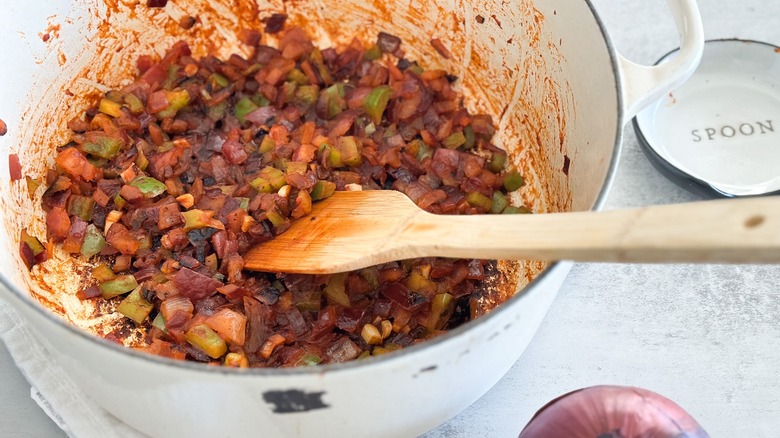 Kristen Carli/Mashed
Are you looking to add a bounty of flavor to your meals, but still searching for both a customizable and versatile recipe? That's where this sofrito recipe comes into play. Sofrito is a seasoned vegetable- and tomato-based sauce that can be the foundation for many dishes. 
Recipe developer and registered dietitian nutritionist, Kristen Carli, MS, RD, brings us this recipe for a classic Spanish-style sofrito. This Spanish-style sofrito, in particular, typically includes traditional ingredients such as tomato and paprika, as well as onion, garlic, and bell pepper. However, there are many regional versions of sofrito, including Italian, Mediterranean, Caribbean, and Cuban varieties that differ in terms of ingredients (via Culinary Journeys, LLC).
This sofrito is also well-rounded to the point where you can use it as the flavor base for soups, stews, meats, rice, beans, and more. Continue reading to find out how to make this delicious and multi-faceted sofrito.  
Gather your Spanish-style sofrito ingredients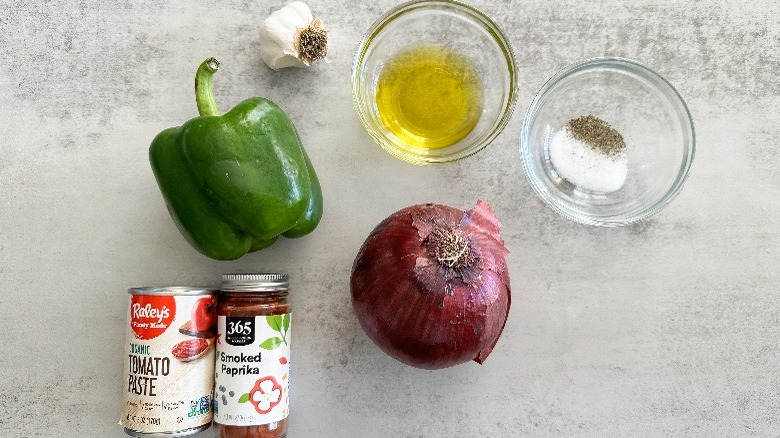 Kristen Carli/Mashed
To make this Spanish-style sofrito, you can start by gathering 1 red onion, 1 green bell pepper, garlic, salt, pepper, smoked paprika, extra virgin olive oil, and tomato paste.
These ingredients may seem awfully similar other sofrito styles such as mirepoix or Cajun Trinity, also known as The Holy Trinity. While a mirepoix contains carrot, onion, and celery, the Cajun Trinity contains green bell pepper, onion, and celery (via MasterClass). 
Sautée the sofrito ingredients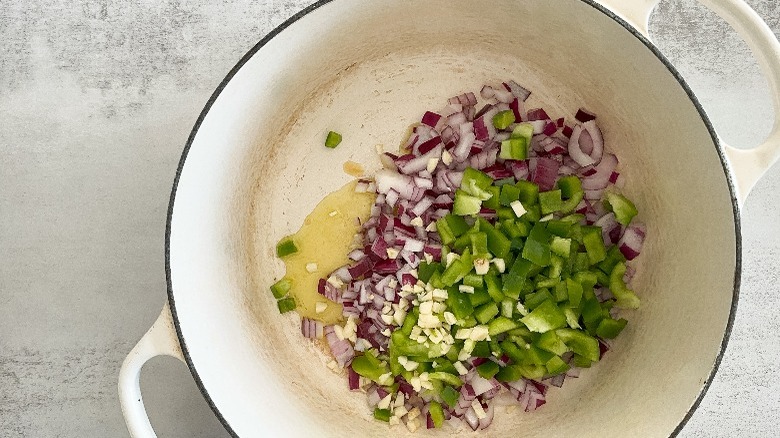 Kristen Carli/Mashed
Place a large pot on the stovetop and bring it to medium heat. Pour the olive oil into the pot and once the oil is hot, add in the diced onion, diced bell pepper, and mined garlic. Sprinkle the salt, pepper, and smoked paprika over the vegetables and cook for about 5 minutes. 
While salt and pepper are a no-brainer, smoked paprika is crucial here, giving this Spanish-style sofrito a smoky kick.
Season and simmer the sofrito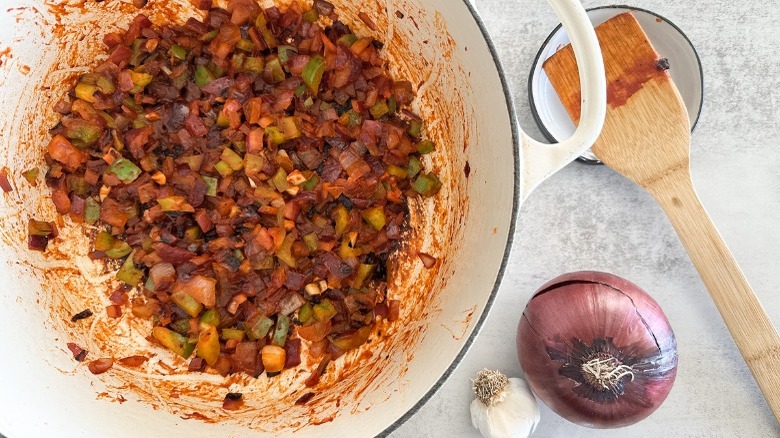 Kristen Carli/Mashed
Then, comes the main ingredient –– tomatoes. In this recipe, we use tomato paste to pack in the concentrated tomato flavor, but you could also use fresh tomatoes here. Scoop 2 tablespoons of tomato paste into the sofrito mixture and stir to combine. 
Stir the mixture well as it sautées to ensure that the tomato paste is fully incorporated. Allow this combination to cook for at least 8 minutes, or until the onion is translucent. Then, you can use the sofrito as the base for any of your favorite dishes.
Spanish-Style Sofrito Recipe
The recipe for Spanish-style sofrito is sure to pack a punch when added to any dish, from rice and beans, to soups and braises.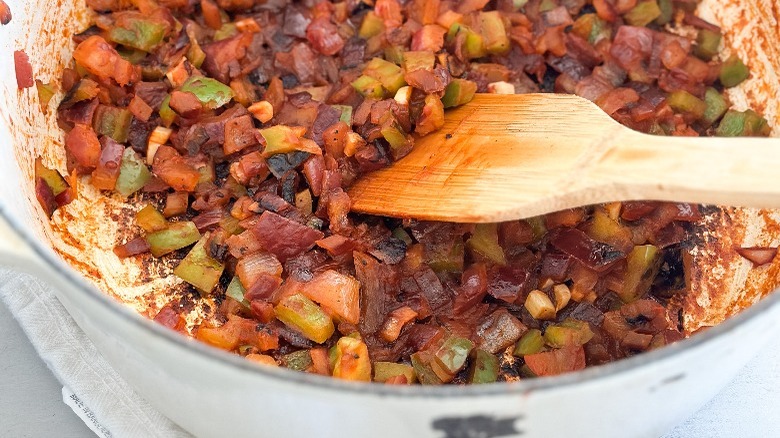 Ingredients
1 red onion, diced
1 green bell pepper, diced
3 garlic cloves, minced
2 tablespoons extra virgin olive oil
1 teaspoon salt
½ teaspoon pepper
1 teaspoon smoked paprika
2 tablespoons tomato paste
Directions
Dice the green pepper and onion. Mince the garlic.
In a large stock pot over medium heat, add the olive oil. Once hot, add the onion, bell pepper, and garlic.
Then, add the salt, pepper, and paprika and cook for 5 minutes. Next, mix in the tomato paste.
Stir well over medium heat for around 8 minutes, or until onion is translucent. Serve with rice, beans, or as a flavor base for other dishes.
Nutrition
| | |
| --- | --- |
| Calories per Serving | 60 |
| Total Fat | 4.6 g |
| Saturated Fat | 0.7 g |
| Trans Fat | 0.0 g |
| Cholesterol | 0.0 mg |
| | |
| --- | --- |
| Total Carbohydrates | 4.7 g |
| Dietary Fiber | 1.1 g |
| Total Sugars | 2.1 g |
| Sodium | 121.3 mg |
| Protein | 0.8 g |