Aldi Shoppers Are Raving About These Halloween-Shaped Pizzas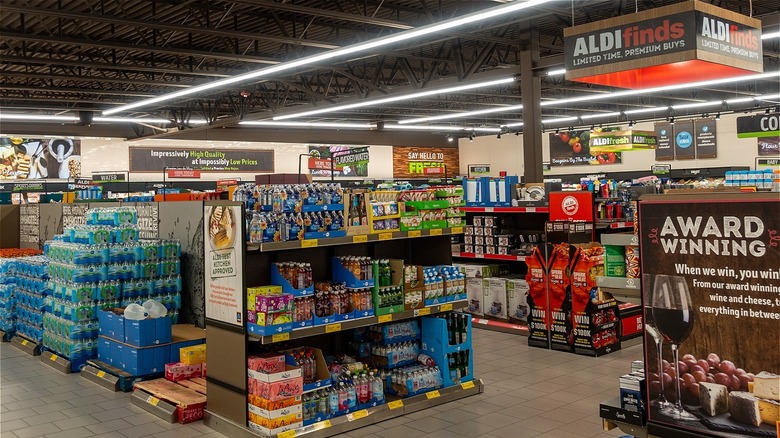 Joni Hanebutt/Shutterstock
It's that time of year when you might have this "Nightmare Before Christmas" song stuck in your head: "This is Halloween, everybody make a scene!" The day is almost upon us, and if you haven't already had your fill of pumpkin spice lattes and Halloween-themed everything, don't despair — there's always more. Aldi has stepped up to the plate with several themed offerings this year including Halloween cheese, Halloween wine and plenty of decorations. 
However, if you thought you had Halloween all planned out with what's on offer at Aldi, you may need to make room for something more. Halloween-themed pizza seems like an obvious choice. After all, it's easy enough to shape a round pizza to look like a jack-o-lantern. Papa John's certainly knew there was a market for it, but now you can pop some Halloween-themed pizza in the freezer. You'll be ready for a snack after dealing with all those trick-or-treaters. 
Pizza for lovers of Halloween
While gourmet pumpkin and goat's cheese pizza is pretty good, most pizza lovers and those with simpler tastes would prefer this Aldi Halloween pizza — one that's just pumpkin-shaped, without any actual pumpkin on it. Instagrammer @aldifavoritefinds recently posted two Halloween-themed Aldi pizzas. One is shaped like a jack-o-lantern, and the other is a cute ghost. One person responded, "Stop coming out with delicious seasonal items, I seriously go to Aldi every other day!" Others lamented that they had been unable to find these items at their local Aldi. Another user wasn't overly impressed saying, "I bought both pizzas. They were terrible!" Other commenters said things like, "The ghost pizza was delicious!!", and, "My family LOVED the pizzas!"
Both pizzas, under Mama Cozzi's brand, contain no meat. The Halloween Pumpkin Shaped Pizza features a "crispy crust, marinara sauce, cheddar cheese, a creamy cheese sauce smile, and mozzarella eyes". The Halloween Ghost Shaped Pizza features a "crispy crust, mozzarella cheese, olive eyes, and a marinara sauce mouth." Both pizzas are priced at $5.49 — if you manage to find them in your local Aldi.