Krispy Kreme's First Responders Deal Is Officially Coming Back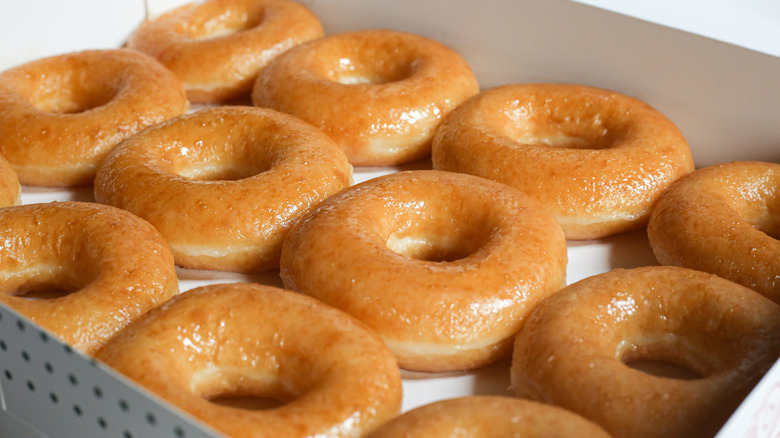 Pong Stocker/Shutterstock
While there are so many places to stop and grab a baked good, you can always count on Krispy Kreme to serve the cream of the crop when it comes to doughnuts — no pun intended. From its ethically sourced coffee to its complimentary paper hats, there's no denying the chokehold that Krispy Kreme has on doughnut lovers across the country (via Spoon University). Oh, and let's not forget about the famous "Hot Light," signaling that doughnuts are hot, fresh, and ready to be eaten (although, don't believe this Krispy Kreme Hot Light myth).
As if there weren't already enough reasons to love Krispy Kreme, this North Carolina-based chain is known for offering frequent discounts and promotions. For instance, during graduation season, Krispy Kreme had a sweet deal for graduating seniors: a dozen doughnuts. Earlier this year, the chain also brought back two fan-favorite promotions, the "Beat the Pump" deal — where a dozen doughnuts cost the same as a gallon of gas — and the Hot Light promotion. To continue spreading the love (or should we say, the doughnuts), Krispy Kreme is relaunching its first responders deal to commemorate the brave heroes serving this country (via Business Wire). 
Krispy Kreme is offering first responders free coffee and donuts on October 28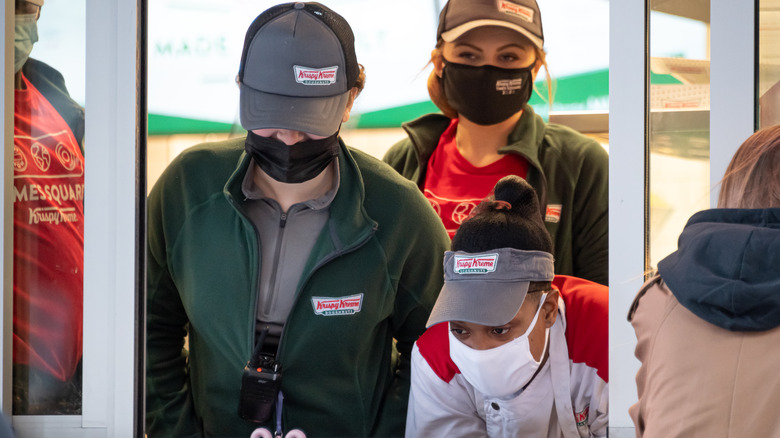 Noam Galai/Getty Images
October 28 is National First Responders Day, and Krispy Kreme is celebrating this special occasion in the best way it knows how: free doughnuts (via Business Wire). All "eligible" first responders, including emergency operators, law enforcement officers, dispatchers, firefighters, paramedics, EMTs, and search and rescue personnel, can receive a free glazed doughnut at Krispy Kreme on Friday. And because no donut is truly complete without a complementary beverage, all first responders can also select a hot or iced coffee to pair with their sweet treat. To take advantage of this offer, all you need to do is present a valid badge or ID to the Krispy Kreme staff.
Don't have a hankering for doughnuts? No problem! First responders with less of a sweet tooth can also enjoy food deals at a handful of other places (because there's no such thing as too much free food, right?). According to Thrillist, first responders can receive a complimentary serving of Mom's Ricotta Meatballs & Spaghetti at Macaroni Grill, ten boneless wings at Hooter's for every ten boneless wings ordered, and a six-pack of cookies at Insomnia if you spend $5 (or, if you're feeling extra hungry, opt for all of the above).