Instagram Is Demanding Another McDonald's Favorite Over The McRib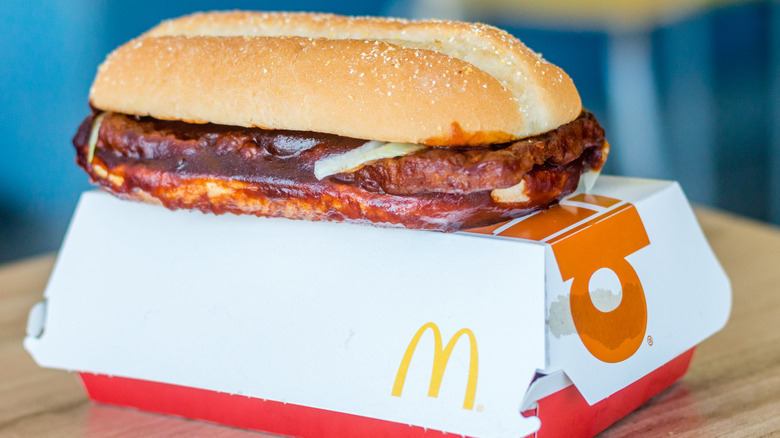 Robson90/Shutterstock
You may not have noticed, but there's a new trend that's been going around the fast food industry lately. In addition to introducing several new items into their repertoires, chains have also been bringing back some beloved menu items that were previously thought to have been discontinued forever. Taco Bell is probably the most notable restaurant to do this with its Mexican Pizza, which, according to a tweet from the eatery, received such a warm welcome back from patrons this May that T-Bell was forced to briefly discontinue it again in order to restock all the ingredients needed to make the pie (don't worry, Taco Bell ensures it's back permanently now). Additionally, the chain will also be resurrecting another blast from the past — the Enchirito – later next month for a limited time.
Wendy's is another chain that hopped on board the throwback trend earlier this fall with the return of its fan-favorite Pretzel Bacon Pub Cheeseburger, which has been absent from the menu since 2021 (via Wendy's), while McDonald's has thrown it back even further by bringing its iconic Happy Meal Halloween Buckets out of retirement – but it didn't stop there. The Golden Arches recently announced on Instagram that it would be serving up its infamous McRib sandwich once again, and supposedly for the very last time. However, rather than being distraught at the potential discontinuation of the iconic sammy, Instagrammers instead took to the comments section of the post to demand the return of something else.
McDonald's fanatics would rather see Snack Wraps return to the menu
McDonalds' social media team probably thought they'd have customers in an uproar over its October 24 Instagram post, which featured a poster for the McRib's upcoming "farewell tour" that will kick off nationwide on Monday, October 31 (via McDonald's). "Wishing the mcrib a very 'pls noooo' farewell," read the caption of the upload, though it seems that the thing that most Mickey D's customers are actually saying "pls noooo" to is the "famously saucy" sandwich's return. The slightly offputting process of how the McRib is made is part of why some people are gladly wishing the handheld goodbye, but for Mickey D's customers on Instagram, the main reason for disappointment is that they'd rather see another beloved discontinued menu item comeback in its place, and they're hardly being quiet about it, too.
"Bring back the snack wraps," reads the top comment on the post, which has amassed 1,886 likes at the time of this writing. Meanwhile, Instagram user @s_johnson_voiceover's comment was even more dire. "WE DO NOT CARE! WHERE IS THE G**D**N SNACK WRAP?!?," they said. The sentiment was echoed dozens more times throughout the comments section. Sadly, despite TikTok rumors about the McDonald's snack wraps claiming they will be coming back, the chain has not stated that the menu item will be making a reappearance.