How Does Someone Become The Official World's Best Barista?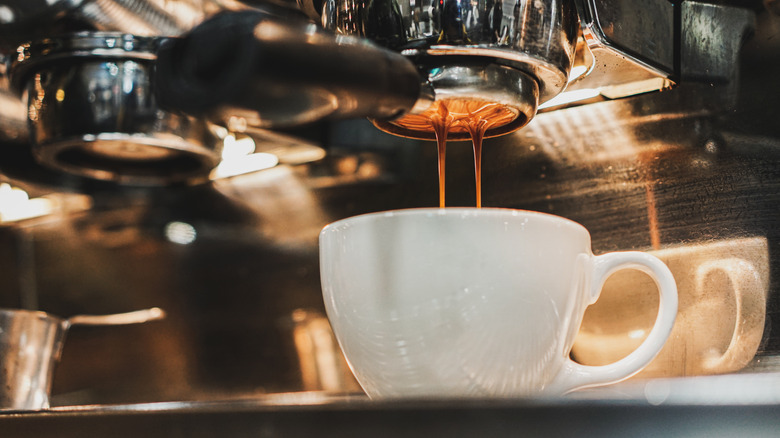 Eun Ji Youn/Shutterstock
When you drop by your local coffee shop for a cappuccino or a latte, your barista crafts your drink and may even top it off by using the foam to form a leaf or heart pattern. Sometimes it's a shame to cover up the art with a lid if you get your drink to go. 
Over half of all American adults buy coffee away from home once to three times a week, according to the National Coffee Association. Baristas make most of those drinks, often customizing them upon request. Coffee drinkers have particular tastes, and some pose challenges for coffee shop employees beyond recreating the latest complicated TikTok drinks.
Whether you prefer a double shot skinny coconut milk latte with extra foam or a single Americano, your skilled barista has got you. You may think of your own barista who always gets your order right as "the best in the world," but the World Barista Championship actually gives coffee aficionados the chance to compete for the official title. While coffee making may not be an Olympic sport anytime soon, this international competition showcases expertise, technical skill, and creativity.
These baristas make a dozen drinks in 15 minutes
Around 50 baristas from around the world compete for the title each year through three rounds of competition, per the World Barista Championship rules. Each must brew up four espressos, four coffee drinks made with milk, and four of their own original signature drinks "to exacting standards in a 15-minute performance set to music."
During each barista's presentation, they serve a panel of World Coffee Events certified judges a coffee flight featuring a drink from each category. Much like a sommelier, the competing barista shares insights about the specific coffee along with tasting notes and prompts for the judges on how to best enjoy the drink. The baristas even choose the order in which the judges sample the drinks. (Anyone who gets caffeine jitters is surely amazed that these judges appear calm while sampling so many coffee flights.) The critics grades the competitors on the flavor of their coffee, as well as "cleanliness, creativity, technical skill, and overall presentation." 
The 2022 World Barista Championship winner was Anthony Douglas of Australia, while the first runner-up was American Morgan Eckroth. Each competing barista's presentation is on the World Barista Championship's YouTube channel. While this event is more about coffee making in general, the World Coffee Events hosts another competition specifically for those incredible designs on your latte: the World Latte Art Championship.