Why Instagram Is Hilariously Calling Out The 'Return' Of Popeyes' $6 Deal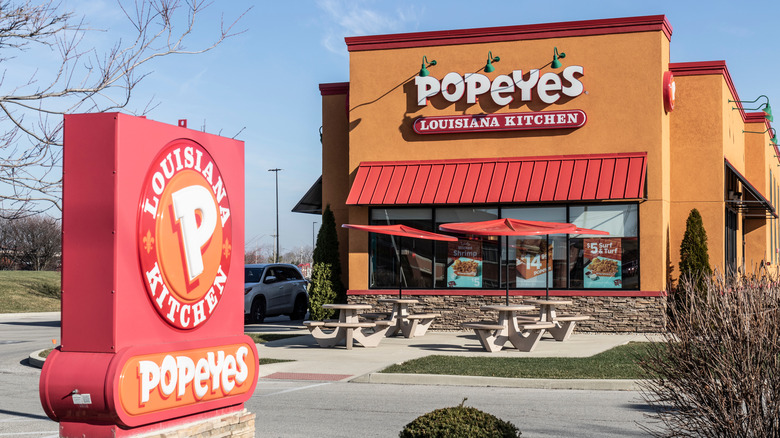 Jonathan Weiss/Shutterstock
Popeyes — if you know it, you probably love it. The Louisiana fried chicken fast-food chain has been serving and satisfying hungry customers since 1972 when founder Alvin C. Copeland Sr. opened his inaugural Popeyes (per Popeyes).
Inspired by Cajun classics, the franchise offers red beans and rice, mashed potatoes, fried shrimp, and other staples that pair nicely with the comforts of fried chicken. Despite its 50-year tenure and annual revenue of 579 million dollars (per Statstic), the restaurant isn't immune to public scrutiny.
As inflation rates in The United States continue skyrocketing, so does the price of food. With food inflation higher than it's been in about 40 years (per Time), many Americans are seeking better deals and lower prices on food. For some, that means eating out at fast-food restaurants which are historically cheaper than your average dine-in restaurant.
As great as it may taste, Popeyes customers aren't happy about the uptick in their prices. And they're not afraid of calling them out for it, either. When Popeyes announced the return of the six-dollar "big box" on October 11 via Instagram, customers left some choice words in the comments.
Popeyes big box used to cost five dollars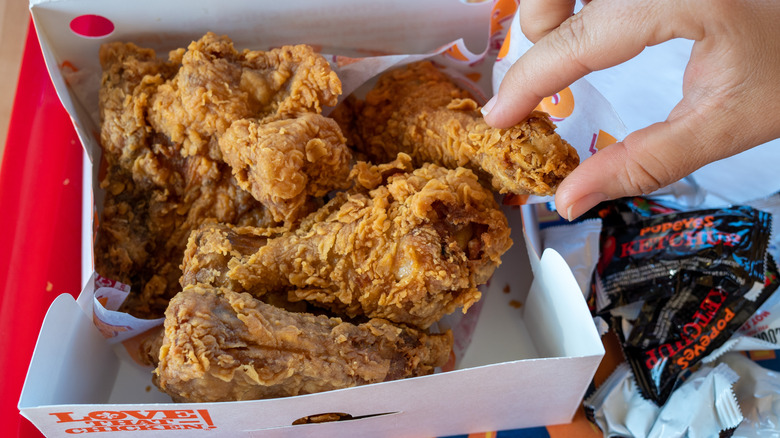 David Tran Photo/Shutterstock
With the Instagram announcement of the return of the big box, Popeyes included the caption "Our Big Box is back and it's still $6!" The big box is a rotating, seasonal combo meal that comes with two pieces of chicken, two sides, and of course, a biscuit.
However, fans were quick to call them out for the misleading Instagram caption. Before its triumphant return to the menu, Popeyes sold the meal for only five dollars. In 2014, Popeyes advertised the meal for five dollars on its packaging, and earlier this year YouTube creator RodrickEats enjoyed the big box for, you guessed it, only five dollars.
Although the post garnered thousands of likes on Instagram, its top comment reads "Ain't no STILL $6 cuz it used to be $5 but watever!!!" Another customer added "It was $5 y'all not slick" followed by a crying-laughing emoji.
According to Popeyes, however, customers can still enjoy the big box for only five dollars as long as they order through the Popeyes website or app. But if you're picking up a big box in the Popeyes drive-thru, prepare to spend the extra dollar.