The Best Kamado Grills You Can Buy In 2022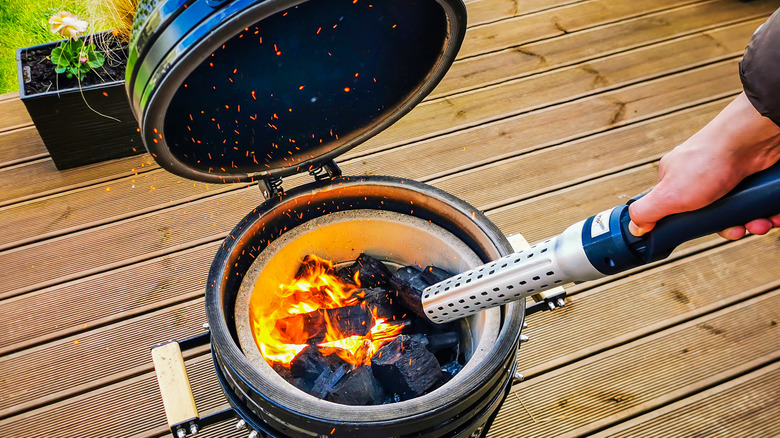 Audrius Venclova/Shutterstock
We may receive a commission on purchases made from links.
"Kamado" is a Japanese word that translates to "stove" (via BBQ Guys). Thousands of years ago in Japan, egg-shaped cooking vessels with a removable domed lid were forged from clay and grew in popularity. Today, kamado grills still retain the same oval frame but have been upgraded with modern features like electric charcoal starters, wheeled carts, and trailer hitch attachments. Despite these different designs and modern improvements, all kamado grills still share one common feature: they are well-known for their high-caliber heat retention, versatility, and overall superior performance.
So, what are some of the benefits of cooking with a kamado grill? For starters, most kamado grills are made with ceramic — and even though ceramic is fragile, it still carries a wide range of advantages that offset its inherent delicacy. Some of these benefits include steady heat, moisture retention, and fuel efficiency (via BBQ Guys). Because kamado grills can hit impressively high temperatures, they can also function like an oven, which opens the door to all kinds of baked goods like fresh bread and homemade pizza. Kamado grills are also very well insulated and can also be adjusted to cook low and slow, making them a great choice for Southern barbecue dishes like pork and smoked brisket. The bottom line is that kamado grills are highly versatile tools that can produce some surprisingly delicious results.
How we selected the products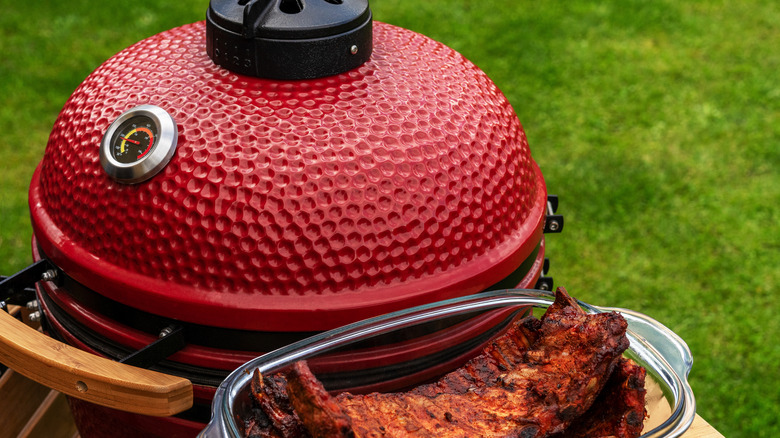 RasaBasa/Shutterstock
In order to provide you with a comprehensive list of the best kamado grills on the market right now, we took several factors into consideration. First and foremost, we closely analyzed user reviews with verified purchases, since customer feedback is one of the best ways to gather honest insights about a product's true performance. Taking note of each kamado's reported strengths and weaknesses, we whittled down our list to include some of the most highly-rated models currently available.
For the sake of diversity, we've made sure that each of the kamado grills we've selected brings something useful and unique to the table. Whether you're looking for the best kamado grill for tailgating or a more compact model that doesn't take up too much space, we've got you covered. As always, we've included options across the price spectrum to cater to a wide scope of different budgets. Rest assured, if you're serious about hunting down a high-quality kamado, you should be able to find a top-notch model on this list that suits your needs. Here are the best kamado grills you can buy in 2022.
Best overall kamado grill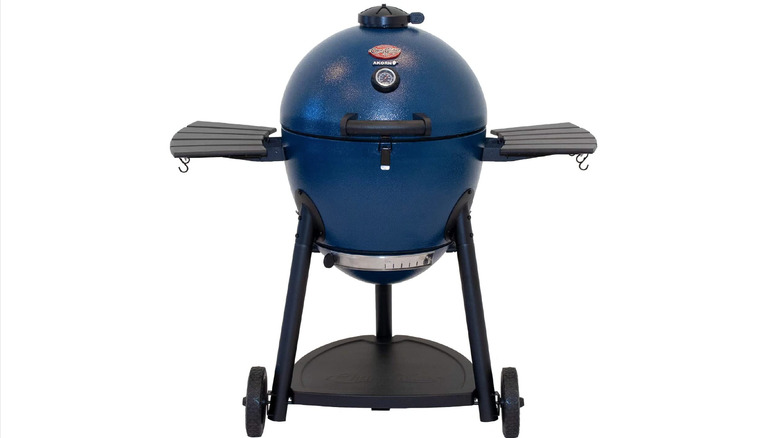 Char-griller
If you're looking for a kamado grill that has it all, the Char-Griller AKORN should do the trick. With a locking lid, a foldable shelf on each side, and a thoroughly insulated design, this kamado grill clearly has a lot to offer. It's capable of hitting up to 700 F, which makes this a great grill for any recipes that require searing or baking at high temperatures. Another useful feature is the stainless steel warming rack, which provides this grill with two different cooking zones.
This kamado grill also boasts a spacious area to work, with 314 square-inches of cooking space. This model from Char-Griller also features two large locking wheels, simple heat control with top and bottom index dampers, and cast iron cooking grates. Smoked BBQ Source gave this model the thumbs-up, praising its triple-insulated walls and affordable price tag. With a nearly perfect rating after more than 3,000 reviews, it's easy to see why this kamado grill is so popular. Once you take it for a spin yourself, you'll never look back.
At the time of this writing, you can purchase the Char-Griller AKORN kamado grill on Amazon for $351.
Best budget kamado grill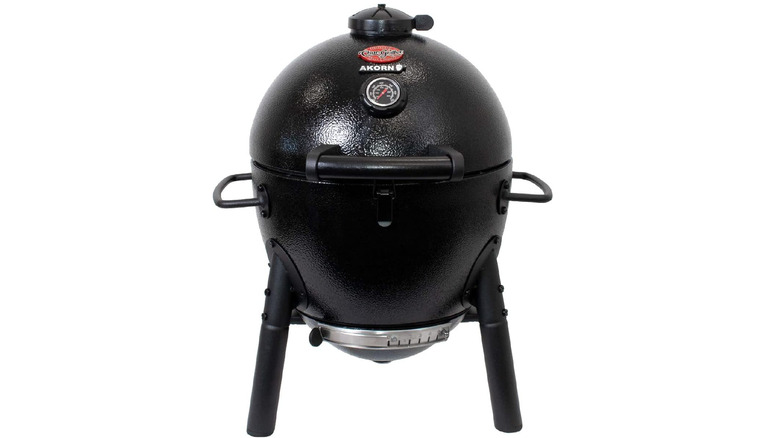 Char-griller
If you're looking for one of the sweetest deals on kamado grills out there, we have a great model lined up for you. This pick is nearly identical to the model we chose above, with one important difference: the grill is much smaller. At just 20 inches across, this kamado grill still offers 155 square-inches of cooking space, which is still plenty of room to whip up a hot meal for a few people. In fact, it has enough room for about eight burgers at a time, which is an impressive amount considering its size. Because the AKORN Jr. is designed to be more compact than its full-sized predecessor, Char-Griller has knocked off a few hundred bucks from the price tag, making this one of the most affordable kamado grills on the market.
At only 33 pounds, it's also pretty easy to transport. But don't mistake this grill's modest size for a lack of quality — it can still pull off everything a bigger model could, just on a smaller scale. This kamado grill can still sear at high temperatures or cook low and slow just like larger designs can. BBQ Host also gave this model a high rating, praising its sleek size and quick assembly. After nearly 4,000 customer reviews, it's also earned four-and-a-half stars, proving this kamado grill is the real deal. You're just a few clicks away from one of the best deals on kamado grills out there.
Purchase the Char-Griller AKORN Jr. kamado grill on Amazon for only $136.
Best kamado grill for tailgating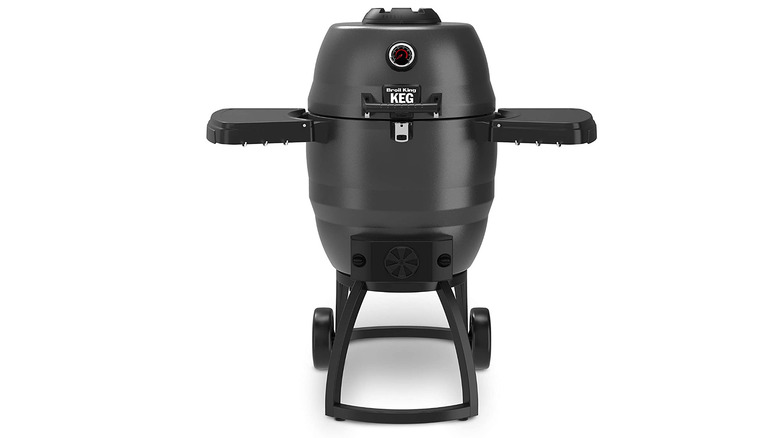 Broil king
Grilling up some delicious grub is a big part of what makes tailgating so much fun. But what kind of grill is best in this situation? We have a great model from Broil King that should fit the bill. This kamado grill has plenty of amazing features, but what really makes this model stand out is its ability to attach to a trailer hitch, making it a fantastic choice to bring along tailgating. Note: the hitch adapter is a separate piece that's available for purchase.
With its double-walled sealed body and durable construction, this kamado grill is built to last. Equipped with cast iron and aluminum dampers, a removable steel ash catcher, and excellent heat retention, this kamado grill is bound to impress all the grill masters out there. Considering it has 280 square inches of cooking space, it also has plenty of room to cook for a small group. When you add in two removable side shelves, bottle openers on the lid handle, and a removable wheeled base, there's no doubt that we have a real winner on our hands. It's received high marks on The Online Grill for features like its thermal construction and rust-resistant porcelain. All things considered, this is a great kamado grill for tailgating (and an excellent kamado grill in general).
You can buy the Broil King metallic charcoal grill on Amazon for $1,074.
Best kamado grill for pizza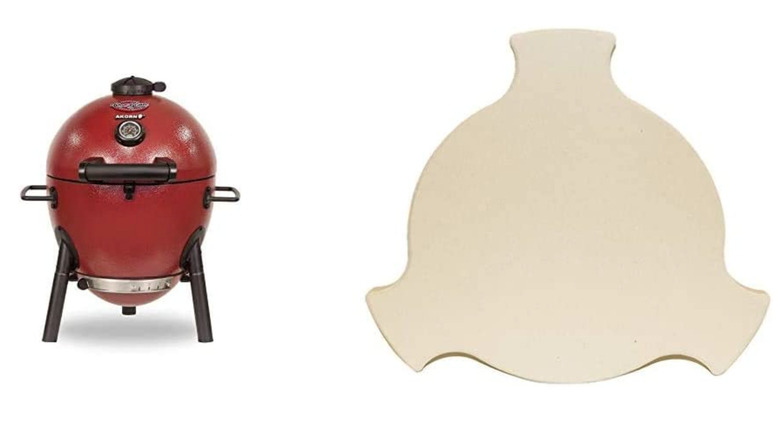 Char-griller
If you've never had the joy of trying grilled pizza, then you're in for a treat. Some special kind of delicious magic happens when pizzas bake inside of a grill rather than in an oven. This is because pizza tends to cook better at higher temperatures than most conventional ovens can achieve (via NPR). Because kamado grills can hit exceedingly high temperatures (between 600-700 F) they are great vessels for pizzas and other baked goods that require exceptionally intense heat.
This model from Char-griller comes with its own pizza stone, setting you up to churn out some of the best homemade pies you've ever tasted. The grill is constructed with a durable blend of cast iron and heavy-gauge powder-coated alloy steel, so it's definitely built to last. The interior cooking surface measures 155 square inches, which is more than enough room for a good-sized pizza. The pizza stone can work for more than just pizza, too: you can use it for any dish that requires indirect heat from the grill.
Purchase the Char-Griller kamado grill and pizza stone on Amazon for $171.33
Best large kamado grill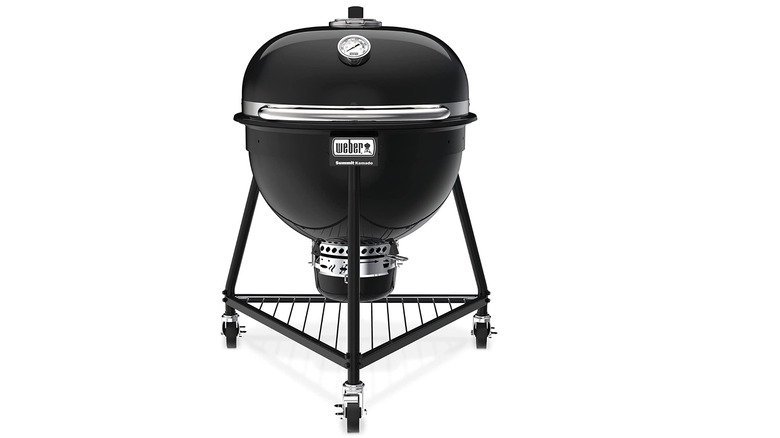 Weber
For those looking for a more spacious option, the Weber summit kamado grill is an excellent choice. Equipped with an extra large 24-inch cooking grate and a porcelain-enameled finish, this kamado grill offers plenty of room to cook a big meal for a small crowd — and does it with style. It features an adjustable grate that allows you to alter the distance between your food and the fire, which adds some nice versatility to high-heat searing or low and slow cooking. Its roomy interior makes it possible for a two-zone setup with higher and lower heat settings for each side.
This grill was given a glowing review by Amazing Ribs for its practical features like its removable charcoal grate that can be adjusted to either sit down at the bottom of the grill just above the air vents or raised upwards to just a few inches below the cooking grate. At the end of the day, this high-quality kamado grill is spacious, well-designed, and comes with useful features that offer some impressive flexibility. As far as large kamado grills go, this is easily one of the nicest available. Treat yourself and take it for a spin.
You can buy the Weber summit kamado grill on Amazon for $1,249.
Best mid-range kamado grill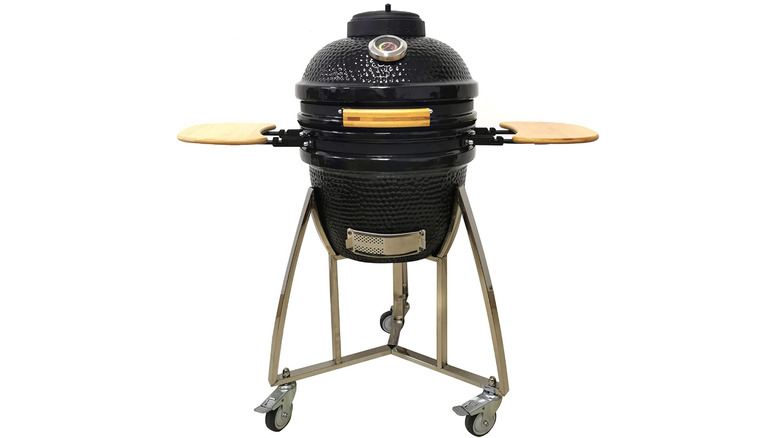 Lifesmart
Sometimes it's best to aim right in the middle, pricewise. More expensive models can set up high expectations that end up unfilled, while cheaper bargains can be poorly constructed due to inferior-quality material, feeble assembly, or planned obsolescence. A mid-range price, on the other hand, often strikes the perfect balance between cost and quality. At only a few hundred bucks, this ceramic model from Lifesmart is such a high-caliber kamado grill that it feels like a total steal.
This model's 13-inch grilling grate offers 117 square-inches of cooking space, which are ideal proportions for someone who needs a medium-sized grill. The body of the kamado attaches to a steel wheel cart that gives this grill some remarkable mobility. It also features dual shelves and heavy insulation that bless the grill with the gift of excellent heat retention. This model was even praised by Best Grill Reviews for its electric starter and affordable price tag given its high level of quality.
You can buy the Lifesmart kamado grill on Amazon for $399.
Best metal kamado grill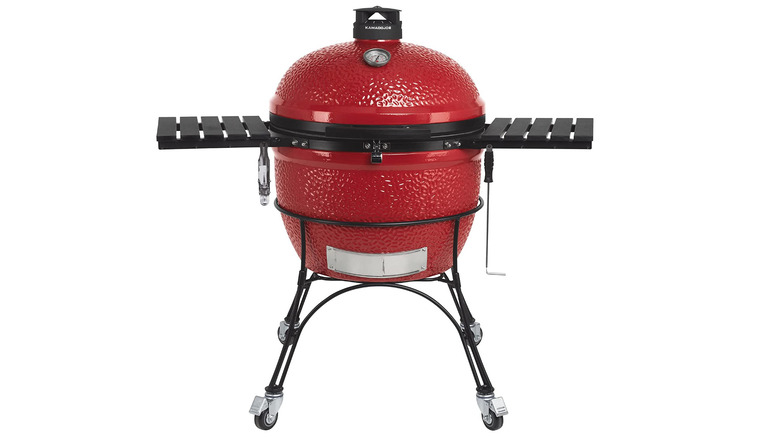 Kamado joe
While it's true that ceramic has its advantages, it's also fairly fragile, so hooking yourself up with a metal kamado is a surefire way to ensure that your grill is durable. This model from Kamado Joe is made with top-notch stainless steel and also features an extra large cooking grate that has enough space for grilling up to 22 burgers at a time. That's the equivalent of eight whole chickens or five pork butts.
This kamado grill also features a special airlift hinge on its dome to make raising the lid practically effortless. It's equipped with a vertical two-tier cooking system with two separate cooking grates located at different heights to provide cooking surfaces with heat variation. That makes this grill excel at tasks like searing and keeping cooked food nice and warm until it's ready to serve. With a high-quality air vent located at the top of the dome and a durable firebox, this metal kamado grill is definitely a fantastic deal. We're sure the several hundred customers who gave this grill a perfect 5-star rating would agree.
As of October 2022, you can purchase the Kamado Joe 24-inch grill on Amazon for $1,899.
Best two-zone kamado grill
Char-griller
If you want your kamado to have some versatility, then having a two-zone grill is essential. Having two zones allows you to keep the food you're preparing inside the kamado on a raised grate while the rest of your food cooks at a higher temperature below. This can be great for a wide range of common circumstances like keeping cooked burgers warm while the rest finish cooking over the fire.
This 20-inch kamado grill from Char-Griller comes with two zones, triple-insulated walls, and cast iron grates. But the great features don't stop there: this kamado grill also has locking caster wheels, 447 square inches of cooking space, and foldable shelves with hooks for your favorite BBQ tools. This kamado also offers easy temperature adjustment thanks to vents located at the top and bottom of this grill. Boat Basin Cafe also gave this grill high marks for its affordable price tag and versatility.
You can snag the Char-Griller Akorn Kamado grill on Amazon for $329. 
Best Big Green Egg kamado grill
No kamado grill list would be complete with a Big Green Egg. You may have heard about the Big Green Egg, but do you know what the benefits are? Well-known today for its legion of loyal fans, the Big Green Egg is America's original ceramic grill (via Bob Vila). Its superior heat retention and durable design have won over the hearts and minds of grill masters all over the globe. This particular model is Big Green Egg's large size, which features 262 square inches of cooking space, which amounts to about 12 burgers. That should be plenty of food for most people in most situations.
Slow-smoked barbecue, seared tuna, beef jerky — the Big Green Egg can consistently deliver a wide range of tasty and popular dishes with ultimate ease. The only downside to the large model is that it weighs over 160 pounds, which can make moving it around difficult and also makes assembly a bit more time-consuming. The good news is that those minor setbacks are totally worth it.
As of October 2022, you can purchase the Big Green Egg for $999.
Best compact kamado grill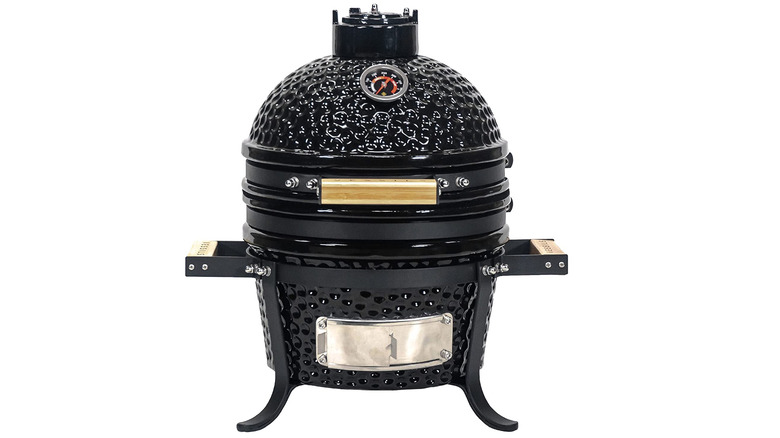 VESSILS
When space is at a premium, every inch counts. For those of you who simply don't have the extra space around for a big grill, we totally get it — and fortunately, we have a fantastic option for you. This kamado grill model from VESSILS features a cooking grid that's less than 10 inches wide, making this an excellent choice for anyone on the hunt for a compact yet high-quality kamado grill.
This grill is less than 20 inches tall and weighs only 50 pounds, making it lightweight enough to be portable. This modest yet mighty grill comes with a cast-iron charcoal cooking plate and stainless steel grill grid. Searing, smoking, grilling — this kamado grill can do everything bigger models can, just on a smaller scale. This is small enough to easily be tucked away out of sight in just about any patio or shed. If you've been on the hunt for the compact kamado grill of your dreams, the search is over. Take advantage of this great deal while it lasts so you can get some hot coals going and take this baby for a ride.
You can buy the compact VESSILS kamado grill on Amazon for $260.