The Secret To West Virginia-Style Chili, According To Jeff Mauro - Exclusive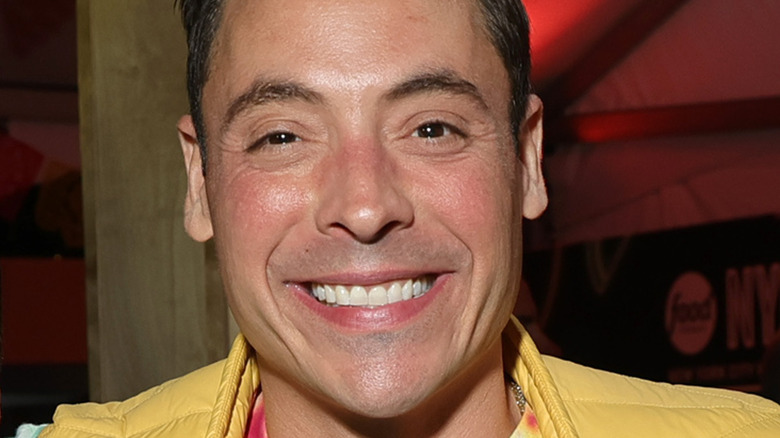 Michael Loccisano/Getty Images
Autumn in New York is a great time for foodies, because every year, it means the return of the Food Network New York City Wine & Food Festival. The four-day festival features all your favorite Food Network chefs, and some of the highlights of the event are the culinary demonstrations they host throughout the weekend. This year's event was no different, featuring everyone from Andrew Zimmern to Michael Symon to Anne Burrell and so many more, showcasing their skills, teaching the festival-goers new culinary tricks, and having a blast along the way. Several of this year's demos featured cast members from one of the most beloved Food Network shows, "The Kitchen" — Geoffrey Zakarian, Alex Guarnaschelli, Jeff Mauro, and Katie Lee Biegel were all on the roster.
We got the chance to catch up with Mauro at the event right before his culinary demo with Lee Biegel. However, he faced a slight hiccup and had to redirect when his fellow chef and co-star had to call out from the event at the last minute due to illness. That meant that Mauro was left to conduct their demo — and make both of their recipes — by himself. The two were planning to make a 3-foot-long chili dog, and while Mauro was all set to construct his part of the process (the delicious and meaty hot dog), he wasn't exactly prepared to whip up Katie Lee Biegel's signature hometown recipe, her West Virginia chili.
Speaking exclusively with Mashed, Jeff Mauro dished on his plan to handle the pressure and the secrets he's learned from his colleague for making a perfect pot of chili every time.
Katie Lee's West Virginia chili is as easy to make as it is delicious, says Jeff Mauro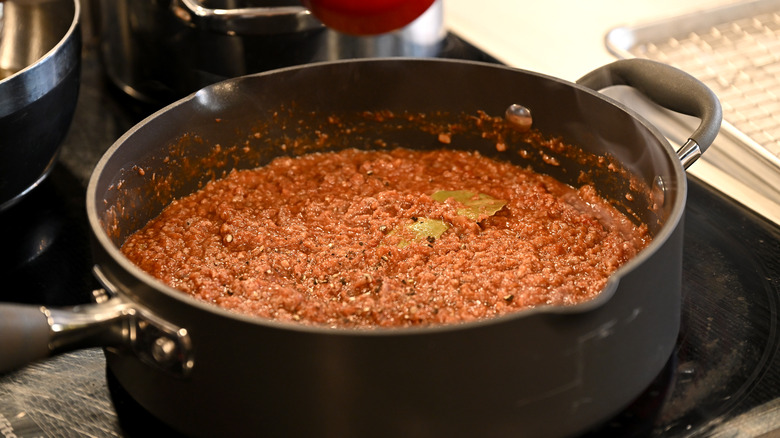 Dave Kotinsky/Getty Images
While the cast of "The Kitchen" get to enjoy a wide range of each other's recipes while filming the show, Jeff Mauro mentioned that everyone's favorite recipe from Katie Lee Biegel is her Cincinnati-style West Virginia chili. When it came time for Mauro to make it himself as part of their planned chili dog demonstration, he admitted to Mashed that he was feeling the pressure. "The beauty of this demo" was that "it is the perfect combination of both our favorite things ... I'm going to do her proud," he said.
Luckily, the recipe itself is as simple as it gets and comes together in literally two steps. The ingredient list consists of ground beef, onions, tomato sauce, and a slew of spices (most of which you probably already have in your pantry). The secret to this chili, as Mauro learned from Lee Biegel, is just to add all the ingredients to a pot and let the low and slow heat do all the work.
"It is the most stupid-easy recipe that yields the greatest result because you don't have to sweat out any onions, you don't have to sear any meat, nothing," said Mauro. "It's all a dump and stir, then bring to a simmer," he added. "That's what makes that West Virginia-style chili amazing." Half an hour later, your chili is ready to eat, whether it's for a cozy dinner, a potluck party, or a game day treat.
For the latest from Chef Jeff Mauro, follow him on Instagram. Plus, learn more about the annual Food Network New York City Wine & Food Festival, presented by Capital One, and be sure to check out the highlights from this year's event.