TikTok's Pumpkin Chicken Disaster Has Gordon Ramsay Calling For A Medic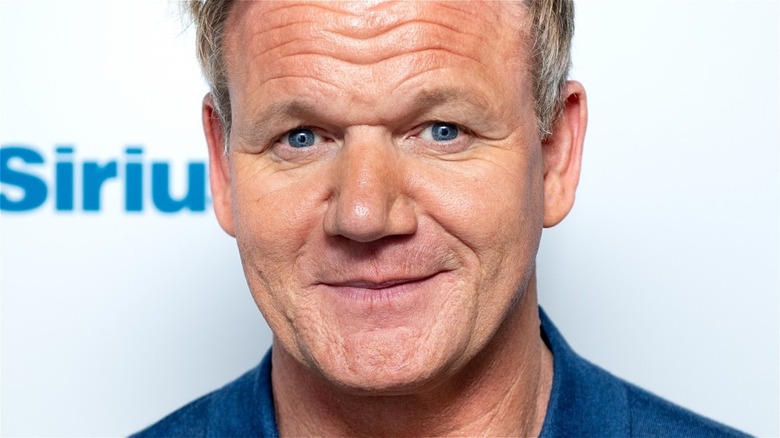 Roy Rochlin/Getty
Pumpkins are for more than pies, spiced lattes, and jack-o'lanterns. They can also be used in savory recipes, like an easy roasted pumpkin hummus, a tasty soup, or even for making a pumpkin pie martini. But while it's a very versatile ingredient, there are times when a pumpkin just isn't needed. According to a famously angry chef, one of those times is when you're cooking an entire bird.
In one of his latest TikTok reaction posts, Gordon Ramsay had choice words about a whole chicken cooked in a pumpkin. Ramsay dueted a video made by @myjanebrain, where TikTok cook Jane Brain covers a chicken in a spice rub before placing it into a hollowed-out pumpkin. Along with the chicken, Brain fills the festive squash with onions, potatoes, and cinnamon sticks before popping it in the oven.
Fans of the "Hell's Kitchen" star's TikTok account know that he isn't one to hold back when he thinks recipes are outrageous. For example, when Ramsay saw a beef Wellington made with 7-Eleven ingredients such as beef jerky, he told the TikToker to "stop being a jerk." So, can you imagine what his verdict was on this chicken in a pumpkin?
Gordon Ramsay found the pumpkin chicken frightening
In the caption of his video, Gordon Ramsay said of the pumpkin chicken, "This is by far the scariest thing [I've] seen this #Halloween weekend." He didn't hide his distaste when speaking, either. According to Ramsay, these pumpkins are for carving, not cooking! He also didn't seem pleased about putting potatoes and cinnamon sticks in the pumpkin. in the dish. "What are you thinking?" Ramsay asked.
When Brain cut into the cooked chicken, Ramsay referred to the creation as "Halloween salmonella" and concluded his reaction by yelling for a medic. In the comments section, some people were pleased by the chef's distress. User fancyface001 wrote, "I absolutely love how traumatic it so for him." Multiple people just replied with a string of laughing-crying emojis. But a TikTok user who seemed put off wondered, "Did she seriously make pumpkin spiced chicken??" Some people thought the chicken didn't look that bad.
Other users pointed out that a similar dish had been made on an episode of "Hell's Kitchen." Contestant Louis Petrozza, who won Reddit's heart, cooked a Cornish hen in a pumpkin (via YouTube). Ramsay was not pleased then, either, and said putting a candle in the pumpkin might have made him happier. Pumpkin lovers might decide to give the idea a shot, though.