Ree Drummond Uses This Craft Syrup For 'The Dreamiest' Iced Coffee
For some people, there's no better way to start the morning than with a delicious cup of coffee. Although black coffee will give you a caffeine boost, there are plenty of ways to put a twist on plain coffee, too. And while it's fun to learn about the types of coffee drinks you should learn to make at home, Ree Drummond might have an easier way of jazzing up your drink.
Drummond loves coffee; she launched a Pioneer Woman coffee line with Zavida Coffee Roasters in 2021. Plus, Drummond has shared some of the secrets to making cafe-worthy lattes in your own kitchen, including using a jar to whip up some milky foam. But how does Drummond flavor her lattes? 
According to the Pioneer Woman website, Drummond's go-to craft syrup brand is pink House Alchemy. Drummond uses these syrups in the lattes that are served at her restaurant, The Mercantile.
What coffee drinks does Ree Drummond make with pink House Alchemy syrups?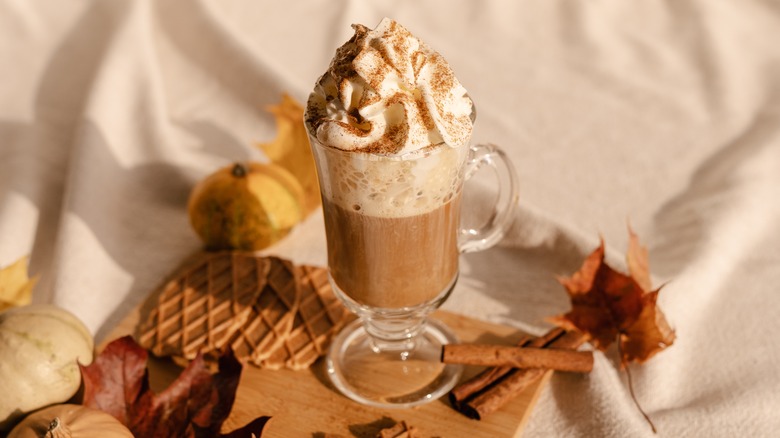 Parallax Production/Shutterstock
For the Pioneer Woman website, writer Kara Zauberman shared Ree Drummond's love for the pink House Alchemy brand around the launch of its new pumpkin butternut spice syrup, which is used in The Mercantile's pumpkin lattes. But even outside the fall season, these syrups often make it into Drummond's coffee drinks.
In a recipe for Spicy Cowgirl coffee, Drummond lists one ounce of chile syrup as an ingredient, specifically referring to the syrup made by pink House Alchemy. Zauberman writes that Drummond calls this Spicy Cowgirl coffee "the dreamiest iced coffee you'll ever try." It's clear that Drummond is a fan of some spice in her coffee — the secret ingredient to Drummond's iced coffee is cayenne pepper. But if you prefer your drinks sweet and want a recommendation from Drummond, she's also a fan of Pink House Alchemy's coconut syrup.
To see a full list of syrups, you can visit pink House Alchemy's website. And if you're not a coffee fan, the brand suggests using these syrups in cocktails. For example, pink House Alchemy makes a grenadine, which is one of the non-alcoholic items every home bar needs.