Giada De Laurentiis Shows Love For The Vintage Negroni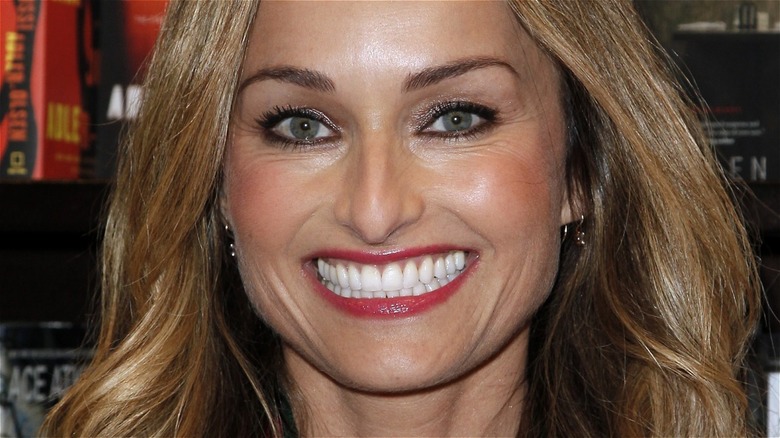 Tibrina Hobson/Getty
After 100 years, the Italian cocktail Negroni is having a moment. Created in 1919 by Count Camillo Negroni in Florence, Italy (via Difford's Guide), the bitter elixir has surged in popularity in recent years, punctuated by Negroni Week in September, where thousands of bars and restaurants mix the OG and its variations to raise money for worthy causes.
Celebrities have also shown appreciation for the drink. In 2020, actor Stanley Tucci posted an Instagram video mixing a Negroni straight up as a favor to his wife, Felicity Blunt, to boost morale at her literary agency, Curtis Brown. Viewed more than 1.2 million times, the viral video doubled the number of followers for the actor overnight (via Vanity Fair). In October, Google Trends reported a surge in the search for 'Negronis' after actor Emma D'Arcy of "House of the Dragon" announced their favorite cocktail was a "Negroni Sbagliato ... with prosecco in it" in an HBO promotional interview on TikTok. According to NPR, the breathy admission spawned the drink's first Twitter fan page and over 15,000 TikTok videos featuring the sound from the interview.
Posting from cities across Italy, celebrity chef and Instagram's source of FOMO Giada De Laurentiis got in on the trend. She shared a video of herself enjoying another variation of the cocktail.
The Milano-Torino
Giada De Laurentiis has shared her love for Negronis in different ways. Per a YouTube video by Giadzy, her favorite cocktail on New Year's Eve is the Negroni Sbagliato. In 2021, Parade wrote that when asked what "her favorite sipper" was, she declared, "A Negroni." But it's a different variation that the chef sipped during her recent tour of Italy. In a video on TikTok, set to Dean Martin's "Volare" for added ambiance, De Laurentiis enjoyed a Vintage Negroni at the Camparino in Galleria in Milan, Italy. The grand cafe with tall ceilings and frescos overlooks the Piazza Duomo and is where the cocktail may have originated. Also referred to as the Milano-Torino and the Mi-To, the cocktail contains equal parts Campari from Milan and sweet vermouth from Turin, hence the name.
De Laurentiis described the drink as "a lot of history in one classy cocktail." According to Difford's Guide, the Vintage Negroni was created in the 1860s. The two-ingredient cocktail became the origin of the Americano with added soda water, and later the Negroni with the addition of gin. All versions are garnished with a wedge or slice of orange.
The Negroni recipe we enjoy today contains Campari, sweet vermouth, and gin, although some prefer vodka. Versions containing tequila and rum have also been created. Some possible classics in the making are the Boulevardier, which is made with bourbon instead of gin, and the White Negroni, which contains gin, Suze, and Lillet Blanc.