Southern Comfort's Hilarious New 'Drinking Pants' Are Perfect For Thanksgiving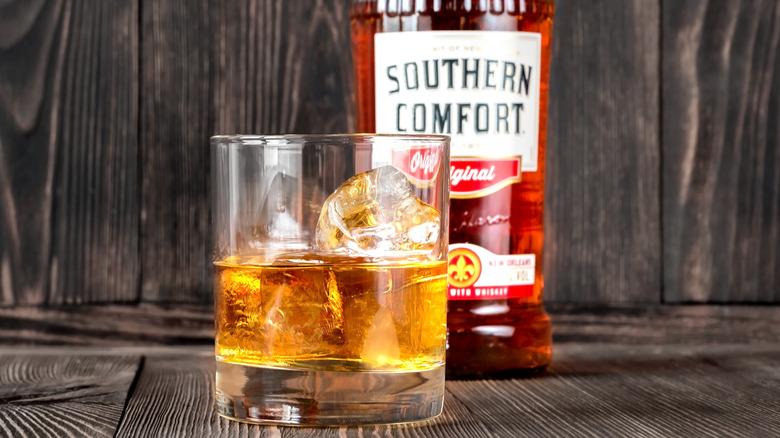 Alexander Prokopenko/Shutterstock
With Thanksgiving just a couple of weeks away, what's on your mind when it comes to the holidays? Most Americans will be making Thanksgiving dinner themselves and prepping at home. If you're part of this group and are in charge of the main dish, you'll want to know the right way to roast a turkey in order to wow your friends and family. But if you prefer not to cook, these are also some great restaurants to celebrate Thanksgiving in the United States.
While it's likely you've thought about your Thanksgiving food, have you planned your dinner outfit? Southern Comfort has, which is why the company is selling a special pair of lounge pants for the holiday season. In a press release sent to Mashed, Southern Comfort announced the release of "drinking pants," a casual and comfortable pair of bottoms designed specifically with booze in mind. With these pants, you'll be able to raise a shot glass any time during the Thanksgiving festivities.
Here's what you get with Southern Comfort's 'drinking pants'
Southern Comfort
In addition to the flashy yellow "drinking pants" text on the back, the Southern Comfort bottoms have a pocket specifically designed to hold a shot glass — although we wouldn't recommend keeping a full one in there. Customers will also get a shot glass with the purchase of a pair of pants. And, of course, since these pants are for Thanksgiving, they have a stretchy waistband, so you can eat and drink your fill.
For customers who are itching for a pair, mark your calendars for November 14. Southern Comfort will be selling the drinking pants online for $11.23 on the company's website through November 21, or as long as supplies last. 
Even without these pants, you can have a great time drinking on Thanksgiving — as long as you know what to make. Ideal fall cocktail recipes include pumpkin pie martinis and cozy Dubonnets, while Bobby Flay's mulled apple cider makes the perfect Thanksgiving mocktail.