MOOYAH Is Now Offering A White Chocolate Peppermint Shake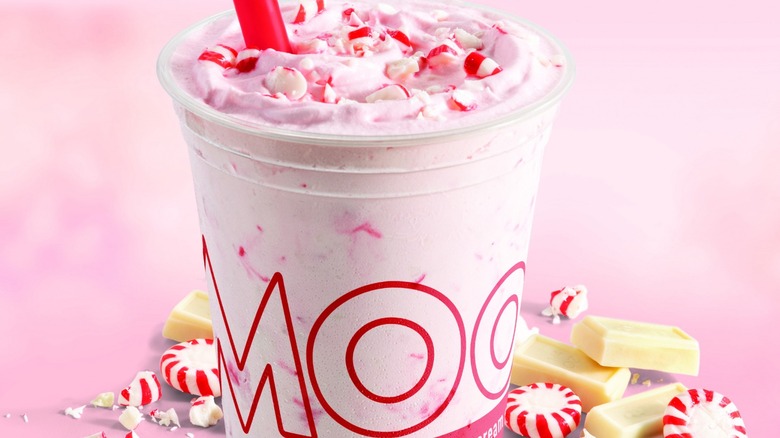 MOOYAH
Just because the weather is getting colder doesn't mean you need to stop eating and drinking frozen desserts. In fact, there's ice cream made just for the holiday season. Recently, Salt & Straw rolled out Thanksgiving flavors that are more unconventional for ice cream, like Parker House Rolls with Buttercream and Caramelized Turkey & Cranberry Sauce. But for those people who prefer holiday classics, there are ice cream treats that might taste like gingerbread or other Christmas cookies. For example, Shake Shack announced its holiday milkshake flavors, and the fan-favorite Christmas Cookie Shake is back on the menu.
Now, there's another milkshake joining the market for the holidays that focuses on chocolate and peppermint, and it will be on MOOYAH menus from now until the end of December. According to a press release shared with Mashed, MOOYAH customers will be able to order a limited-time White Chocolate Peppermint Shake. This minty milkshake costs $5.49 for the smaller size and $6.99 for a larger milkshake.
Peppermint is the star of MOOYAH's seasonal milkshake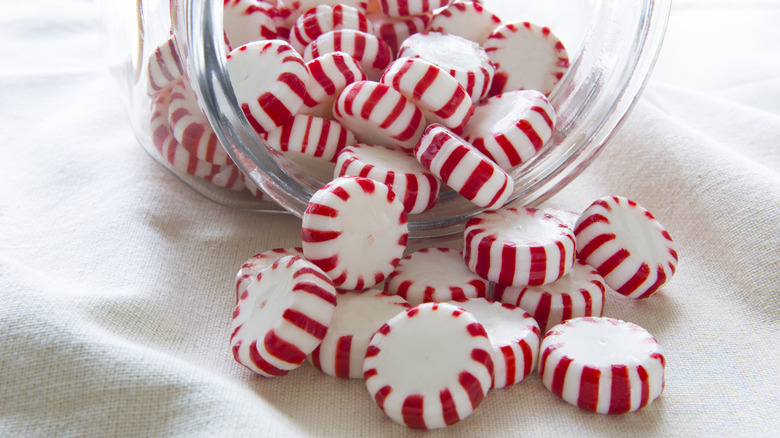 Ejgrubbs/Getty Images
Peppermint is a staple of the holiday season, and this ingredient also plays the starring role in MOOYAH's latest milkshake. According to the press release Mash received, the base of the White Chocolate Peppermint Shake is vanilla ice cream, and additions include crushed pieces of peppermint candy and white chocolate sauce. Finally, the milkshake is topped off with more crushed peppermint, so you can expect a festive red and white treat.
MOOYAH's new shake joins a list of cold drinks that combine peppermint and chocolate. Chick-fil-A has a shake containing peppermint bark chips that will return this month. Perhaps the White Chocolate Peppermint Shake will remind java drinkers of a popular item on Starbucks' holiday menu, which recently came back. Although the drink contains espresso and doesn't have a white chocolate base, Starbucks offers an Iced version of the Peppermint Mocha. (It also has a Toasted White Chocolate Mocha, which might make for an even better comparison if a customer asked for peppermint syrup.)
Love peppermint but think it's too cold for drinking milkshakes? You could our recipe for chocolate peppermint martinis instead or do some baking with this white chocolate peppermint cake recipe and decorate it to look like peppermint candy.