The Under-Utilized Appliance You Should Be Making Brownies In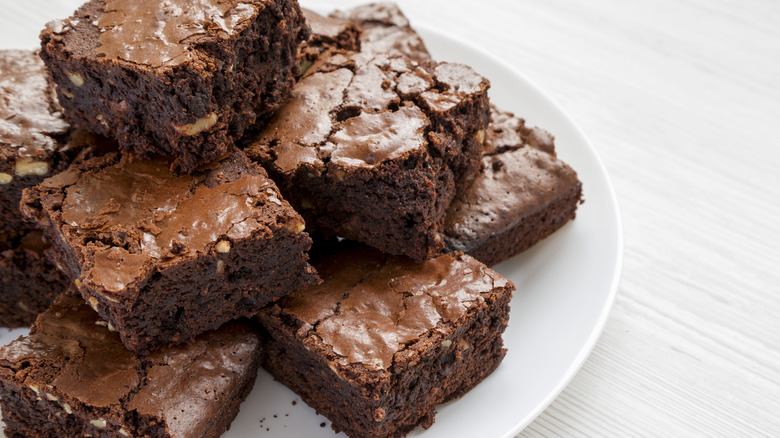 Liudmyla Chuhunova/Getty Images
Who doesn't love a good brownie? These chocolate squares of gooey goodness are a favorite dessert for good reason — they're simply amazing! However, a few things may be stopping you from making them as often as you'd like. Maybe you don't like making big batches at once or you don't have a conventional oven. Perhaps you don't want to use your oven on a hot day or you simply don't like the time it takes to bake them.
All of those problems can be solved by making brownies in an often under-utilized kitchen appliance that is truly a game-changer in brownie baking. You can whip up the fudgiest brownies ever in this little gadget in no time, saving you both time and effort. It also doesn't hurt that it will get you to the good part faster — eating the brownies! 
So, what is this wonderful appliance that is ready to make all of your brownie baking dreams come true?
Panini press brownies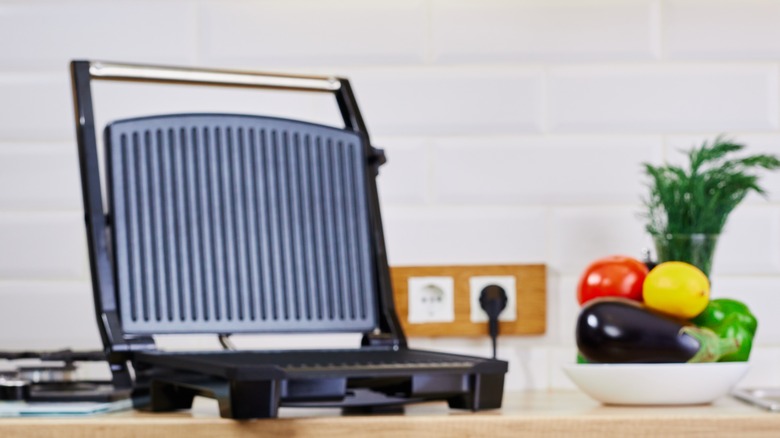 wertinio/Shutterstock
The answer is the panini press! No, these amazing little machines are not just for making sandwiches. In fact, you can cook all kinds of foods in a panini press, including bacon, corn on the cob, hash browns, and more.
For brownies, you simply need a panini press and your favorite brownie recipe (a box mix works, too). Per Panini Happy, after you prep the batter, you'll want to transfer it to a round cake pan. (Note: it's important to make sure that the pan actually fits your panini press before moving the batter over.) Once the pan is in the press, close the lid and wait for about 20 minutes. Panini Happy notes that it could be a little less or a little more than 20 minutes depending on your specific press. You should remove the pan from the press when the timer goes off and test the center by inserting a toothpick. If it comes out clean, your brownies are ready. If not, place the pan back in the press and bake for another five minutes. Repeat this until the batter is baked through.
If you prefer gooey brownies, you can remove the pan when the batter is still a little wet on your toothpick, but keep in mind that you can get sick from undercooked batter (via the CDC).
Cutting and storing your panini press brownies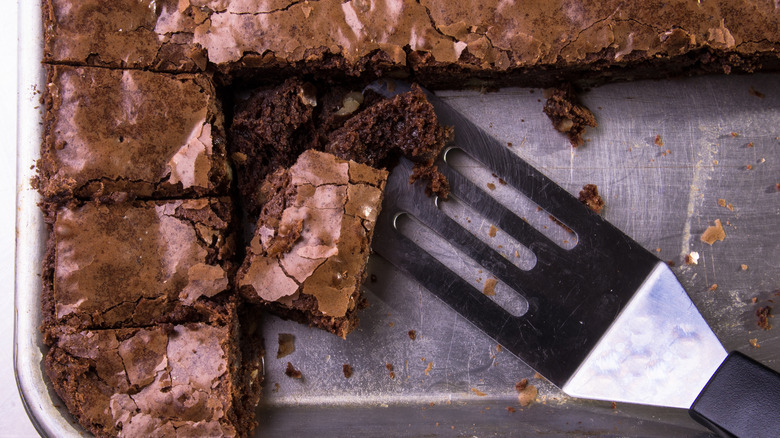 Alohadave/Getty Images
Once you have removed your brownies from the panini press, allow them to cool for at least 30 minutes before cutting into them (via Taste of Home). This will help you get the best cuts for your brownies and ensure that they don't stick to the pan. After they have cooled, you can cut your chocolatey treats into any shape you want and enjoy!
You should store any remaining brownies in an airtight container. According to Does It Go Bad, brownies will last for three to four days without being refrigerated but if you live in a warm climate, you may want to keep them cool so they do not melt before you can eat them. Refrigerating them will keep them good for about one week.
You can also freeze brownies to eat later. Per Does It Go Bad, if placed in the freezer, your brownies should be good to go for about one to two months as long as they have been properly stored in a freezer-friendly container. However, keep in mind that, according to the USDA, frozen foods lose moisture and flavor the longer they stay frozen. With how easy it is to make these panini press brownies, though, you may not have to worry about freezing these decadent desserts — just make more!