Duff Goldman's Daughter Calls Him 'Turkey Dada' For Thanksgiving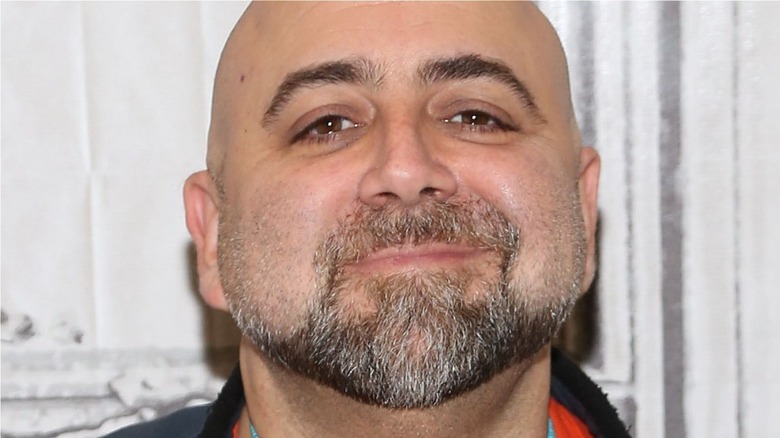 Manny Carabel/Getty
We all know Duff Goldman as the "Ace of Cakes," but did you know he is also an ace of cosplay? On several occasions, he has delighted people by showing up to events in zany costumes. 
This past spring, Goldman appeared in the Season 7 premiere of  "The Masked Singer" disguised as "McTerrier," a singing Scottish terrier. He got so into it that he acted the part. He told Variety, "I was a Scottish Terrier, had a kilt on and I was like, maybe I could convince these guys I was Scottish." It apparently worked, since panelist Nicole Scherzinger thought it was Ewan McGregor inside the costume. 
Clearly, Goldman doesn't shy away from putting on a show and doing the unexpected — also evidenced by his holiday-themed cosplay: This week, he surprised fans and contestants by wearing a gingerbread man suit during Food Network's "Holiday Baking Championship" (via Twitter). The costume was especially fitting since his daughter Josephine sometimes calls him "Cookie Dada." And speaking of "Cookie Dada," Goldman recently wore another holiday-themed costume, and Josephine came up with yet another adorable nickname for her dad.
Who's your turkey dada?
That gingerbread man costume obviously wasn't enough to satisfy Goldman's holiday spirit. So, in honor of Thanksgiving, the celebrity baker wore a turkey costume during Season 11, Episode 2 of "Kids Baking Championship:" "Gobble Goodies." "In the spirit of gathering with old friends, we're bringing back four unforgettable kid bakers and challenging them to make turkey cakes," Goldman tweeted along with a photo of his turkey costume-clad self standing next to Valerie Bertinelli.
With his wings expanding to the horizons, Goldman's turkey outfit brought some much-needed smiles to the Twitterverse — but not quite as much joy as it brought to his daughter. The Charm City Bakery owner also shared a selfie in his turkey costume and revealed, "Josephine calls me 'Turkey Dada.'" Josephine has already earned the title as the "Ace of Cupcakes," but perhaps she deserves a second as the "Ace of Nicknames."
Twitter was overwhelmed by the cute father-daughter moment. One called Goldman's nickname "adorable," while another asked, "Where did you get that turkey outfit?! Asking for a friend." A third thought the costume had serious potential: "I'll direct this superhero film," they said, surely solidifying Goldman's penchant for food-themed holiday garb.