Salt & Straw And The Rock Auction Off The World's First Frozen Advent Calendar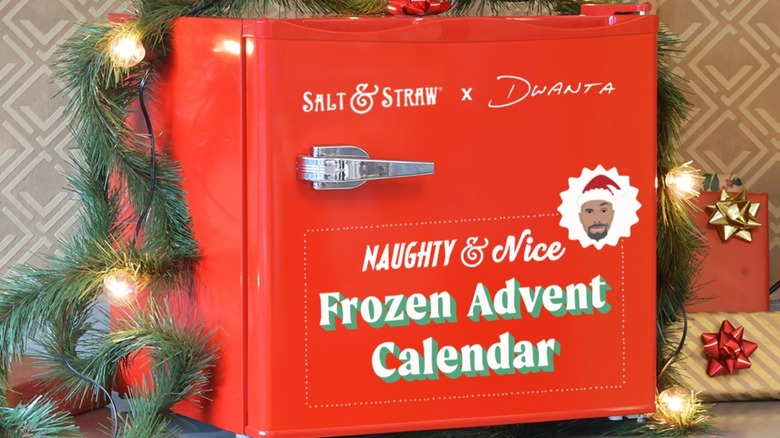 Salt & Straw
Forget the cookies. This year, you're bound to catch Santa Claus gorging on some ice cream, at least if Salt & Straw and Dwayne "The Rock" Johnson have anything to say about it. The pair have teamed up for the third year running to bring holiday ice cream to those who prefer their winter treats cold. In 2020 and 2021, Salt & Straw sold five-pint "Dwanta Claus" packs with flavors like Tipsy Toasty Teremana Pecan Pie and Dwanta's Teremana Spiked Eggnog, in part to promote The Rock's tequila brand.
This year, according to a press release obtained by Mashed, the pair has upped its game and will be debuting the world's first-ever frozen advent calendar containing a dozen custom flavors of ice cream — one for each of the 12 days leading up to Christmas — stored in a small red freezer labeled the "Naughty & Nice Frozen Advent Calendar." Each flavor, some of which are infused with Johnson's Teremana tequila, was developed with his signature cheat meals in mind and will be kept secret until their individual dates on the advent calendar. Per the brand's Instagram, each pint is numbered, not named, so its proud owner can guess the flavor of the day and then check their findings with a QR code.
This ice cream advent calendar has a philanthropic goal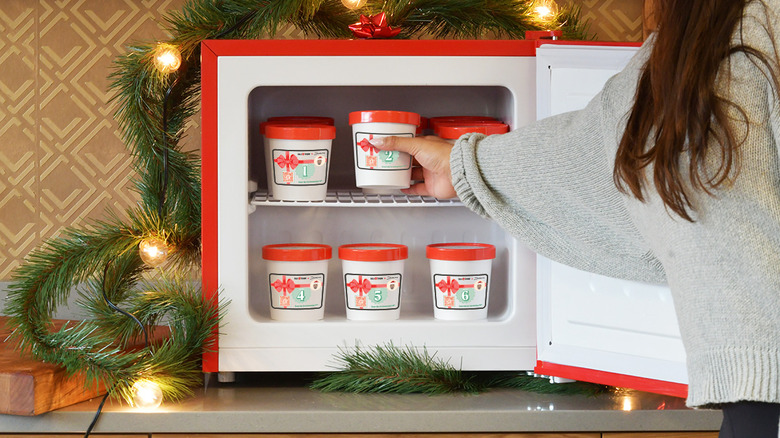 Salt & Straw
It wouldn't be the holidays without the chance to do good, and Salt & Straw and Johnson aren't passing up the opportunity. According to the press release, the advent calendars — 12 pints of ice cream and custom freezer included — are set to be listed for auction on eBay to raise funds in support of José Andrés' nonprofit organization, World Central Kitchen, which travels to sites affected by natural disasters and humanitarian crises to feed people in need. Those hoping to get their bids in will need to do so soon: The auction will run from November 29 to December 6, and calendars will be shipped to three winners before the advent countdown begins on December 14.
Instagrammers appear to be equally excited about the chance to own a mini freezer and the opportunity to try 12 new flavors inspired by some of Johnson's favorite meals. User @mikenachos chimed in, "Legendary!! Awesome collaboration and purpose," and @cara_fitch shared, "Stoppppppp what are you doing to usssssss!! So fun!!!" Salt & Straw didn't drop any written hints about the flavors, but based on the behind-the-scenes video (and The Rock's love for cookies on "cheat day"), at least one flavor includes huge chunks of cookie dough.