Duff Goldman's Cotton Candy Milkshake Is What Dreams Are Made Of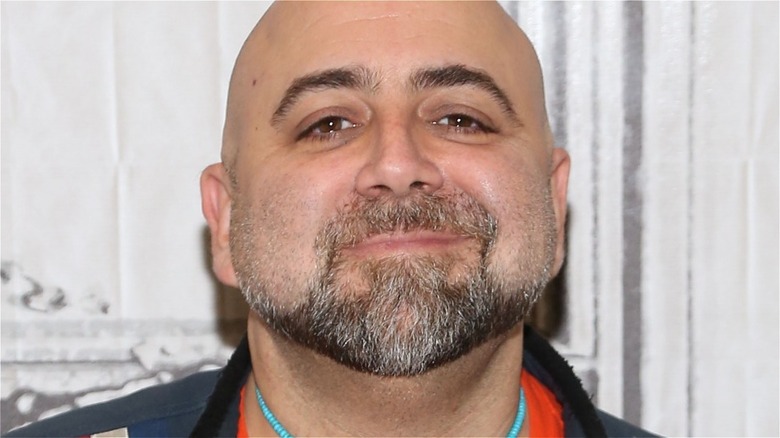 Manny Carabel/Getty
Since 2015, expectations for what a milkshake should resemble have been blurred, leaving the soda jerks of the '50s unable to recognize the mammoth creations that now pass for the sippable ice cream creation. Since New York City's Black Tap burst on the scene with its CrazyShake® milkshakes, the bar has been set sky-high, with pieces of chocolate cake, cotton candy, and nostalgic candy poking through.
Beginning with a traditional milkshake made with ice cream and milk, the extreme milkshakes of today are works of art 'gluing' cookies, cereal, and candy to the rim of the glass and topping the massive dessert with whole slices of cake, or brownies, whipped cream and naturally a cherry. Also called "freakshakes," these overflowing, lactose-intolerant foes can now be found on menus nationwide, using everything sweet from fresh fruit to baked goods to create themed milkshakes for every palate (via the Guardian). Like an edible game of Jenga, it's impossible to know where to start to keep all the dessert's components balanced on the glass's four-inch rim.
Not one to shy away from a food challenge, pastry chef Duff Goldman on the Las Vegas set of "All-Star Halloween Spectacular" on Food Network, tried his hand at an extreme milkshake using everyone's favorite carnival treat, cotton candy. While it's not the chef's traditional canvas, the over-the-top cotton candy milkshake received Goldman's signature flair. 
Cotton candy milkshake for the win
Duff Goldman, the host of "Ace of Cakes," which ran for ten seasons on Food Network and owner of Charm City Cakes, joined celebrities from Food Network, HGTV, and Travel Channel, on the Vegas Strip to create spooky and over-the-top food for the cooking competition "All-Star Halloween Spectacular." Along with eyeball martinis and spider cupcakes, Goldman wowed viewers with a cotton candy milkshake for an 'Inception-inspired' experience of a dessert, within a dessert, within a dessert.
On Instagram, Goldman posted a video making the sweet treat using two blenders to create a pink and blue cotton candy milkshake, each with vanilla ice cream and milk as the base. Using vanilla frosting as the 'glue,' Goldman rimmed the glass with frosting, then dipped the glass into the nostalgic popping candy, Pop Rocks. Simultaneously pouring the pink and blue cotton candy milkshakes into the glass to prevent the colors from blending, Goldman leaves an inch at the top for more cotton candy as a garnish. To guild the lily further, Goldman adds a swirly carnival lollipop and a stick of rock candy to the glass before finishing it with a straw.
If a cotton candy milkshake sounds dreamy to you or the five-year-old you live with, Baskin-Robbins makes a cotton candy ice cream swirled in pink and blue, begging to be made into an over-the-top concoction. Using your favorite candies and more cotton candy, you can make everyone's dream come true in time for dessert.