Krispy Kreme Just Added 2 Festive Flavored Lattes To Its Menu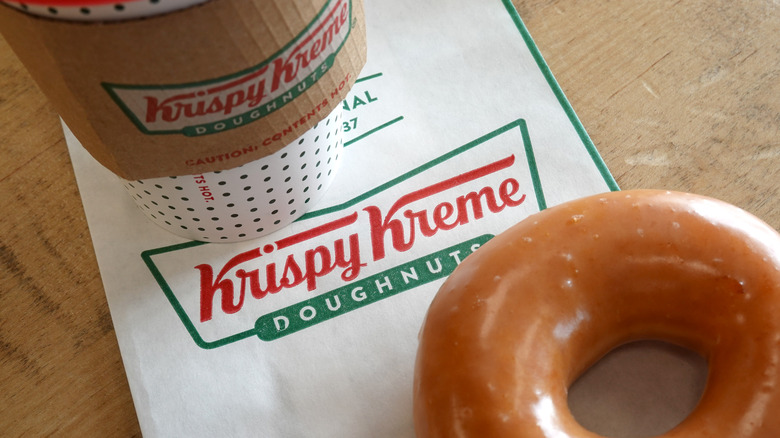 Justin Sullivan/Getty Images
This time of year we could all use a little extra boost. Between the darkening days and scratching things off the endless holiday to-do lists, December can be a real kick in the pants. Thankfully, you're only a drive-thru away from feeling bright, chipper, and full of holiday cheer once more. And Krispy Kreme has just the answer to your needs.
The chain famous for its donuts sells more than just krullers these days. The donut chain bulked up its coffee offerings in the mid-2010s, just before its sale to Caribou Coffee and Pete's Coffee owner JAB (per Business Insider). Krispy Kreme executives at the time looked to their new owner with an eye to opening up their coffee market, which then only 5% of the busines. Then-CEO Tony Thompson said, "Coffee changed over time, and we didn't change with it" (via Krispy Kreme). JAB said at the time of the 2016 acquisition, that it wanted to use the classic brand as part of a "global coffee platform," which, with Krispy Kreme not being a coffee brand, implied some changes were coming.
It looks like Krispy Kreme got what it wanted out of that regime change, as the brand has certainly improved its coffee offerings in the past six years. The famous donut shop now offers cappuccinos, espressos, lattes, and specialty flavored drinks just like you'd expect from a coffee shop — including seasonal delights.
Reap the caffeinated rewards
All that hard work has paid off for Krispy Kreme; these days it's offering crave-worthy coffee drinks as well as the delicious donuts you know and love. In addition to their now standard five flavored lattes (Vanilla Latte, Original Glazed Latte, Caramel Specialty Latte, Caramel Mocha Specialty Latte, and Mocha Specialty Latte), Krispy Kreme has taken to releasing seasonal beverages that'll make you want to swing through your nearest location while supplies last, like when Krispy Kreme got out ahead of the curve and brought pumpkin spice season back to its seasonal rotation. And you can reap the rewards of that acquisition at a drive-thru near you today.
While it may not be the genius marketing move that releasing pumpkin spice lattes before you could nab them at Starbucks was, these holiday treats are still pretty sweet. Available hot, iced, or frozen (blended with ice), this season's seasonal drop includes the mellow and sweet Sugar Cookie Latte and the refreshing Peppermint Mocha Latte (via Krispy Kreme). The Sugar Cookie Latte is topped with real whipped cream and seasonal red and green nonpareils, while the holiday classic Peppermint Mocha Latte is all decked out in creamy whipped cream topped with a chocolate syrup drizzle and festive red and white sprinkles. Both are only available for a limited time.