Reddit Is Salivating Over A Custom-Made Taco Bell Smothered Burrito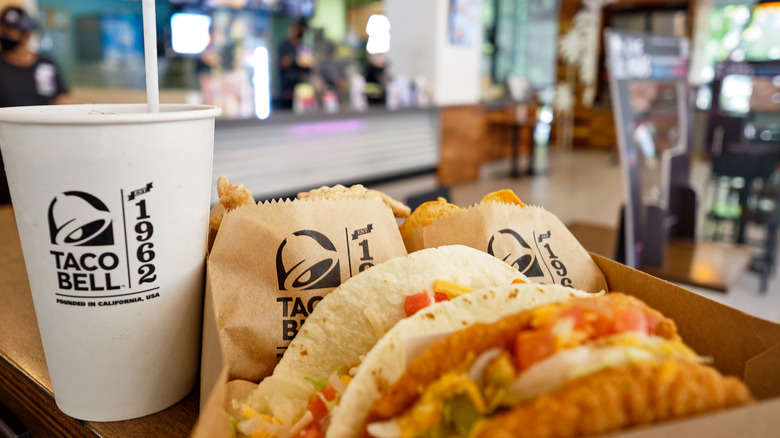 KULLAPONG PARCHERAT/Shutterstock
Among the many fast-food franchises in the world, Taco Bell is one the most sinful and most successful. With a gargantuan revenue of 2 billion dollars annually (per Zippia), it's clear that Taco Bell has garnered a loyal fan base that consistently shows up to spend money. The Mexican food-inspired chain is known for crafting delightfully messy, calorie-packed cheat meals with an eccentric flair (see: Taco Bell's supersized Cheez-It Tostada).
One of Taco Bell's shortcomings, however, is its tendency to promote crave-worthy seasonal items only to take them off the menu as swiftly as they appeared. Seriously, will they ever keep the nacho fries around for more than a month?! But thanks to Taco Bell's secret menu and the wit of its creative customers, the franchise offers far more than meets the eye. Posted in r/tacobell, one clever customer shared a custom smothered burrito menu hack that fellow Taco Bell enthusiasts were desperate to try.
The smothered burrito was a regular menu item in 2016
One of Taco Bell's many discontinued menu items, its signature smothered burrito was introduced to the market in 2016, but was unfortunately removed in 2018. Fans of the smothered burrito have been so devastated by its disappearance that one heartbroken customer created an entire Change.org petition dedicated to bringing it back. Lucky for the 147 supporters of the petition, a Taco Bell fanatic on Reddit solved the conundrum with a custom menu hack.
The Taco Bell customer posted a photo of a smothered burrito from Taco Bell with the caption, "Big thanks to this sub I was able to finagle a beefy 5 layer burrito into a smothered burrito. It's like it's 2016 again and I've never been happier." The customer went on to elaborate that while it's tricky to order online, they requested a steamed, 5-layer burrito in a nacho bowl with red sauce, extra cheese, and sour cream.
One excited Redditor commented, "This is my favorite item of all time," and another budget-friendly user added that, "It's easier and cheaper to do it with a bean burrito since it has all the same ingredients already minus the beef." Another person left a disappointing comment saying, "My taco bell wouldn't do this when I asked. I ended up ordering everything on the side and just made it at home." A for effort!
Next time your craving one, give this menu hack the old college try to see if you can get your hands on a custom-made smothered Taco Bell burrito.