Here's Why Reddit Believes Panera Bread Is Grossly Overrated
While fast food can be convenient on road trips or when you're feeling too exhausted to cook, it's not always the tastiest meal option. Reddit has debated which fast food restaurants are the most overrated, and people came to the conclusion that McDonald's and In-N-Out get a lot of hype that isn't always deserved. These fast food restaurants do have loyal fanbases, and Alexandria Ocasio-Cortez divided the Internet when she called In-N-Out overrated. But the debate has resurfaced again, and now, there's more consensus on what fast food chain is the most overrated.
On the r/AskReddit, u/c0rdl posed the question, "What fast food place is grossly overrated?" In the comments, there were a few fast food chains mentioned, like KFC and Taco Bell. But there was one chain that Reddit users couldn't stop criticizing, and there was a lot of agreement over this pick.
The top comment on this thread says, "Panera. Food tastes like literally nothing. Like there is a department dedicated to removing flavor. It's the food equivalent of Hint water," and people readily agreed with this opinion.
Reddit thinks that Panera Bread has gone downhill in recent years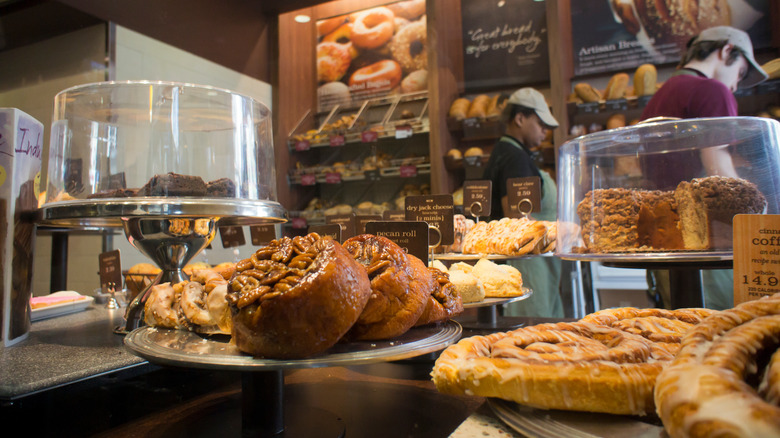 rblfmr/Shutterstock
If you went to Panera Bread with high expectations and left disappointed, you're not alone. In the comments section of the Reddit post, one person said, "Being from a city with zero panera, I really expected a lot more from the way people were hyping it up. The first time I went I was shocked out how incredibly mediocre it was. Basically just the crap you get at random airport cafes."
Many people were reminiscing about a time when Panera served tastier food, and several people pointed out that Panera changed ownership a few years back. According to Restaurant Business, JAB Holding Co. bought Panera in 2017 for $7.5 billion, and now, Panera Bread has joined forces with Caribou Coffee and Einstein Bros. Bagels to create Panera Brands.
According to one Reddit user, Panera doesn't make their own bread from scratch each day, and the soups and mac and cheese are frozen. This person referred to the chain's food as "$15 for a TV Dinner." In fact, the dough for bread often comes frozen, and the food at Panera isn't as fresh as you might think.
Still, some commenters say there are some items worth getting, like the Green Goddess salad, asiago bagels, and turkey chili. Thinking about Panera's good old days? Recreate the dishes at home with our best copycat Panera recipes.