McDonald's Canada Just Debuted A New Candy Cane Fudge McFlurry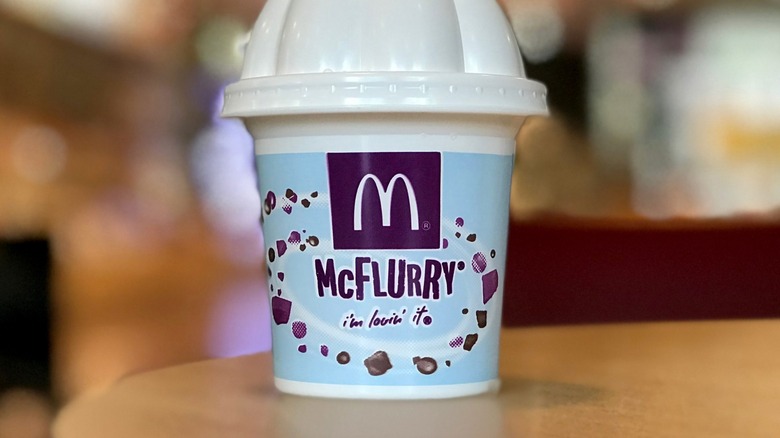 pancha.me/Shutterstock
If you weren't aware, it's officially the holiday season and with everything in full yuletide force, snowflakes and candy canes are surrounding us at every turn. There are also new seasonal menu items from all our favorite fast-food restaurants during the holidays. From the Chick-Fil-A peppermint chip milkshake to Wendy's Peppermint Frosty and all the minty holiday desserts in between, we are gearing up for a season of fast-food favorites, and McDonald's is no exception (via K104.7). The chain has already brought back its holiday pie, but there's more fun in store.
McDonald's has taken a crack at releasing seasonal items throughout the year, like the iconic (and very green) shamrock shake to the fall classic pumpkin spice latte. But McFlurry flavors don't always get a special holiday release. But this year, Canadian customers are getting a special holiday treat. A brand new limited-time seasonal McFlurry has just dropped at McDonald's Canada.
It's full of holiday cheer
A new dessert debuting at McDonald's Canada is the Candy Cane Fudge McFlurry, along with several other treats (via Brand Eating). This specific holiday McFlurry features peppermint candy pieces swirled in vanilla soft serve and topped with hot fudge. Imagine that iconic minty holiday flavor all in one convenient cup.
During the end of the year, the chain usually sticks to coffee drinks to celebrate the season and not special desserts. In fact, when the chain released a Snickerdoodle McFlurry in 2019 and it was its first holiday McFlurry since 2012 (via QSR). Since this is a limited-time treat, it's bound to join several other McFlurry creations from McDonald's that are now discontinued, like the Creme Egg McFlurry for Easter that came with Cadbury chocolate.
If a McFlurry isn't your thing, McDonald's Canada has released other McCafe drinks for the holiday season, as well like the returning peppermint mocha. If you're a McDonald's customer in the United States, the chain also has a new burger and McFlurry in the states this season, while supplies last.