Aldi Dropped 2 Winter Ice Cream Flavors: Peppermint And Hot Cocoa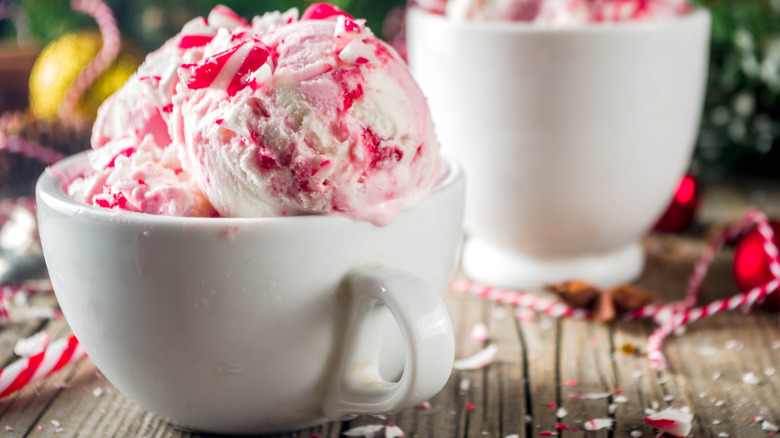 Rimma_bondarenko/Getty Images
You might think of ice cream as a summer treat — after all, it's the best way to cool off on a hot sunny day. But it turns out that plenty of people enjoy ice cream year-round. In fact, a YouGov survey of 1,000 U.S. citizens conducted in July found that 74% of them will indulge in this frozen dessert any month of the year. So it should come as no surprise that many brands have come out with new varieties all year, even in winter. Think seasonal holiday ice cream flavors galore. There's the Blue Bell Christmas Cookies Ice Cream (which features bits of chocolate chip, snickerdoodle, and sugar cookies) or the limited-edition Häagen-Dazs peppermint bark ice cream bars.
Aldi is also in on the winter ice cream trend. The budget-friendly grocery retailer recently came out with two new flavors just in time for the holiday season: Sundae Shoppe Peppermint and Sundae Shoppe Hot Cocoa ice cream. Here's what you should know about the new desserts, along with some other sweet treats that embrace the holiday spirit.
It's currently available in stores this holiday season
The release of the new holiday ice cream flavors didn't go unnoticed at Aldi stores. Multiple Aldi Instagram fan accounts shared photos of the seasonal finds. "Ice cream wishes come true!" @ohheyaldi exclaimed while @adventuresinaldi snapped a similar picture of the pints with the caption, "I don't think you can go wrong with either holiday flavor." Both the peppermint and hot cocoa flavors are from Aldi's Sundae Shoppe brand — and both have received glowing reviews from Instagram commenters who have already tried them.
According to the package, the hot chocolate ice cream consists of a chocolate ice cream base with swirls of whipped cream and milk chocolate flakes. The peppermint ice cream features peppermint ice cream with crushed-up bits of peppermint bark. If that latter description sounds familiar, it could be because Aldi has previously sold a similar flavor, Belmont Peppermint Bark. According to Aldi Reviewer, that version contained flakes of "white chocolate-like peppermint bark" in peppermint ice cream. It's unclear if the familiar new offering will also have a familiar new taste.
Fans can find even more holiday treats in the frozen section at Aldi, too. Instagrammer @ohheyaldi also spotted mint Christmas tree and vanilla Christmas tree ice cream bars from the same brand.