Philadelphia Cream Cheese Is Dropping Its First Plant-Based Spread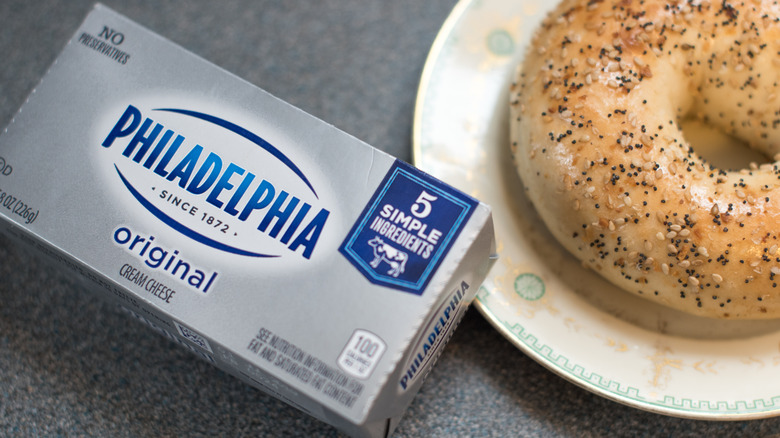 Bloomberg/Getty Images
The demand for plant-based foods has risen exponentially in recent years, with a 54% increase in sales from 2018 to 2021, according to the Good Food Institute. Furthermore, the plant-based foods market as a whole was worth around $7.4 billion in 2021, which was a 6% increase from plant-based food sales in 2020. It seems that companies of all sorts are tapping into the ever-growing plant-based food market, with Panda Express introducing a plant-based version of its orange chicken, Daiya creating plant-based flatbreads, Smashburger welcoming plant-based shakes, and Coffee Mate releasing plant-based coffee creamers.
The Kraft Heinz Foods company is no exception. In October 2022, the company teamed up with TheNotCompany, which has its own line of various plant-based foods including NotMayo, NotMilk, NotMeat, and NotIceCream, to create more innovative plant-based offerings, per a Kraft Heinz press release. The first product the two companies created was vegan cheese slices in American, provolone, and cheddar styles, and the companies are also working on creating a vegan mayonnaise for 2023 (via VegNews). Now, Kraft is working with one of its own brands, Philadelphia, to bring a new plant-based cream cheese to consumers. Here's what you need to know.
Philadelphia plans to offer more plant-based cream cheese flavors in 2023
According to a press release from Kraft Heinz, the company's cream cheese brand, Philadelphia, introduced a plant-based version of its classic cream cheese. As of December 6, 2022, the new plant-based Philadelphia cream cheese is only available in the original cream cheese flavor and can be found in the Southeast region of the United States at various retailers. The company aims to release more plant-based cream cheese flavors and make them available throughout the United States in the summer of 2023. Taking around two years to create, the cream cheese is made without dyes and additives and is gluten, dairy, and lactose-free. When making the new plant-based cream cheese, the creators wanted to get the texture and taste as close as they could to dairy cream cheese, per CNN.
Ingredients of the new plant-based cream cheese include coconut oil, faba bean protein, potato starch, carob bean gum, and guar gum, per Philadelphia. CNN also reports that the new Philadelphia plant-based cream cheese will cost around $6.49, whereas the dairy cream cheese costs around $4.57. Interestingly, a plant-based Philadelphia cream cheese was introduced in the United Kingdom around January 2022 made with oat milk and almond milk (via VegNews), so it's exciting that the product is making its way to the United States for more people to enjoy.