Reddit Is Torn Over Aldi's Norwegian Crisp Bread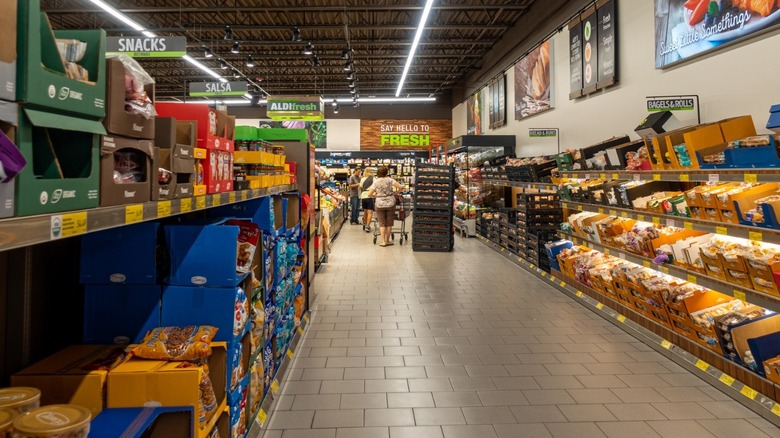 Joni Hanebutt/Shutterstock
If you're hosting a holiday party or any gathering, a charcuterie board is the easiest way to ensure your guests can happily snack throughout the night — no cooking required. However, picking up even just a few cheeses and cured meats from a gourmet grocer can be expensive, which is why many customers may head to a budget grocery store like Aldi for cheap cheese.
Although shoppers frequently rave about the chain's cheese selection, some of Aldi's other charcuterie staples, like crackers, have customers divided. Aldi's version of Ritz crackers, for example, had Redditors divided about their "too soft" texture. Now, another cracker from Aldi has stirred up some lively discussion.
On the Aldi subreddit, u/InvestigatorFun8070 posted a picture of the store's Norwegian crisp bread in the herb and sea salt flavor, writing, "I give these a 1/10. It would be a 0/10 but the reaction I got from my boyfriend boosts it 1 point. Not even the dog would take a bite." Based on the caption, it sounds like no one in that household liked the Nordic-inspired crisps, but in the comments section, other people vouched for the product.
Other shoppers love the crisps alone or with toppings
While the original poster might not have liked Aldi's Norwegian crisp bread, other shoppers love these crackers. One commenter confessed, "I got these and had to run back for more. Sorry, OP... looks like you're in the minority on these weird birdseed crackers." Plenty of other commenters raved about the crisps, prompting u/InvestigatorFun8070 to respond cheekily with, "Can't wait to sprinkle these in my yard and attract both squirrels and the Aldi subreddit."
Although it looks like some people eat the crisp bread on its own, other folks like to add toppings on each slice. Cheese and crackers are a classic pairing, so it's no surprise this idea popped up. One person suggested some Aldi product duos: "Try them with the red pepper hummus or the cranberry goat cheese," while someone else eats the crackers with cream cheese, smoked salmon, and cornichons. Looking to turn an ordinary cream cheese into a delicious dip? Another Reddit user recommended mixing "lemon zest and chives or green onion into the cream cheese," then scooping it up with the Aldi crisps. If you, like them, are adding these crackers to your grocery list and need a cheese to accompany them, Reddit loves the blueberry vanilla goat cheese at Aldi.