The Biggest Challenge Christophe Rull Faced On Bake Squad - Exclusive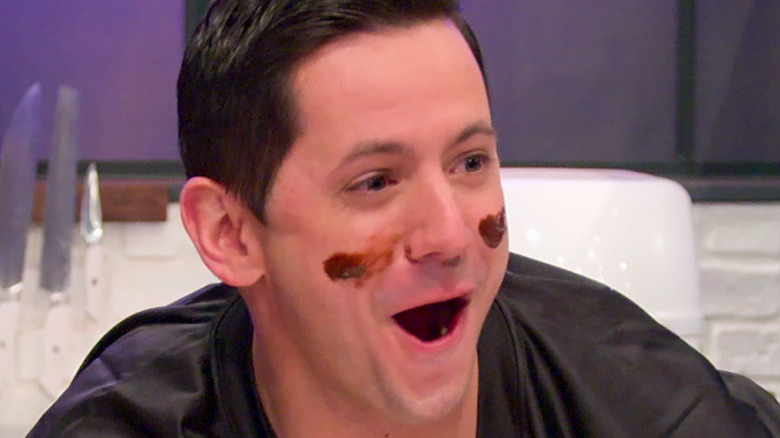 Netflix
"Bake Squad" is back and ready to take on new challenges in the show's 2nd season. The show follows four premier bakers as they compete against one another to create fantastic and often physics-defying sweets and treats for their clients. In just seven hours, each of the members of the Bake Squad — Ashley Holt, Gonzo Jimenez, Maya-Camille Broussard, and Christophe Rull — must pull off incredible feats, guided by host Christina Tosi. 
The 2nd season brought with it not only new challenges and successes but also trials and tribulations for each of the show's sweets experts, but pastry chef and chocolate expert Christophe Rull in particular was thrown some curveballs.
We got the chance to ask Christophe Rull about his time on "Bake Squad" in an exclusive interview. In it, he shared that just because you are a master baker does not mean that things go according to plan. One challenge in particular turned into a real puzzle.
Puzzling it out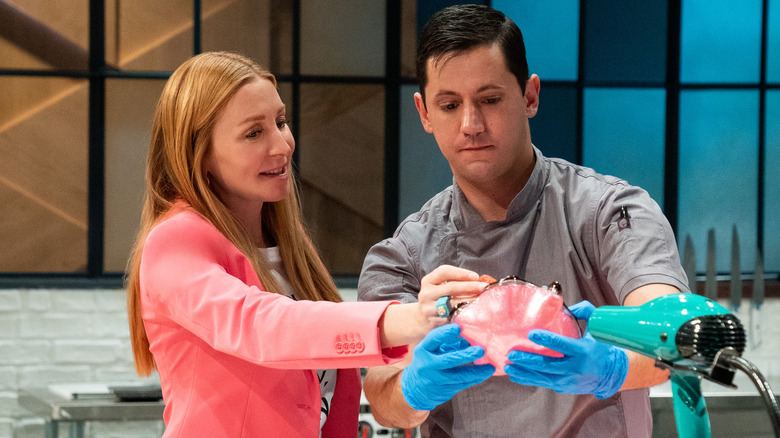 Kit Karzen/Netflix
When asked about the most difficult challenge, Christophe Rull did not hesitate. "It was definitely the giant Rubik's Cube," he said, referring to the episode "80s Volunteer Appreciation Party," in which Jamaica Aali threw a volunteer appreciation party for the 10-year anniversary gala of her non-profit, Black Everywhere. In particular, the organization celebrated volunteer Mignon, who went above and beyond. To honor her, the Bake Squad had to create a 1980s-inspired dessert.
Rull decided to go big — really big. Using 350 pounds of sugar, Rull planned to create a 5-foot-tall Rubik's Cube consisting of 48 full sugar panels. Since this was not enough on its own, the desserts were to be hidden inside, with little windows showcasing three different cake cubes inspired by '80s flavors. The first was a gummy Coke cake with caramel mousse, gummy mousse panna cotta, and vanilla cake. The second was a Banana Runts-inspired cake made with mascarpone banana mousse, passion and mango curd, and vanilla cake. Finally, the third was based on rainbow Nerds, with a chocolate mousse, cherry jam, and chocolate cake.
As host Christina Tosi pointed out, sugar can be very temperamental. Unfortunately, the sugar did not cooperate, and during the first move, the large cube shattered. Rull explained, "Things started to collapse, and I [didn't] have too much time to react. I was like, 'Okay, what are we doing now?'"
How he got through it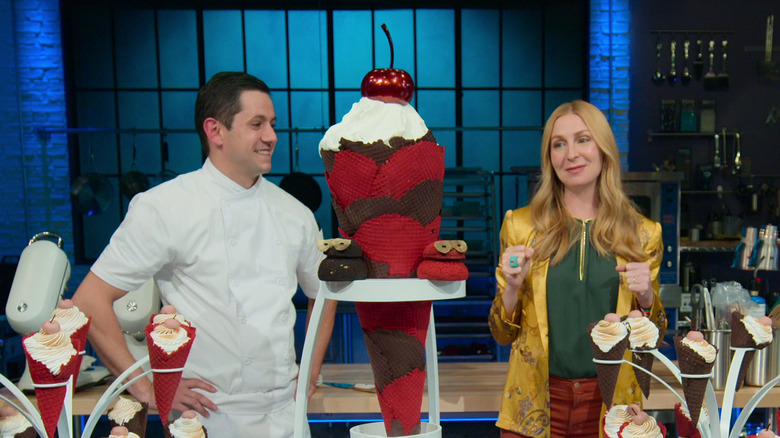 Netlfix
However, this was not the end of his journey, and Christophe Rull pulled off an amazing finish. "Again, you have to come up with a solution, because you want to present something, and you want something nice to present to the guest," Rull said. He adjusted his plan, creating one not-quite-as-large sugar cube on the display board so it did not have to be moved and filling it with his mini-cube pastries.
While it was not what Rull initially envisioned, Jamaica Aali loved the desserts, describing them as light and creamy, and said he embodied the '80s theme "120%."
So how did he get through it? "Sometimes, the only thing you need is a pet rock," he said, referring to one of the '80s-inspired props of the episode. He explained, "If I didn't have [my pet rock] Sandy that day ... She saved my life on that episode."
Rull still has Sandy, his beloved pet rock, and as Tosi put it, "She talked him through some hard times."
Season 2 of "Bake Squad" is available on Netflix now.