Jimmy Fallon's Top Tip For Incorporating Beans In Your Crockpot Chili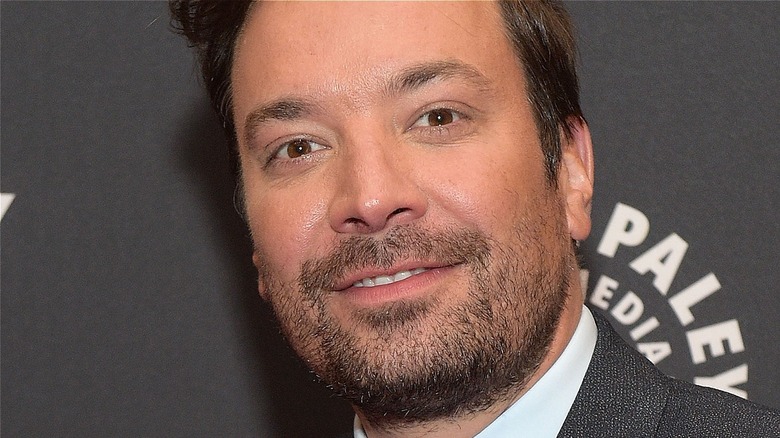 J. Kempin/Getty
When it comes to seeking culinary wisdom, home cooks tend to gravitate towards the gastronomical gurus, otherwise known as "celebrity chefs." It is important to note, however, that they, alone, do not hold all the answers to your cooking queries. Sometimes, sage kitchen advice springs forth from the mouths of unexpected sources. Like comedians and late night television hosts. 
Funnyman Jim Gaffigan shared his wealth of culinary knowledge in his 17-episode YouTube show, "Let's Get Cooking — The World's Favorite Quarantine Cooking Show." In his "Hot Dogs and Eggs" installment, he taught viewers that if you break the eggs into the bowl where the chopped weiners once sat, the meat will "influence the eggs," and make them better. Jimmy Kimmel shared a video of himself preparing his kid-approved "Pasta Tina," teaching his audience that you can create a healthy sauce base by putting an immersion blender right into a can of cannellini beans, aquafaba and all. Unfortunately, he also showed viewers that cans are sharp as he bled into his concoction. And, of course, who can forget all the lessons proffered by Amy Schumer's pass-the-time-during-the-pandemic show, "Amy Schumer Learns to Cook?"
And, now, Jimmy Fallon joins his comical cohorts by sharing his own kitchen know-how. For him, it's all about chili. 
Jimmy Fallon's chili secret involves mashing the beans
When Jimmy Fallon appeared on Martha Stewart's show to share his chili-making savvy, he gave away his mother's recipe secret. Apparently, in the Fallon family, you add the beans just before the last half hour of cooking. And, that's not all: You mash half of them right into the rest of the nearly cooked ingredients. How? Fallon shares that he like to use a potato masher and make the chili "mushier and gluier." When Stewart asked him if keeping one hand in his pocket was part of his technique, he quipped that he's just a big Alanis Morissette fan. Stewart, however, offered another piece of wisdom saying that a great way to get rid of hot grease is to take it to the train tracks. According to Stewart, the tracks are already dirty, so a little grease won't hurt them. 
This isn't the only time Martha Stewart and Jimmy Fallon have shared the stage. In 2019, Stewart visited "The Tonight Show starring Jimmy Fallon" and showed him how to make scrambled eggs using a cappuccino machine. They, then, strapped on a shared "double tool belt," identified Jimmy as the "stud," and failed to successfully hang a wall-shelf within 60 seconds. 
Yes, sometimes the public finds epicurean enlightenment in unexpected places. And said "enlightenment" is ever more interesting when it comes with a side of humor.