A New Twist On The Got Milk? Ads Will Be Plant-Based And Filled With Nepo Babies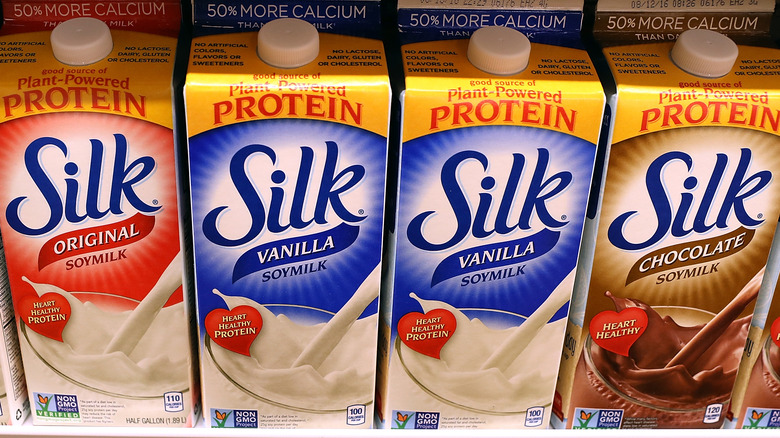 Justin Sullivan/Getty Images
There's a new plant-based milk on the scene, and it's getting a big celebrity boost in a series of ads just announced this week. Joining its line of soy, coconut, and oat milks, Silk just released NextMilk, a blend of plant milks that features the nutrients and richness of dairy milk but with less sugar and no dairy or gluten. 
To get the word out, Silk is taking a throwback approach. The brand's new ads pay homage to the classic 1990s "Got Milk?" ads from the dairy industry that featured famous faces with prominent milk mustaches. The impressive roster included everyone from Harrison Ford to Britney Spears to Bart Simpson. Silk hopes to mine that advertising gold with a new generation of celebs: The recently-dubbed "nepo babies," or children of show-biz families. 
Silk launched their first NextMilk ad on Instagram featuring Brooklyn Beckham with that familiar milk mustache (only plant-based this time) and People shares that Ella Travolta and Sailor Brinkley-Cook will also join the lineup. All three told People that they're committed to plant-based lifestyles — that's partly why Silk turned to them, but there's another reason why these stars are excited to recreate the ads. 
They're following in their parents' Got Milk? footsteps
The list of celebrities who participated in the '90s milk ad campaign is long — and it includes the parents of Silk's new NextMilk spokespeople. Model and Instagram food influencer Brooklyn Beckham's dad David Beckham posed shirtless and holding a soccer ball for his "Got Milk?" ad, with the caption, "Goal by Beckham, body by milk." No surprise that actress Ella Travolta is the daughter of actor John Travolta (she looks just like him) but it was her mom, actress Kelly Preston, who appeared in a milk ad that promoted the purported weight loss benefits of drinking dairy. 
Model Sailor Brinkley-Cook's famous parent is model Christie Brinkley, who posed for the ad with Brinkley-Cook's older half-siblings Alexa Ray Joel and Jack Paris. She told People, "I think those ads are so iconic. I think my mom is also iconic, so anything that I can do in my life to make her proud is exciting to me." 
With such a long list of stars appearing in the "Got Milk?" ads of yore, it will be interesting to see which nepo babies Silk taps next to don the plant-based milk mustache.