How Edna Lewis Demolished Stereotypes About Southern Soul Food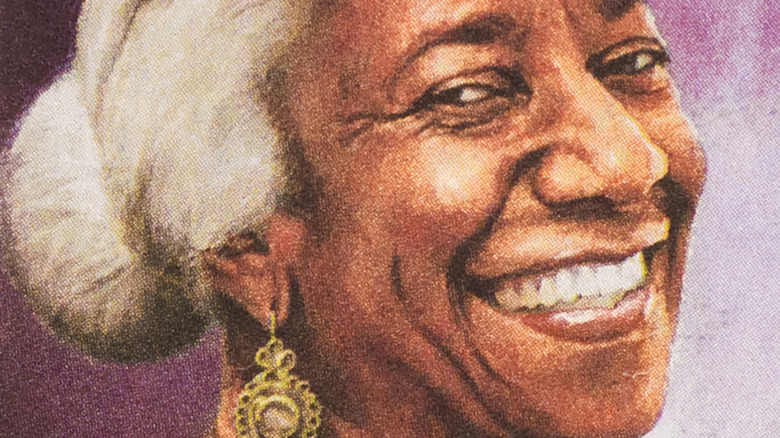 Lulub/Shutterstock
Edna Lewis was among the most influential chefs in American cuisine. In fact, Lewis was one of five celebrity chefs honored in 2014 along with James Beard, Julia Child, Joyce Chen, and Edward Rojas-Lombardi. According to the United States Post Office, Pritha Mehra explained these chefs were "champions of trends that many foodies now take for granted." Lewis championed Southern cuisine and soul food. Long before farm-to-table restaurants became trendy, Lewis was one of the OG voices promoting regional cuisine using fresh and seasonal ingredients. She was sought after by her well-heeled New York clientele when many were dismissive of soul food. Virginia Living credits Lewis with debunking the stereotype that soul food is "greasy or fried."
Born in 1916, Lewis lived in a unique time and place. Her formerly enslaved grandfather became a co-founder of Freetown, Virginia. Growing up, she learned to grow produce, forage for fresh ingredients, and cook from scratch from her elders in Freetown. As a teen, she moved to Washington D.C. in 1928 and then to New York City initially working in domestic roles and as a seamstress creating custom dresses for upcoming fashionistas including Marilyn Monroe. After a good friend bought a restaurant in 1948, she became a chef.
At the time, the press frequently described her as "regal" perhaps in part because of her fashion background and personal style. In the 1940s racial segregation was the norm, she challenged misconceptions and bias against soul food and Southern cuisine when few high-profile chefs were either Black or female.
Preserving traditions
As a chef for the Upper East Side restaurant Cafe Nicholson, Edna Lewis impressed Harper Lee, Tennessee Williams, Truman Capote, and first lady Eleanor Roosevelt. She drew from Southern cuisine and also studied cuisines from Africa, the Caribbean, and America's indigenous people and Europe. Food historian and author Toni Tipton-Martin, who wrote "The Jemima Code" covering the history of how Black women were portrayed and often exploited in food media, considers Lewis a mentor. She explained, "Soul food is controversial because it exposed opinions that long existed within the world of food" in part due to its connection to enslavement in the United States.
When Lewis published her first cookbook "The Taste of Country Cooking" in 1976, she continued to champion both soul food and farm-to-table cuisine beyond her influence as a restaurant chef. The book contains a mix of recipes and memories of her childhood immersion in all aspects of food and culture. The Smithsonian described her as one of the first Black Southern women to publish a cookbook using her real identity.
Her niece Nina Williams-­Mbengue typed Lewis's handwritten manuscript she told the New York Times that Lewis, "always talked about how, in spite of these people being slaves, they created a cuisine that would become world-renowned. In the foreword of "The Taste of Country Cooking," Lewis said her desire was to keep the traditions, techniques, and recipes alive. This passion is one reason it made our list of the best cookbooks.