The Chef-Approved Applesauce Trick To Boost Boxed Cake Mix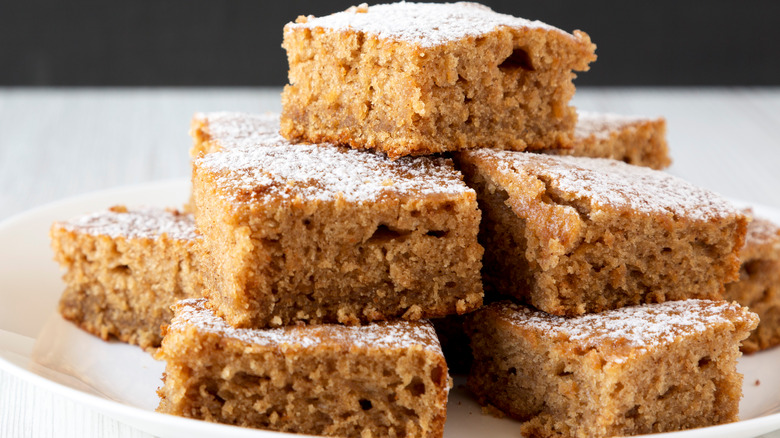 Liudmyla Chuhunova/Shutterstock
While you might assume that culinary professionals would look down on convenience foods such as boxed cake mix, that isn't always the case. Sure, making a cake from a mix doesn't confer the same bragging rights as making one from scratch (assuming you admit to having done so), but keep this in mind: Even with a scratch-made cake, it's not like anyone, even Martha Stewart, is going so far as to mill their own flour. So yes, shortcuts are already being taken and have been since ancient times.
The earliest known boxed cake mix was a gingerbread cake that was first available for purchase in 1929. Cake mixes were big business by the 1950s, and as recently as 2016 it was estimated that boxed cake bakers in the U.S. outnumbered from-scratch ones by some 60 million. Among those cake mix users may be quite a few cooking professionals – even Duff Goldman, the Ace of Cakes himself, admitted to Insider, "My absolute favorite cake in the world to eat is Betty Crocker yellow cake with the canned fudge frosting." Many chefs and home cooks, however, prefer to add a few touches of their own to boxed cake mixes. A food writer named Ann Byrn built a career for herself on the basis of a book called "The Cake Mix Doctor," while Jason Goldstein, a chef who shares his recipes via his Chop Happy website, is a fan of cakes made from boxed mix combined with applesauce.
2-ingredient applesauce cake couldn't be any easier
As Goldstein tells Food & Wine, "I always have a box of packaged cake mix on hand." While cake mix can be used as the base for any number of different desserts, sweet breads, and cookies, one of Goldstein's suggestions is for something that's as simple as can be: a cake made with nothing more than a box of mix and a cup of applesauce. Not only does applesauce work well for super-moist yellow, spice, and carrot cake recipes, but it can also be combined with chocolate cake mixes since the apple flavor isn't really noticeable. Goldstein even shared with Mashed his recipe for a three-ingredient red velvet cake that he makes with applesauce (the third ingredient is a can of cream cheese frosting).
Applesauce isn't the only ingredient that can take the place of the eggs and oil typically added to a boxed cake mix. If you're out of applesauce, you can try substitutes ranging from mashed bananas to mayonnaise, but one of our favorites is pumpkin puree. With a can of pumpkin pie filling, a box of white cake mix, and a jar of marshmallow cream, you can make a tasty recipe for three-ingredient marshmallow pumpkin cake. Plus, plain pumpkin puree, pumpkin pie spice, spice cake mix, and milk can be combined to make a quick and easy pumpkin bread that would pair perfectly with a homemade PSL.