The Nutty Ingredients Chefs Always Buy At Aldi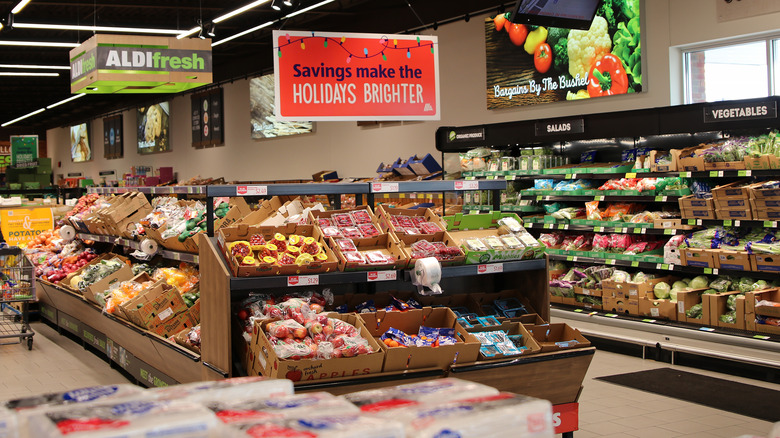 Eric Glenn/Shutterstock
It's nearly impossible to go a day without hearing about an unbelievable Aldi deal. The grocery chain is known for its commitment to low prices, even during tumultuous economic periods. Certain items make the trip to Aldi worth it for the price savings alone. The store offers a large selection of wines priced under $10, for example. What pairs better with wine than some artisanal cheese? Aldi sells a variety of cheeses in the $2 to $5 range that would make a perfect pairing for a charcuterie party snack. And if you think Aldi's only customers are budget-conscious home cooks, think again. A private chef told Kitchn that they frequent Aldi for specialized grocery items like German pickles and the brand's signature take-and-bake pizza.
While Aldi normally hits the target of great deals, several items are overpriced. If you want to avoid overspending, there are some tips and tricks to getting the best deals. One way to cut costs while cooking in a restaurant or for a crowd is to utilize the Fresh Meat Special Buy. This protein deal changes each week, but it offers premium cuts at lower prices. If you need to stock your pantry with an easy snack and cooking staple, on the other hand, then nuts are the way to go.
Nuts by the pound are one of Aldi's best deals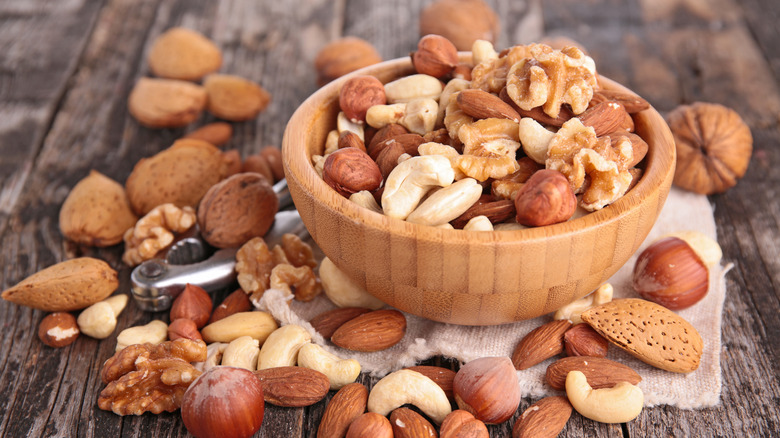 Margouillatphotos/Getty Images
One of the best deals by far at Aldi is the per-pound nut selection, as chef Emma Terhaar wrote for The Takeout. Pecans, almonds, and walnuts are just some of the available nuts at reasonable prices — and they're not only useful for bar snacks and desserts. For chefs, nuts add essential crunch — and of course, nuttiness — that can enhance the flavor of savory dishes. If you're cooking up Thai food, roasted peanuts typically accompany a homemade pad Thai recipe. Or, Terhaar's go-to is the classic French sauce called beurre noisette, essentially brown butter with the addition of your nuts of choice. It makes the perfect topping for seafood, meat, or vegetables.
While you're in the aisle, know that customers love Aldi's salt and pepper cashews as a snack. Like the plain nuts, these Southern Grove-brand cashews tend to be cheaper than other stores' options, allowing you to switch up your snacking without breaking the bank.